Very long-term Laissez Faire Today patrons will know that, although I have a soft spot for cryptocurrencies, deep down, above all else, my roots are in silver. I'm a silver bug.
Back when the Silver Doctors blog was a blog and not a national bullets (wait, no more bullets?), beans, metals and apocalypse hawker — about… wow… six years ago, already — I wrote for them.
I wrote for them because I believed, like them, silver was severely undervalued. And I still do. Because it still is.
And if I had to choose between any physical asset to hold in this environment, I say silver every time.
Although silver hasn't seen any monumental rises (just up to a "measly" $50, which I say with my tongue planted firmly in my cheek), I've stayed staunch. And I feel vindicated every time an expert explains why silver is still a buy. (Which means vindication, when it comes, feels like a vacation for slaves.)
Maybe I'm just another victim of selection bias, destined to grip my silver shekels into curmudgeonly old age, never once getting the fleeting satisfaction of saying, "I told you so" to nobody in particular.
But I doubt it.
Silver's a buy. And to tell us why, I invite colleague Zach Scheidt to the show, reporting in from the Money Show conference in Vegas.
Read on.
---
Mr. Gold Says "Buy Silver"
Zach Scheidt
Greetings from sunny Las Vegas, Nevada!
This week, I've been attending the Money Show, a week-long investment conference focusing on a myriad of different wealth-building opportunities.
The conference also gives me a chance to chat face to face with hedge fund and family office portfolio managers, entrepreneurs, and fellow individual investors.
Often these personal conversations wind up being even more valuable than the actual conference material. And today, I want to tell you about one specific conversation that should help you turbo charge your gold investments this year…
"I can guarantee that gold will be worth $10,000 per ounce — or much more!"
That's what a 19-year veteran of the mining industry with many incredible investments under his belt, told me.
Because of his status in the mining industry I call him "Mr. Gold." And for privacy reasons, I can't reveal his real name in this article. But trust me, this guy is the real McCoy of mining — and a proven winner at predicting BIG moves in gold.
Most notably in 2007, he was featured on CNBC to give his opinion on gold prices. At the time, gold was trading for $637/ounce. He predicted gold to go over $1,000/ounce in a 12-24 month period. Of course he was right!
Today, Mr. Gold had a totally unexpected recommendation for profiting from the gold market…
(Ironically, this prediction lines up with our own resident expert Jim Rickard's expectation for gold prices.)
Even though the presentation wasn't scheduled to start for another 20 minutes, Mr. Gold was anxious to get started. It's fair to say that he was giddy with excitement. He could hardly hold still as he waited to share his favorite investment opportunities.
I happened to be in the room, getting some reading done before the session.
And so, over the next 20 minutes, I got to chat personally with him and pick his brain about what's really going on in the gold market.
Even Better Than an Explosive Gold Rally…
"I think silver is the buy of the century!" Mr. Gold spouted, his energy levels clearly rising, "…gold and silver stocks will go higher than tech stocks did during the dot com days."
Got that? Mr. Gold says buy silver!
As he started backing up his claims with hard economic data, personal conversations with his wealthy customers, and visits to remote mining operations. It was obvious he had done his research and knew what he was talking about.
"Do you want to turbo-charge your gold profits this year?" Mr. Gold asked me point blank…
"I'm serious! Do you really want to make the most of what's going to be an explosive rally in gold?"
It wasn't a rhetorical question. He wanted an answer.
"Of course!" I told him…
"Then I have two pieces of advice for you."
Mr. Gold waited for me to pull out my notebook to take down his advice.
"Buy silver, not gold."
"And own some off the beaten path junior minors"
And just like that, he turned around and headed to the podium. It was time for his presentation to start…
"Silver Is the Currency of the Educated"
During his presentation, Mr. Gold posted the following common quote:
"Gold is the currency of kings, silver is the currency of the educated, barter is the currency of the working-class, and debt is the currency of slaves."
The main reason why silver is the currency of the "educated" is because of the dual role that silver plays in our society.
You see, silver is a precious metal – much like gold. It's used as a storage of value and typically rises in price during times of uncertainty.
But unlike gold, silver is widely used as an industrial metal as well. Silver has uses in the technology, medical, and even energy and construction industries. So as an economy grows, the demand for silver increases.
This means that you have two ways to win. One, you can win as precious metals rise in price. And two, you can win as economic growth ramps up and demand for silver increases.
Another chart from a different presentation I attended comes to mind…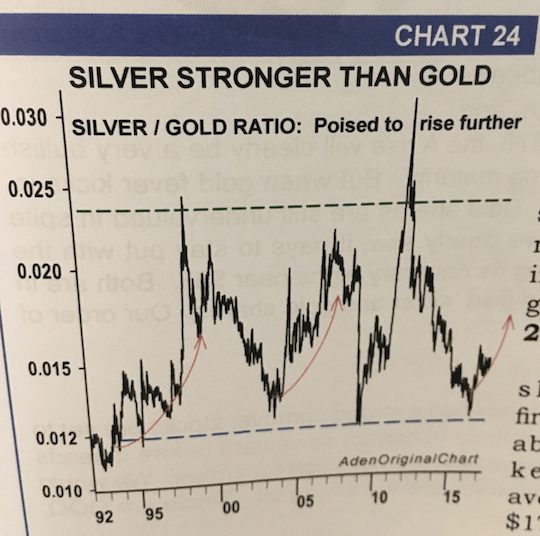 Source: The Aden Forecast – April 2017 Issue
Silver prices typically trade alongside gold with a specific ratio. One ounce of silver is usually worth somewhere between 1.2% and 3% of the value of an ounce of gold.
Lately, the value of silver (compared to gold) has fallen to a low level compared to history. But the trend is now reversing. Meaning, silver should rise much faster than gold. In fact, if silver moves back toward the top of its range, the price of silver could move twice as fast (in percentage terms) as the price of gold.
Now I see why Mr. Gold thinks that silver is the buy of the century. Because if gold moves above $10,000 per ounce (a 700% return from today's price near $1,255 per ounce), silver could give investors a 1400% return!
That's strong enough to turn a $10,000 investment into $150,000 – not bad!!
In addition to SLV (an ETF that tracks the price of silver), I recommend taking a look at Wheaton Precious Metals (NYSE:SLW) and Silver Standard Resources (NASDAQ:SSRI).
These are great investments that will help you take advantage of an explosive increase in silver prices.
Zach Scheidt
Editor, The Daily Edge
The post Silver Bugs: Our Time Is Coming… appeared first on Laissez Faire.