North Korea Test-Fires Submarine-Launched Ballistic Missile
October 18, 2021 |
North Korea Test-Fires Submarine-Launched Ballistic Missile
Update (0800ET): More details have been released about North Korea's missile launch last night. On October 19th, North Korea test-launched at least 1 submarine-launched ballistic missile (SLBM), causing a stir in South Korea and the U.S.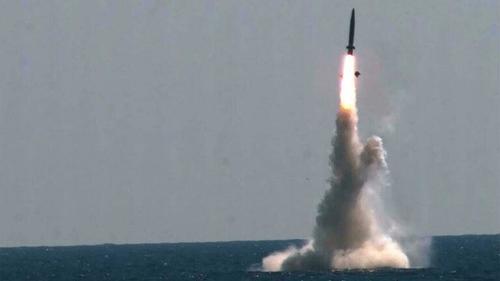 As Southfront.org details, United States' INDOPACOM released a statement on the attack, condemning it.
.@INDOPACOM Statement on DPRK Missile Launch: We are aware of the North Korean ballistic missile launch this morning into the Sea of Japan and are consulting closely with the Republic of Korea & Japan, as well as other regional allies and partners. MORE➡️https://t.co/hphkX5b9I7

— U.S. Indo-Pacific Command (@INDOPACOM) October 19, 2021
"The United States condemns these actions and calls on the DPRK to refrain from any further destabilizing acts.  While we have assessed that this event does not pose an immediate threat to U.S. personnel, territory, or that of our allies, we will continue to monitor the situation.  The U.S. commitment to the defense of the ROK [South Korea] and Japan, remains ironclad."
Japan's Deputy Secretary General Yoshihiko Isozaki said two ballistic missiles were estimated to be fired during the launch, while South Korea's military only announced one projectile.
"North Korea's latest actions threaten the peace and security of Japan and the region," Isozaki said.

"Furthermore, the continued ballistic missile launches pose a serious challenge not just for Japan but for the entire international community."
The test was "extremely regrettable" and violated UN Security Council resolutions, Isozaki added.
Japanese Prime Minister Fumio Kishida said Japan would "respond resolutely" to North Korea's action in a tweet.
South Korea's National Security Council (NSC) expressed "deep regret" over the launch, according to a text sent to reporters by the Presidential Office Blue House, adding it came while South Korea, the United States, China, Japan and Russia were "actively" in discussions to achieve peace in the Korean Peninsula.
*  *  *
Earlier this evening, South Korean news agency Yonhap reported that South Korean Joint Chiefs of Staff said North Korea fired an unidentified projectile into the sea east of the Korean peninsula.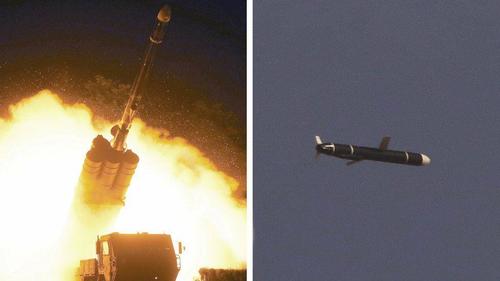 North Korean state media images of a new cruise missile tested in September
This is the sixth "projectile" test so far in 2021:
Later, in an emailed statement, the Japanese Coast Guard said that North Korea launched what may have been a ballistic missile.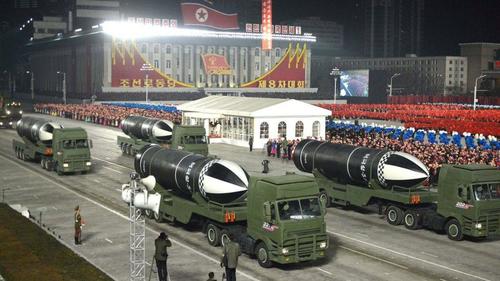 Missiles on display at at a military parade in January 2021
This test comes just days after the US Defense Department warns that North Korea may resume long-range ballistic missile tests in the year 2022.
As NHK reports, the Defense Intelligence Agency, an intelligence arm of the US Defense Department, on Friday released a report that examined the current situation of North Korea's military power, including its nuclear weapons and missiles.
The report says, "North Korean leaders view nuclear arms as critical to regime survival," and "It is possible we could see a test of a long-range missile over the next year."

The report adds North Korea also will work to improve its newer solid-fueled ballistic missiles, which can be made ready for launch more quickly than liquid-fueled ones.

It also says, "Integrating a nuclear weapon with a ballistic missile and enabling that nuclear-armed missile to function reliably as a system is North Korea's ultimate operational goal."

It notes that "further underground nuclear tests to validate weapon capabilities are possible."
The report did not cite any specific intel suggesting such a possibility, but it may just have come true tonight.
The reported test-firing comes just hours after Tongil Voice, a North Korean propaganda radio broadcast, said on its website Seoul should take actions to improve cross-border relations before such a declaration can be made.
"Currently, inter-Korean relations are unstable and remain in a stern, strained phase," it said.

"If an end-of-war declaration is made while neglecting the current hostile and opposing relations, (the two sides) will fall into the evil cycle of conflict even before the ink dries up."
It cited Seoul's recent arms buildup and joint military exercises with the United States as the cause of tensions on the peninsula.
Tyler Durden
Tue, 10/19/2021 - 07:30