Dip-Buyers Pile Into Crypto, FundStrat Forecast Bitcoin $168k From Expected ETF Flows
October 19, 2021 |
Dip-Buyers Pile Into Crypto, FundStrat Forecast Bitcoin $168k From Expected ETF Flows
Update (1300ET): "Sell the news" has morphed into "buy the dip" as BITO and Bitcoin surge back towards the highs of the day...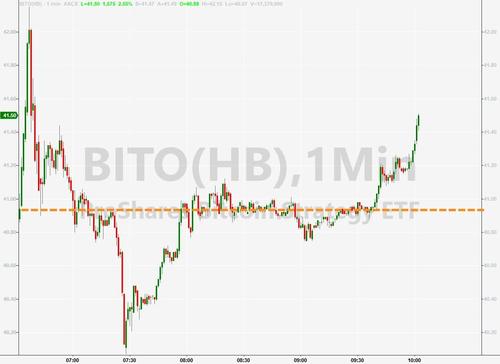 And Bitcoin is pushing up to $63,500...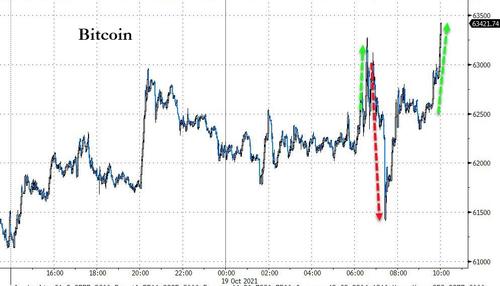 *  *  *
Update (1030ET): "Sell the news"? After an initial burst of euphoria higher, both BITO and spot bitcoin is tumbling...
BITO broke below its opening price...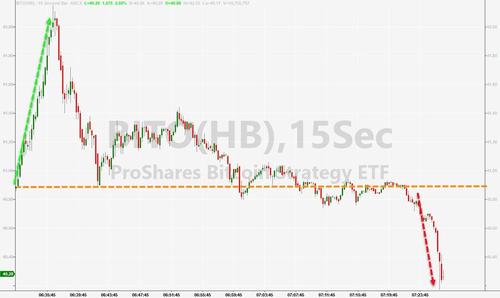 And Bitcoin dived...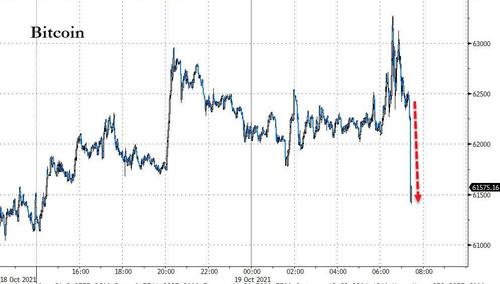 Dragging the rest of the crypto space with it...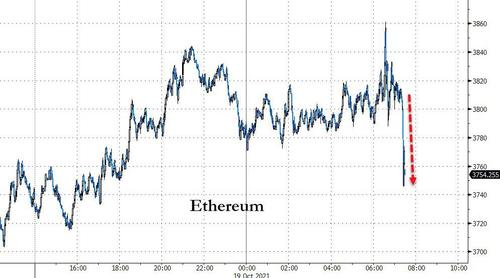 The seemingly endless flip-flopping of Guggenheim's Scott Minerd continues with him now appearing to be positive once again on the crypto space:
*MINERD: BITCOIN ETF COMPELLING FOR INVESTORS TO BYPASS WALLETS

*MINERD SAYS BIG WINNERS IN CRYPTO STILL REMAIN TO BE SEEN

*MINERD: CENTRAL BANKS CAN'T SIT BY ON CRYPTO WITHOUT GETTING IN
Bloomberg's Eric Balchunas notes that BITO has officially passed BUZZ in opening day volume with over $440mm traded so far, making it the biggest new launch of 2021 by that measure. It is now number 7 on the all-time list (and number 1 if you filter out the massive seed ones).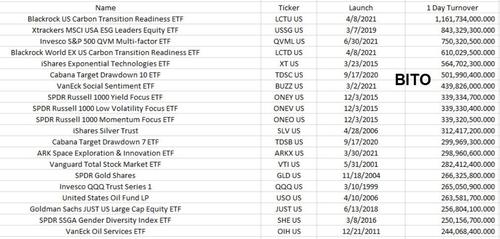 All that in under an hour.
*  *  *
The first US Bitcoin ETF has just started trading. ProShares Bitcoin Strategy ETF (BITO) tracks bitcoin via actively-managed exposure to future contracts.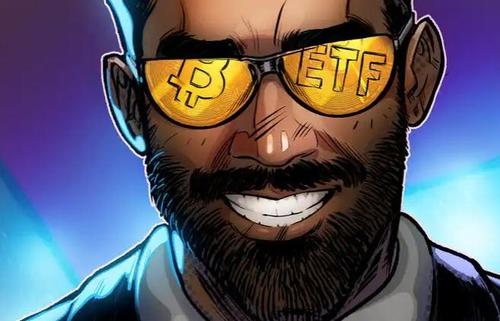 image courtesy of CoinTelegraph
ProShares CEO Michael Sapir said the launch marks an important milestone for cryptocurrency ETFs in the U.S. following several years of effort to list one on an exchange:
"BITO will continue the legacy of ETFs that provide investors convenient, liquid access to an asset class. 1993 is remembered for the first equity ETF, 2002 for the first bond ETF, and 2004 for the first gold ETF. 2021 will be remembered for the first cryptocurrency-linked ETF."
Sapir went on to say that the Bitcoin ETF's debut on NYSE unlocks massive exposure for investors in traditional financial markets.
"BITO will open up exposure to Bitcoin to a large segment of investors who have a brokerage account and are comfortable buying stocks and ETFs, but do not desire to go through the hassle and learning curve of establishing another account with a cryptocurrency provider and creating a Bitcoin wallet or are concerned that these providers may be unregulated and subject to security risks," he said.
BITO opened at 40.88 and is trading higher...That opening price is over 2% above the $40 reference price.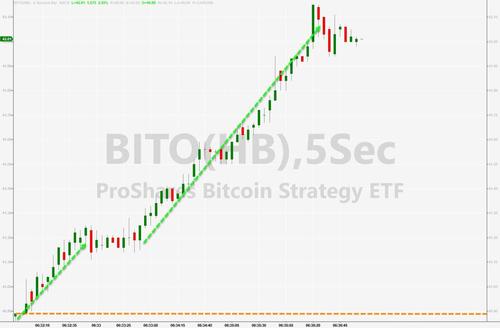 Spot Bitcoin prices just broke above $63k...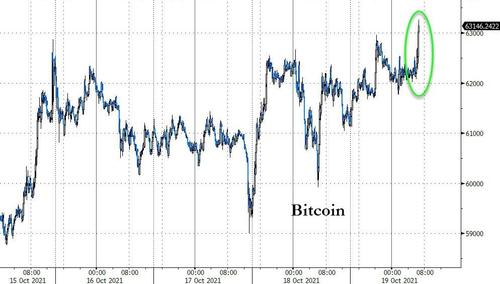 The futures-based Bitcoin ETF could attract more than $50 billion in inflows in its first year given the hype around it, according to noted Bitcoin bull Tom Lee, co-founder of Fundstrat Global Advisors. With bitcoin block rewards at $10 million per day, the equilibrium between the supply and demand of bitcoin will not be balanced unless the price of bitcoin moves significantly higher.
"The equilibrium price to clear this, based on analysis by our data science team, is $168,000," Fundstrat said.
However, as we detailed yesterday, caveat emptor just a little on this futures-based ETF, given its contango-heavy structure.
Which makes it painstakingly obvious that the approved ETF is not suitable for long term investment, and serves only as yet another way for day traders to partake in the exact 'highly speculative' activity that Gary Gensler regularly criticizes. And since 'uber-wealthy' Gensler, ex-Goldman Sachs, (how else would he have gotten his current position) knows all too well how this contango effect plays out, one has to wonder what exactly his angle is in approving such a product.
Meanwhile, Grayscale Investments LLC said Tuesday its filing as soon as Tuesday to convert the world's biggest Bitcoin fund into an ETF. While the Securities and Exchange Commission has allowed a derivatives-based product to launch, it has yet to permit the kind of structure used by Grayscale, which directly holds the largest cryptocurrency.
Finally, it is worth noting that despite all the FUD, bitcoin's price is up 50% since China banned crypto.
As CoinTelegraph reports, it's been 150 days since China banned Bitcoin (BTC) mining - and BTC price action has only benefited as a result.
Tyler Durden
Tue, 10/19/2021 - 13:06