A Bomb Cyclone Could Wallop Northeast With Heavy Snow 
March 9, 2022 | Tags: ZEROHEDGE
A Bomb Cyclone Could Wallop Northeast With Heavy Snow 
Despite the unseasonably warm temperatures in the eastern US earlier this week, winter isn't over with eleven days left in the season. 
AccuWeather forecasters warn a potential 'bomb cyclone' could unleash accumulating snowfall from the central Appalachians to the interior Northeast on Friday through Saturday. 
"Confidence is growing for a significant storm that will bring wide-reaching impacts," AccuWeather Meteorologist Alex DaSilva said.
The end-of-the-week storm will take aim at the Eastern Seaboard and is expected to undergo rapid strengthening, perhaps reaching bomb cyclone status. 
"Winds across the entire Northeast and mid-Atlantic will be very gusty Saturday and Saturday night," DaSilva said. 
AccuWeather meteorologists are still determining the rain-snow line, but models already suggest somewhere around Interstate 95.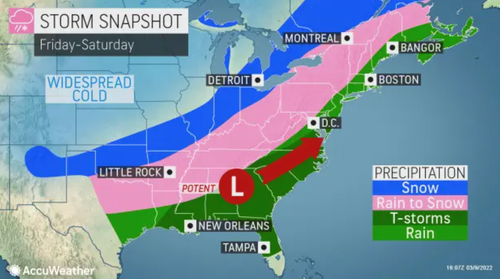 In the interior Northeast, accumulating snowfall is expected. 
"It is within this Appalachian zone that the air will be cold enough at the onset of precipitation, or turn colder dramatically during the event, for mostly snow to fall, with accumulations ranging from a few inches to a foot or more," AccuWeather Senior Meteorologist Alex Sosnowski said.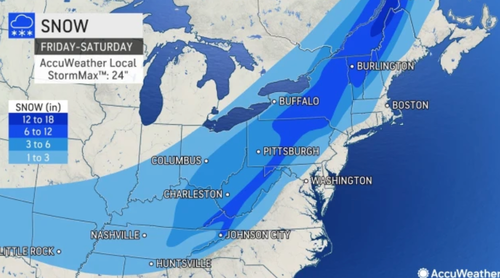 Nothing is locked in as meteorologists will likely be more definite in their forecasts on Thursday evening. 
Tyler Durden
Wed, 03/09/2022 - 19:00