Bonds, Bullion, & Black Gold Dumped As 'Hope-Hammered-Hedges' Squeeze Stocks Higher
March 9, 2022 | Tags: ZEROHEDGE
Bonds, Bullion, & Black Gold Dumped As 'Hope-Hammered-Hedges' Squeeze Stocks Higher
Another day, another hedge unwind-driven, negative-delta inspired meltup in stocks, triggered this time by optimistic headlines (that were really just 'meh' of the same sentiment) on the Ukraine situation.
Stocks soared the most since April 2020 today (2 days after the 2nd biggest daily drop since Oct 2020). Nasdaq soared almost 4% today while The Dow 'lagged' with a mere gain of 2.5% before some last minute selling pressure spoiled the big day (taking The Dow back below yesterday's roller-coaster highs)...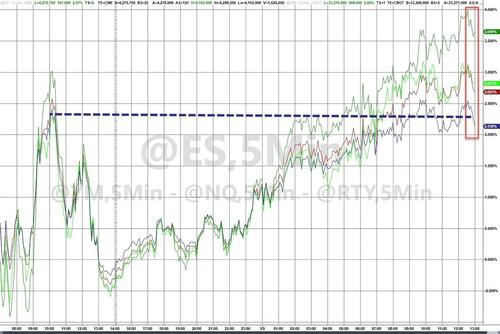 As a reminder, until yesterday this was the second worst start to a year for stocks since 1900 (with 2009 just worse)...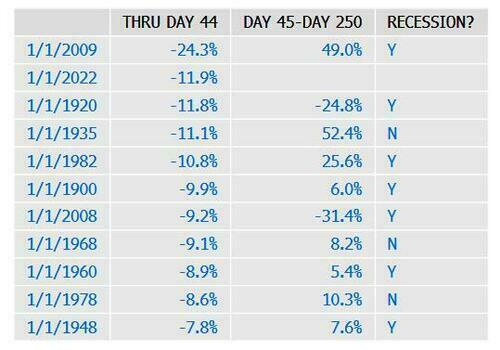 VIX term structure remains inverted but today saw a lot of that short-term fear/hedge-panic removed...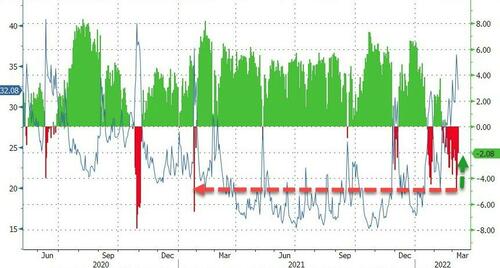 Source: Bloomberg
Which likely wiped out a lot of this negative delta and sets the stage for another drop next...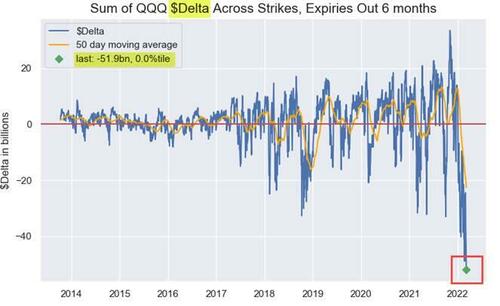 Source: Nomura
Total chaos in the energy complex today with oil crashing, bouncing, flash-crashing, bouncing, and then crashing some more... driven by a cavalcade of headlines of hopes for peace breaking out in Ukraine, and UAE talking to OPEC about raising production (later denied), mixed with an across the board draw in US inventories...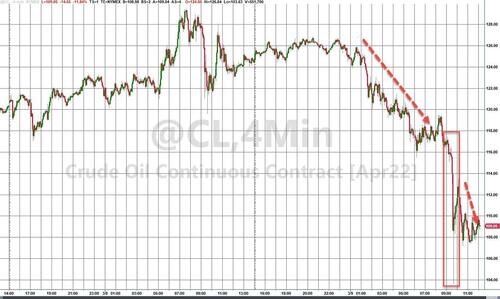 Wholesale Gasoline (RBOB) prices collapsed also, erasing half of the post-invasion spike...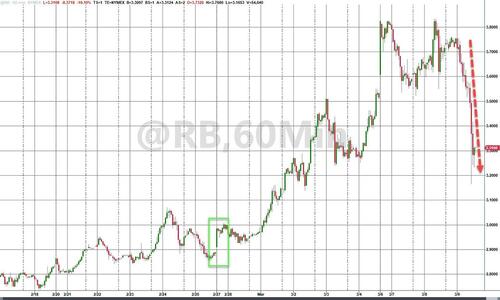 European diesel futures went berserk as the front-month (March) contract exploded by about $300/ton between 4 and 430 (London time) only to crash back to new day lows for the day, swinging from over $1650 to below $1100...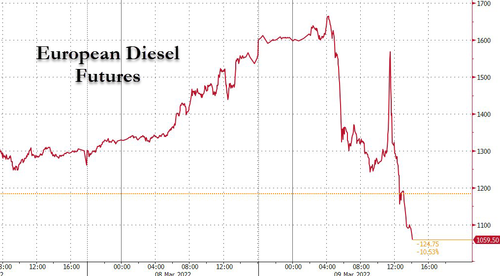 Source: Bloomberg
Some potentially good news for Biden (and all of us who still drive a climate-murdering ICE vehicle), today's plunge in crude and wholesales gasoline suggests the recent surge in gas prices at the pump could well be peaking... (until the next surge)...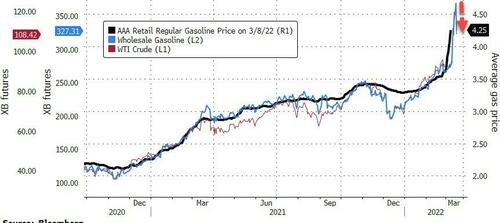 Source: Bloomberg
If not, do not worry America, this is the lady in charge of finding a 'solution'...
When @TomKeene asks @SecGranholm the very pertinent question on whether America (and no OPEC+) needs to increase oil production. The response, amid laughing: "That's hilarious" #OOTT pic.twitter.com/LToWUIxTb0

— Javier Blas (@JavierBlas) November 5, 2021
The Euro soared today on the same hope (biggest daily jump since March 2020)...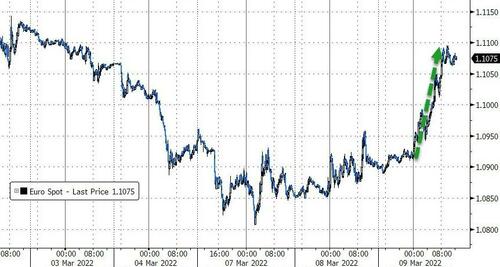 Source: Bloomberg
Crypto screamed higher overnight and held gains as The White House issued its crypto-related EO and it was a nothingburger... for now...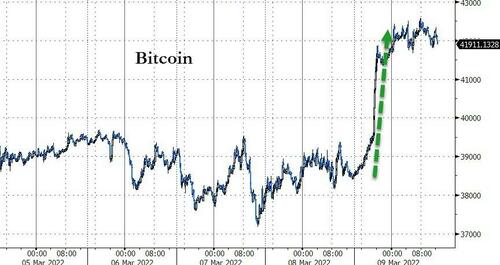 Source: Bloomberg
Bonds were puked higher in yield as safe-havens were for losers (the entire curve surged around 7-9bps higher with the belly underperforming)...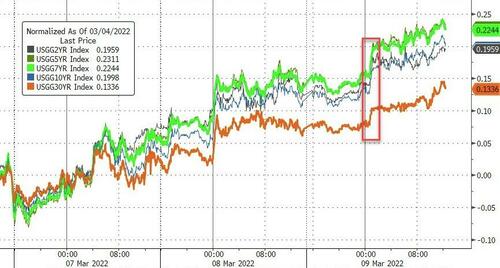 Source: Bloomberg
Rate-hike odds rose today, especially longer-dated with a modest 8% chance now of a 50bps hike next week but a 45% chance of 7 hikes this year now priced in...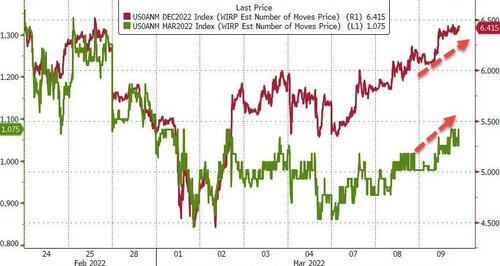 Source: Bloomberg
Gold neared $1270 overnight but was clubbed like a baby seal back below $2000 by the end of the US trading session...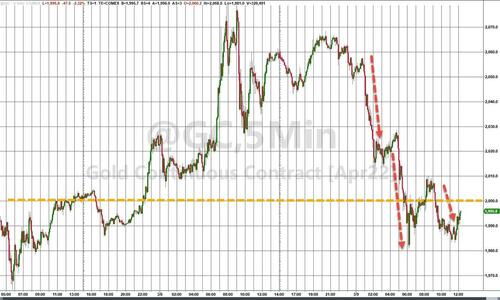 Finally, as Bloomberg points out, the cost of hedging against further declines in Russia's ruble rose to the highest on record this week. And it's not just short-term declines that have traders worried: the premium of options to sell the ruble over those to buy it over the next three, six and 12 months, known as the 25 Delta risk reversal, surpassed levels reached during the 2008 financial crisis and the annexation of Crimea in 2014.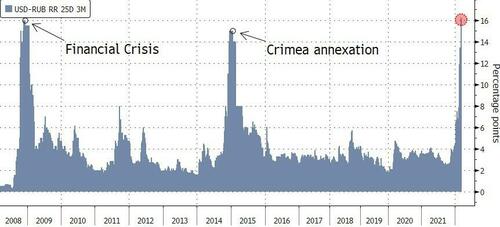 Source: Bloomberg
The ruble has slumped more than 40% since Russian forces invaded Ukraine on Feb. 24 (when it has been allowed to trade)...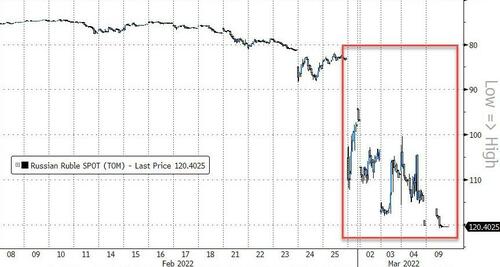 Source: Bloomberg
But who knows what happens next with the world and their pet rabbit hedged and wedged for more downside?
Tyler Durden
Wed, 03/09/2022 - 16:00