Gordon Johnson: Tesla's Q1 2022 Delivery Estimates May Need To Be Revised "Materially" Lower
March 9, 2022 | Tags: ZEROHEDGE
Gordon Johnson: Tesla's Q1 2022 Delivery Estimates May Need To Be Revised "Materially" Lower
With yesterday's auto sales data out of China showing a slight dropoff for Tesla, analyst Gordon Johnson says he thinks the company has a demand problem. 
Recall, yesterday we reported that Tesla officially sold 56,515 Chinese made vehicles in February, according to new data from the China Passenger Car Association (CPCA) that was released on Tuesday. This is sequentially lower than the company's 59,845 vehicles sold in January, investors had widely expected a slight decline in numbers. Year over year, the numbers are impressive, but the comps still reflect a slowdown in production due to the ongoing Covid pandemic.
In February 2021, Tesla sold 18,318 vehicles out of its Shanghai plant. 
Of the vehicles it produced this year, about 33,000 were exported to Europe and 23,000 were sold domestically in China. "Tesla typically exports more of its Shanghai production early in a quarter and sells more in China later in a quarter," Barron's noted on Tuesday morning.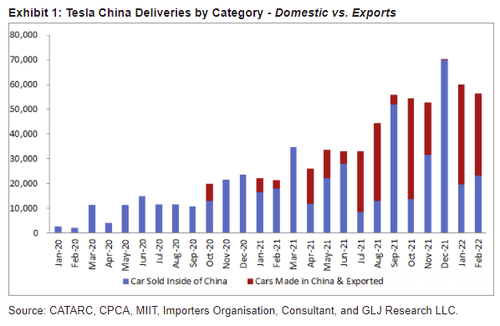 Jonson called into question the distribution of how the China-made vehicles were sold in a note to clients on Tuesday: "In short, in the opposite of what many TSLA pundits expected to occur, an increasingly larger portion of TSLA's made-in-China cars are being exported to global markets, calling into question both: (a) the viability of TSLA's demand inside of China, and (b) TSLA's gross margins later this year given Germany is the most expensive place in the World to mass produce automobiles."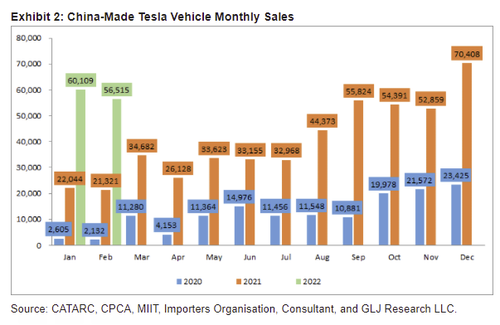 He also noted the impact of rising nickel prices on the auto manufacturer, stating that based on his analysis and checks with traders and EV experts in London/Shanghai, that current nickel prices "equate to ~$998.97/car in added costs for TSLA".
"Applying these costs to TSLA's 4Q21 results, the company's reported gross margin would have dropped -193bps, or from 30.6% to 28.6% (a MEANINGFUL decline)," Johnson wrote. 
Turning his focus to Europe for the company, he noted that TSLA's sales are down -15.9% QoQ, 
"Furthermore, assuming a -15.9% fall in Mar.'s EU sales vs. Dec. 2021, it looks like TSLA's EU sales are trending towards 45.662K cars, which would mean 4Q21 was peak TSLA EU deliveries," Johnson wrote. 
He then asked why Tesla would need a new plant in Germany when >100% of global demand is currently satisfied from Fremont and Shanghai's collective production capacity.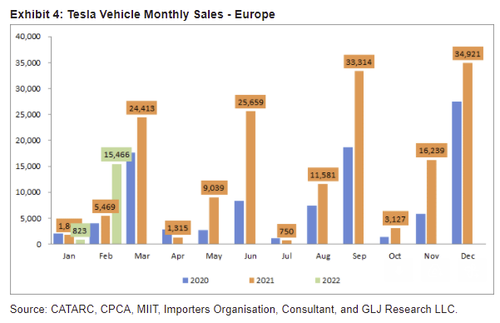 "In short, we see a big problem," Johnson writes.
"Why? Well, first, we'll note, due to chip shortages, as well as what we see as lackluster demand, after producing 66.579K cars in Dec. 2021, TSLA's production of cars fell to JUST 51.794K cars in Jan. 2022 (i.e., down -22.2% MoM). Under that backdrop, to hit TroyTeslike's current est. of 134.646K cars delivered in China in 1Q22, TSLA would have to deliver 91.836K cars in Mar. 2022 in China (something we do not see happening, given China's BEV sales fell -21.6% MoM in Feb. 2022)."
He continued: "TSLA's all-time high record deliveries in China were 70.163K in Dec. 2021 (a month in which demand pull-in was robust, driven by a -30% cut to China's EV subsidy 1/1/22)."
As a result, Johnson expects a material revision lower in first quarter 2022 production estimates. He says estimates are too high by "at least 12k to 20k vehicles", and he puts Tesla's Q1 2022 delivery number at an estimate of 304k to 312k.
Street expectations are currently for about 312k. 
We had noted yesterday that Tesla will have to play catch-up for the rest of the year if it hopes to meet its projected guidance of between 800,000 and 900,000 Chinese deliveries for the full year. 
Tyler Durden
Wed, 03/09/2022 - 12:01