White House Expects A "High Headline" In Tomorrow's CPI Print
March 9, 2022 | Tags: ZEROHEDGE
White House Expects A "High Headline" In Tomorrow's CPI Print
While a 25 bps rate hike now in the bag, with the market even seeing modest odds of a 50bps hike from the Fed next week despite Powell's assurances that lift will be slow and steady, tomorrow we will get the final, all important economic data point ahead of next week's hike (after last week's blowout jobs report which however nobody paid much attention to). And according to the White House, it will be a doozy.
Speaking to reporters, White House press secretary Jen Psaki said today that the administration is expecting February's consumer price index report to yield yet an even higher inflation figure than January's 7.5%.
Psaki was asked about the report, scheduled to be published at 830am tomorrow, and she responded that the administration's assessment is in part based on elevated energy prices, which of course the Biden is now blaming solely on Putin.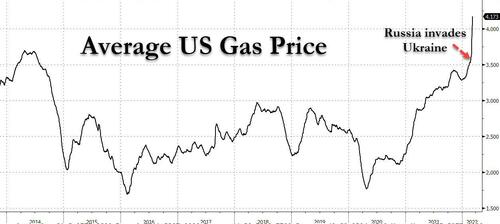 "We've seen the price of gas increase, as I noted 75 cents since the beginning of the year, as Putin built up his military near Ukraine and took increasingly aggressive measures that were felt in the markets," she said, ignoring the $1+ increase since the beginning of 2021.
"We also expect some increases in pandemic-affected sectors, given our strong recovery from omicron in February. That's a positive sign for our economy and for Americans who are going out again, traveling, going to restaurants, and getting back to normal."
At the same time, the White House spokeswoman said she expects to see "continued moderation in used car prices," which is odd since there hasn't really been any moderation in the past two years, but did not provide specifics when pressed on what the administration has done in 2022 to reverse rising prices.
"We've seen inflationary pressure, or inflationary numbers, go down month-to-month, even as we looked at the year-to-year numbers go up, which we entirely predicted," she continued. "One, we've taken steps to address bottlenecks in the supply chain to reduce those bottlenecks. Those are steps we've taken not just since October but since earlier this year, and there's no question that we've seen impacts as it relates to getting goods and supplies out to the American public."
Psaki also said the president has focused on "shortages and issues in the semiconductor space," adding that Biden was set to host a semiconductor competition event at the White House later that afternoon; it was unclear how said event would free up bottlenecks which remain as snarled as ever...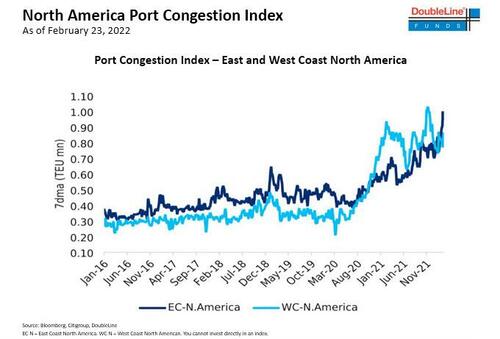 ... or lower prices.
And while consensus expected tomorrow's CPI print to rise to 7.9% Y/Y, driven in equal part by core goods and services and non-core items such as food and energy...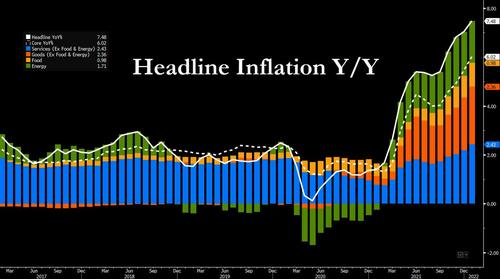 ... Bloomberg's economists have an even gloomier outlook, and now project "the February CPI to show an increase of 8.0% year over year and top out in the vicinity of 9% in March or April." But if energy prices continue to rise "CPI could rise above10%." For context, the last time we had 10% inflation the Fed Funds rate was 15%...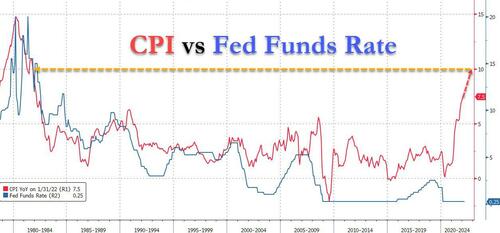 Tyler Durden
Wed, 03/09/2022 - 18:46