Will There Be A Military Draft? Interest Surges Online 
March 9, 2022 | Tags: ZEROHEDGE
Will There Be A Military Draft? Interest Surges Online 
Interest in the "draft" and "Russian nuclear weapons" surged online since Russia invaded Ukraine. Last month Russian President Vladimir Putin put his nuclear forces into "special combat readiness." He warned days ago, if the West imposes a 'no-fly' zone over Ukraine, it will lead to further conflict. 
So with World War III trending online, many young men wonder if they will be suddenly called up to fight against the Russians. The google search term "Will I get drafted" just soared to a record high.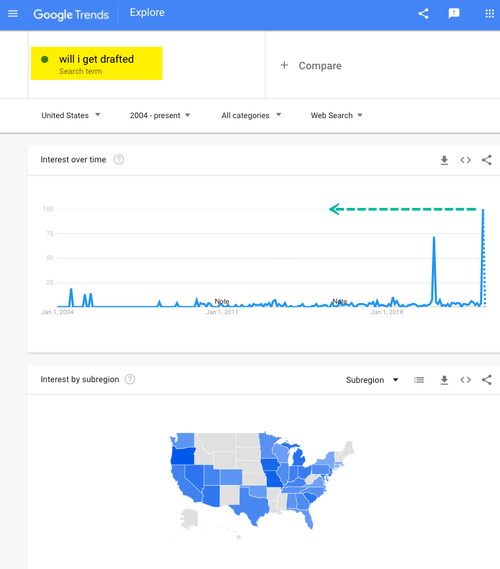 The interest in being drafted surpassed the time in early 2020 when a US drone strike in Iraq killed Iran's top security and intelligence commander, prompting concerns for war which crashed the Selective Service System's website that maintains a database of Americans eligible for a draft.
There have yet to be problems with the Selective Service System website, as far as we know. For those wondering, 18 to 25 years old must register with the Selective Service System. 
Tyler Durden
Wed, 03/09/2022 - 21:00