"Everyone's Videos Are Gone??" – US TikTok Users Report Outages On Popular App
March 10, 2022 | Tags: ZEROHEDGE
"Everyone's Videos Are Gone??" - US TikTok Users Report Outages On Popular App
Downdetector reports TikTok, one of the world's most widely used social media platforms, is experiencing disruptions or outages that began around 0650 ET.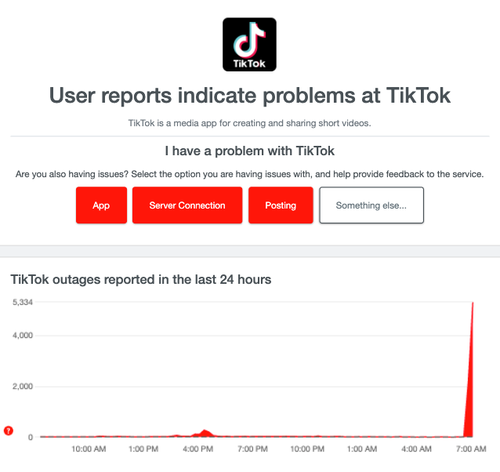 TikTok users in the Mid-Atlantic and Northeast are reporting a bulk of the outages. Other users around the country report similar issues.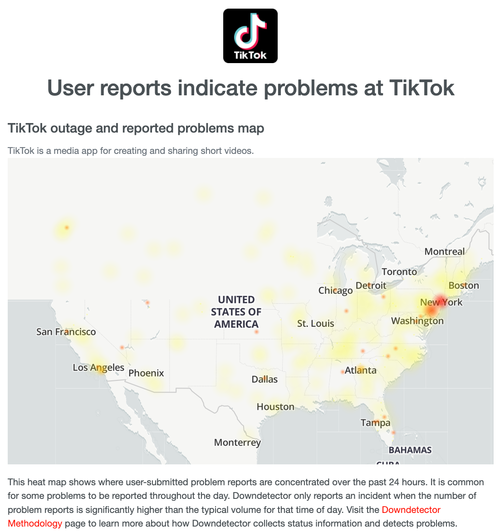 Search trends for "Is TikTok Down" exploded this morning across the US. This would suggest the problem is widespread.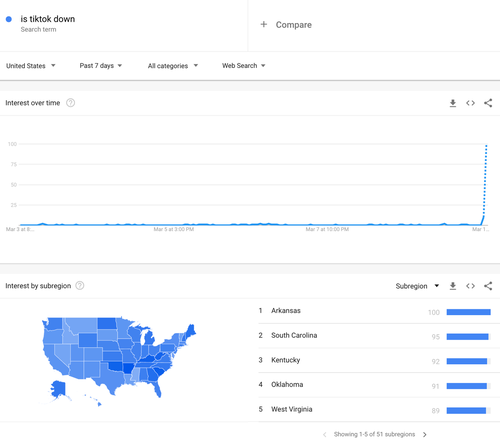 A Twitter user posted a snapshot of two popular TikTokers and showed how their videos aren't appearing. He said, "What the heck? Everyone's videos are gone??" 
@tiktok_us what the heck? Everyone's videos are gone?? pic.twitter.com/HIPxbVUxW7

— KDA (@signinginoh) March 10, 2022
anyone else's tiktok not working?

— 🌙 / 🇺🇦 (@dnfuckoff) March 10, 2022
WHY ARE THEY GONE @tiktok_us @TikTokSupport pic.twitter.com/4q62ljsQFB

— addy (@swtxbutera) March 10, 2022
@tiktok_us did a update. Now no videos. Every profile has no videos to view! #tiktokfail #wtftiktok

— Kelli (@tattoomom71) March 10, 2022
Anyone having issues with @tiktok_us ? They posted something about shutting down. And now I can't see videos on my profile or on ANYONE else's either. #TikTok #twitch #tiktokers #contentcreators pic.twitter.com/yg32fUbI4n

— Carlvito_gaming (@carlvito_gaming) March 10, 2022
Uh…what? Literally had six videos on my @tiktok_us account yesterday and when I checked this morning, they're all gone?! What's the meaning of this?! pic.twitter.com/10copGPwg8

— TaylorPlayz (@TF59236659) March 10, 2022
Very upset, All my videos have disappeared from my tiktok profile. My videos still show when shown in the search bar but no one can watch them on my profile. I did write tiktok on Twitter and through the tiktok app. I hope they can resolve this issue. pic.twitter.com/llw4wCJUmm

— The Official Crazzed_Hatter (@CrazzedHatter) March 10, 2022
Anybody else TikTok look blank ? pic.twitter.com/9j8ruE5Gi4

— DreéLarielle (@TheMostHated89) March 10, 2022
UPDATE: #TikTok is experiencing a #glitch. No, you are not banned. pic.twitter.com/7VQUWQLQEG

— FreakinOut (@FreakinOut_ttv) March 10, 2022
Tyler Durden
Thu, 03/10/2022 - 07:36