Polish Ambassador Says Sanctions On Russia Should "Last For A Decade, Maybe 15 Years"
March 10, 2022 | Tags: ZEROHEDGE
Polish Ambassador Says Sanctions On Russia Should "Last For A Decade, Maybe 15 Years"
Poland's Ambassador to the United States, Marek Magierowski, wants the new US and EU-led sanctions on Russia which came in the aftermath of its Feb.24 invasion of Ukraine to last for ten or up to 15 years.
He described in a live interview with CNN's Christiane Amanpour on Thursday that the sanctions should "last for a decade, maybe 15 years." Also amid allegations that Russian forces are targeting hospitals, which are similar to claims made in Aleppo during Russia's prior years' military action there, Magierowski cited "acts of barbarism in Ukraine" that he called "war crimes, atrocities."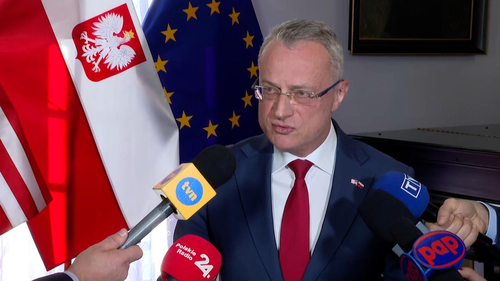 On this point, he said, "I do believe and I am confident that Mr. Putin and his cronies and all his closest aides will end up in the dock, in the Hague, in the International Criminal Court, because this is what he has already fully deserved," according to CNN.
Here's what he told Amanpour in the interview on how long-lasting Russia's total economic isolation should be:
"I think that if we wanted to retaliate for that invasion against Ukraine with punitive measures and by crippling the Russian economy, we have to be determined and ready to uphold the sanctions in a longer term. Maybe they should last for a decade, maybe 15 years, because I'm afraid we are going to live with Mr. Putin for many years to come."   
Magierowski additionally described that he doesn't think a diplomatic solution is reachable, but stressed the outcome will likely be decided on the battlefield, while underscoring it's not going well for Russia...
"Russia is losing this war right now. Not only in the hearts and mind of Europeans and Americans or the societies of the so-called free world but Russia is losing this war literally," the Polish ambassador said. "I don't know whether we will find a diplomatic solution, but maybe a military solution… I believe the Ukrainian army is capable of defeating the Russian army right now."
But it remains that Ukraine's army is vastly outnumbered by Russian forces, which are now said to be just a few miles outside the capital of Kiev.
Economist Michael Hudson has long argued that the US war on Russia was actually a US war on Europe, to keep the EU subordinated to US capital

That's exactly what's happening now: European industry is shutting down as energy prices soar due to sanctionshttps://t.co/Ly5zpeXzVY

— Benjamin Norton (@BenjaminNorton) March 10, 2022
Meanwhile, Axios has an updated list of major global businesses across multiple sectors which have abandoned Russia since the start of the invasion...
Yum Brands, the parent company of KFC and Pizza Hut, has suspended operations and investment in Russia.
McDonald's announced it is temporarily closing all of its stores in Russia.
Starbucks suspended all activity in Russia.
Coca-Cola was suspending operations in Russia.
Deloitte said it "will no longer operate in Russia and Belarus," and "will separate our practice" in the two countries "from the global network of member firms."
Ernst & Young was severing ties with Russia, axing its 4,700-person business in the country.
PricewaterhouseCoopers was cutting ties with its Russian member, affecting 3,700 partners and staff in the country.
KPMG was ending its association with its 4,500 partners and staff in Russia and Belarus.
Estée Lauder said it was suspending "all commercial activity in Russia.
Boeing suspended major operations in Moscow, as well as maintenance and technical support for Russian airlines.
Airbus is halting supply of parts and services to Russian airlines.
Shell was severing ties with Russian gas giant Gazprom and ending its roughly $1 billion financing of the Nord Stream 2 gas pipeline. It's donating profits from a recent purchase of Russian crude oil to aid Ukrainian refugees.
BP is exiting its nearly 20% stake in Russian oil giant Rosneft, and faces a potential financial hit of as much as $25 billion.
Exxon Mobil said it was exiting Russia oil and gas operations valued at more than $4 billion and cease new investment.
GM, which sells only about 3,000 cars a year in Russia,was suspending exporting vehicles.
Ford suspended operations.
BMW stopped shipments and will stop production in Russia.
Daimler Truck Holdings said it would no longer send supply components to its Russian joint-venture partner.
Renault ceased operations and production at two assembly plants because it can't get parts.
VW paused delivery of Audis already in Russia so it can adjust car prices to reflect the decline in value of the ruble.
Harley-Davidson suspended shipments to Russia.
Adidas suspended its partnership with the Russian Football Union.
Nike ceased online sales because it can't guarantee delivery.
FedEx and UPS suspended shipments.
Yoox Net-A-Porter Group and Farfetch, luxury e-commerce platforms, are suspending deliveries in Russia.
Apple has paused product sales and limited services (including Apple Pay), on top of ceasing exports to Russia and restricting features in Apple Maps in Ukraine to safeguard civilian safety.
Dell stopped selling products.
Ericsson was suspending deliveries to Russia.
Walt Disney was pausing film debuts in Russia. Warner Bros., Sony, Paramount and Universal say they won't release films in the country.
Ikea was closing its Russian stores and pausing all exports and imports in the country and ally Belarus.
Airbnb said it was "suspending all operations in Russia and Belarus."
Google suspended all online advertising in Russia.
Microsoft suspended all new sales of its products and services in Russia.
Hermès temporarily closed all of its stores in Russia.
Amazon Web Services was no longer accepting new customers Russia and Belarus.
Uniqlo's owner, Fast Retailing, temporarily suspended operations in Russia.
Tyler Durden
Thu, 03/10/2022 - 19:00