"This Is Absurd" – Wall Street Pushes For Defense Stocks To Get 'ESG' Label
March 10, 2022 | Tags: ZEROHEDGE
"This Is Absurd" - Wall Street Pushes For Defense Stocks To Get 'ESG' Label
There's little doubt that the growing influence of 'ESG' investing helped lead Western Europe to its present unfavorable position, allowing Russia to dominate the energy space. But going forward, a handful of Wall Street analysts are contemplating another 'ESG' revamp: allowing "military weapons" and "defense" stocks to be considered "ESG" plays.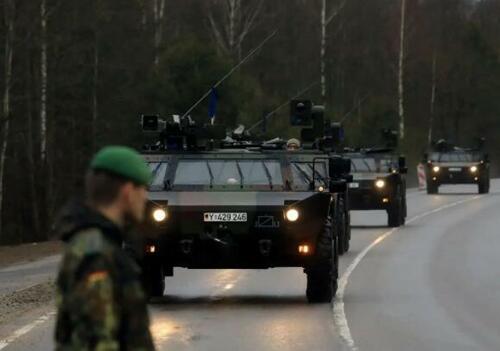 If you are thinking that this seems a little, well, off, don't worry - you're not alone. One prominent ESG investor said he was approached about the possibility last week, but he called the idea "absurd", according to NYT.
Leslie Samuelrich, president of the Green Century Funds, which was founded by nonprofit groups, including the California Public Interest Research Group and the Citizen Lobby of New Jersey, was appalled by the notion.

"This is absurd," she said. "It feels very opportunistic and shallow." She added that Ukraine needed to be defended. "I'm part Ukrainian," she said. "Of course, they need weapons."

But she said that had nothing to do with investing in funds devoted to socially responsible investing. "Those who argue that weapons belong in a sustainable portfolio are capitalizing on the horrific attack," she said. "Excluding military and civilian firearms has been a long-held screen by authentic responsible investors."
Among the idea's biggest supporters are two Citigroup analysts, who recently published research advocating the notion. 
At least that's the view of two analysts with Citi, who argue that the height of social responsibility at this moment requires putting your investment money into the stocks of companies that make weapons.

"Defending the values of liberal democracies and creating a deterrent, which preserves peace and global stability," is so important that weapons makers should be included in funds that carry an E.S.G., or "environmental, social and governance," label, the two analysts, Charles J. Armitage and Samuel Burgess, wrote.
But opponents of this idea have a somewhat different worldview than their more bullish peers because they believe it's "so important" to cut weapons makers some slack in these particularly trying these times. 
It certainly does to Andrew Behar, the chief executive of As You Sow, an advocacy and research group that frequently files shareholder proxy proposals on E.S.G. issues.

"We don't think that you should have any weapons systems in an E.S.G. fund," he said. The group provides an online tool on the web site Weapon Free Funds that enables investors to screen mutual funds and exchange-traded funds on this issue.
Already, ESG stocks have been outperforming vanilla military stocks, but that could easily change should regulators make one modest tweak to European rules. 
They acknowledge that E.S.G. investing has become a big deal in the United States and, even more so, in Europe. And they say that stocks that are identified as E.S.G. or green — those of companies with relatively low carbon emissions — are trading at a premium. They were unavailable for an interview, but in a series of research notes and in a conference call with clients since Feb. 1, they noted that with the rise of the E.S.G. movement, military contractors have fallen out of favor with many investors, particularly in Europe.

They would like that to change, in part through a technical measure: by labeling military contractors as E.S.G. compliant in the European Union's so-called taxonomy regulations, which aim to be "a gold standard" in guiding private and public investors. Those regulations have already been the subject of fierce debate because of a decision to label some nuclear power and natural gas plants as "transitional" green investments.
* * *
A Cautionary Tale
Of course, including weapons stocks could risk rendering the ESG label meaningless, putting the overall trend at risk. NYT's sources cited Raytheon, the massive defense contractor, as an example: how could a company like this - which manufactures weapons used by the Saudi government in its proxy war in Yemen - be considered "socially responsible?"
One example might be Raytheon, an important US military contractor, he said. Raytheon is a major supplier of arms to Saudi Arabia, which used them to bomb civilians in Yemen, The New York Times has found. "That might not bother some people who are committed to sustainable investing," Mr. Hale said, "but it will bother a lot of them."
As Hale said, it's a "slippery slope". 
At a certain point, he said, when you start labeling things like weapons as "sustainable investing or socially responsible investing or E.S.G.," you will find that you are on "a slippery slope," he said.

"Virtually any business or industry can concoct some rationale for what they do and call it sustainable and make an argument to include it in a taxonomy or category or what have you."
For example, if black becomes white, and up becomes down, then what's the point of even having labels anymore?
Labeling military spending as socially responsible "threatens to make all your labels meaningless."
Tl;dr...
"Defence stocks are ESG"😂 https://t.co/SQray097oJ pic.twitter.com/UMKvW3TcZq

— Misha Saul (@misha_saul) March 8, 2022
Tyler Durden
Thu, 03/10/2022 - 05:45