Bonds, Stocks, & Commodities Crushed Because 'Putin'
March 11, 2022 | Tags: ZEROHEDGE
Bonds, Stocks, & Commodities Crushed Because 'Putin'
Quick reminder on inflation...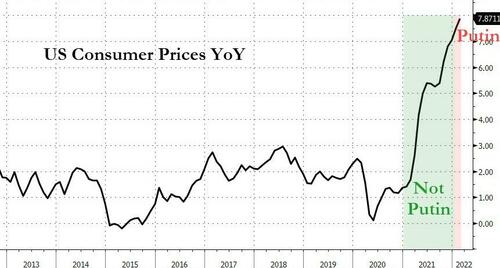 Source: Bloomberg
Having got that out of the way, stocks, bonds, and commodities were all hit hard this week as financial conditions tightened and geopolitical risks surged (mixed with some optimism of a peace deal in there somewhere)... oh and because "Putin" went full 'Leeroy Jenkins' and everyone knows you never go full 'Leeroy Jenkins'...
Or was it Biden's "world war 3" tweet that killed the market today?
Biden: "We will not fight a war against Russia in Ukraine. A direct confrontation between NATO and Russia is world war 3 -- something we must strive to prevent. But we already know Putin's war against Ukraine will never be a victory." pic.twitter.com/gxxqxkgHHP

— Aaron Rupar (@atrupar) March 11, 2022
Today was a great example of that chaos - a throwaway line from Putin that some advances were made in negotiations sent stocks to the highs of the day, then a dismal sentiment print along with more sanctions, more threats and finally headlines that Russia will source weapons to Belarus, sent stocks to the lows of the day. Nasdaq swung from up 2% to down over 2% on the day....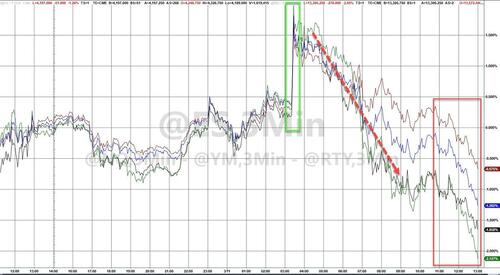 That sent everything red for the week with Nasdaq the biggest loser, down over 3%...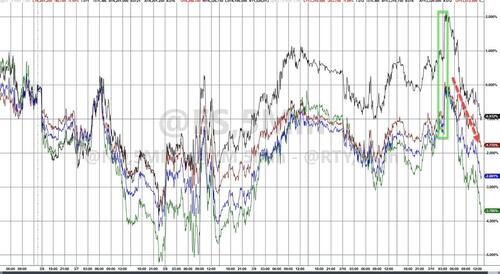 Could be worse... could be China tech! Now down over 70% from the highs....
Inflation angst sent yields on sovereign bonds soaring this week with The ECB's acceleration of the end of its free-money-for-all program also monkeyhammering European yields...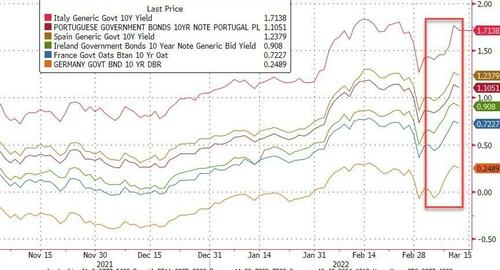 Source: Bloomberg
The belly of the US curve underperformed significantly (5s and 7s up over 30bps!) while the long-end rose 'only' 20bps...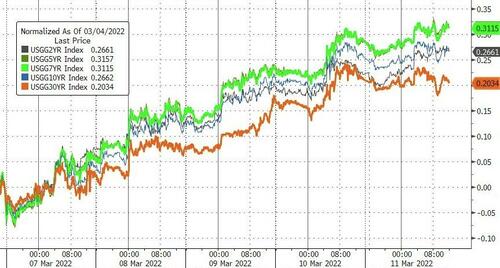 Source: Bloomberg
The Treasury yield curve is screaming 'Fed Policy Error Imminent' as the entire curve flattened drastically with 7s10s joining 20s30s in inversion and 5s10s getting very close to inverting...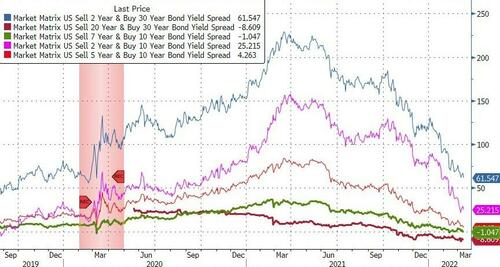 Source: Bloomberg
And rate-hike odds for 2022 surged to 70% chance of a 7th hike pried in (while March remains pretty confident that just 1 rate-hike will hit)...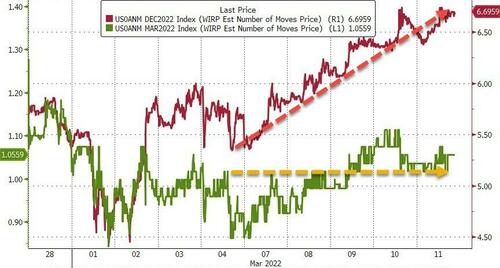 Source: Bloomberg
Credit markets 'cracked' further this week...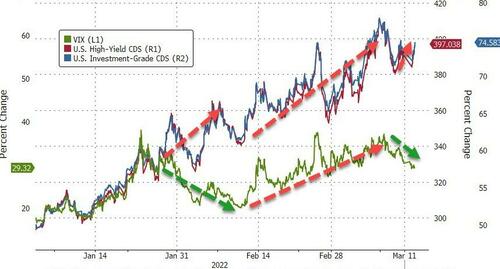 Source: Bloomberg
With junk bond yields now at their highest relative to S&P earnings yield since Nov 2020...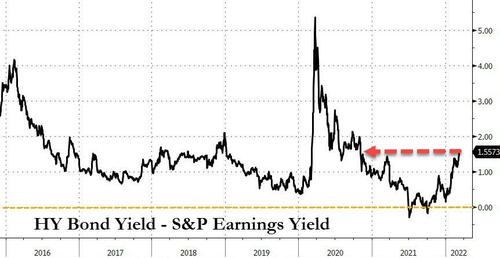 Source: Bloomberg
Commodities suffered their first weekly loss in 3 months...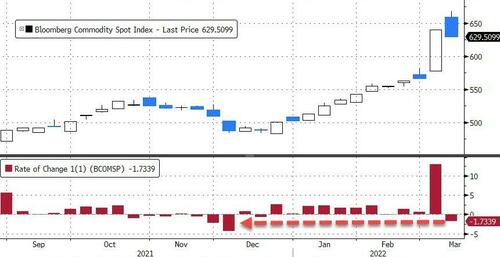 Source: Bloomberg
Wheat was clubbed like a baby seal this week (following last week's chaotic meltup)...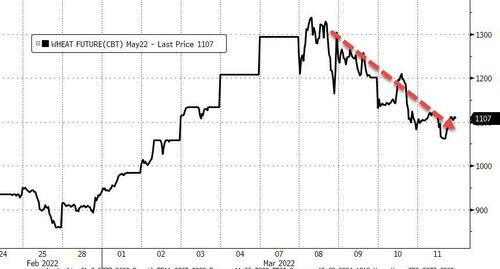 Source: Bloomberg
Crude and Copper were dumped while PMs managed to cling to gains amid the chaos...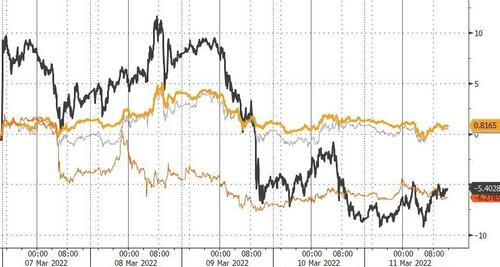 Source: Bloomberg
Gold fell back below $2000 from its midweek spike...
And just for good measure, gas prices at the pump rose to a record $4.32/gallon...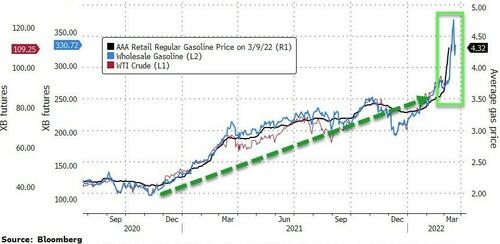 Source: Bloomberg
Finally, in case you were wondering just how much damage 'Putin' has done to global stock and bond markets... it's a lot...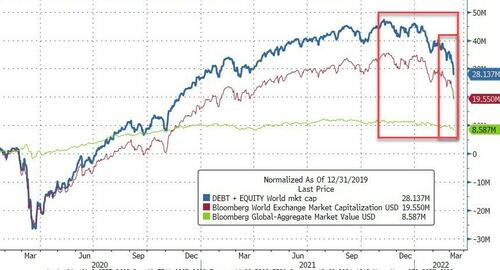 Source: Bloomberg
From the record highs in November, global bond and stock markets are down $18 trillion! (and admittedly it did accelerate in the last two post-Putin weeks obviously)
And it seems investors have rediscovered the real safe-haven once again (as global negative-yielding debt has dropped to just $4 trillion)...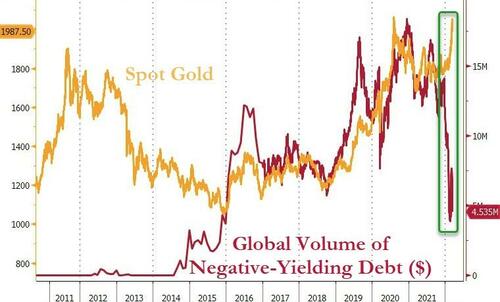 Source: Bloomberg
World War 3 risk?
Tyler Durden
Fri, 03/11/2022 - 16:00