"Credit Is Cracking"
March 11, 2022 | Tags: ZEROHEDGE
"Credit Is Cracking"
Credit is "cracking" are the ominous words that BofA strategist Michael Hartnett chose to describe the bond markets currently, and it is a very ugly picture indeed - for both price... and flows.
As HY bond prices lead equities lower...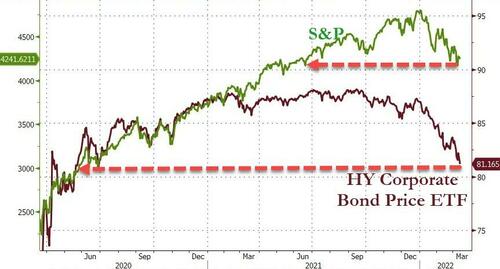 Source: Bloomberg
And HY spreads are following suit (so its not just rates driving weakness)...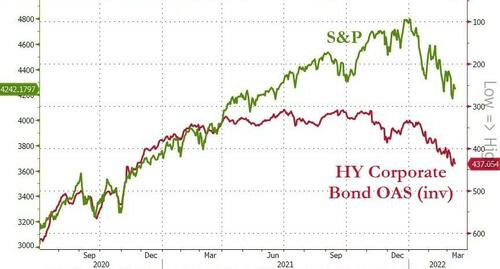 Source: Bloomberg
...the flows out of corporate debt are accelerating...
But it's not just the junk that's "cracking"...it's everything...
IG bond outflows past 9 weeks ($12.8bn)

EM debt outflows past 9 weeks ($3.5bn)

Munis outflows past 4 weeks ($0.5bn)

MBS outflows past 16 weeks($1.5bn)

Govt/Tsy inflows past 9 weeks ($5.4bn)

Largest TIPS inflow since Nov'21 ($2.1 bn)

1st Bank loan outflow since Dec'21 ($38mn)
In the U.S., investors pulled $5.4 billion from corporate high-grade funds in the biggest weekly exodus since April 2020, according to data from Refinitiv Lipper for the period ended March 9.
Even those safest dollar corporate bonds losing more than 8%, while equivalent euro-denominated debt has lost more than 4.7%, according to Bloomberg index data, but European corporate credit is facing further blows as the ECB - the biggest buyer - prepares for a faster-than-expected exit from the market.
And the pain is in investment-grade spreads (credit risk) just as much as high-yield; both just showing VIX (equity risk) the way forward (and higher)...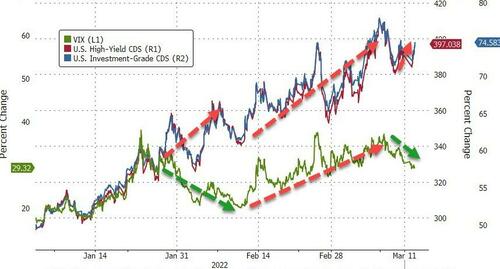 Source: Bloomberg
And that means only one thing, equities face a vacuum of no support down from here with record outflows in European stocks last week...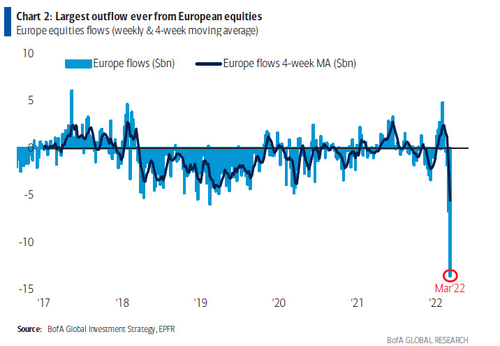 And the last time we saw equity (higher) and credit (lower in price) did not end at all well (with Powell having to about-face and save the world again, but only after significant pain)...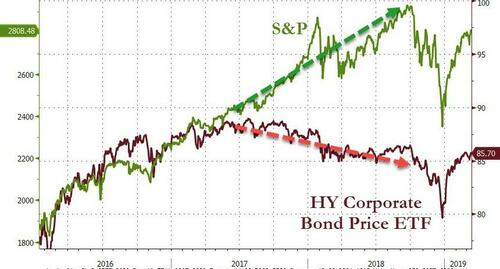 Source: Bloomberg
When the credit 'floor' starts cracking, brace...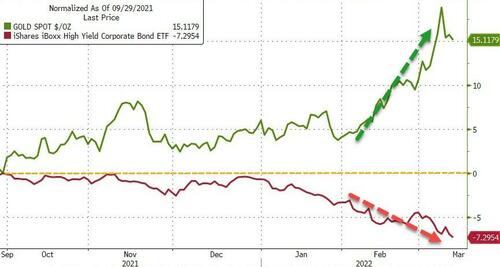 Source: Bloomberg
And the new safe-haven is the same as the oldest safe-haven.
And with Goldman's economists warning the probability of a U.S. recession in the next year may be as much as 35% -as they cut their forecasts for growth due to the hit from soaring oil prices and other fallout from the war in Ukraine - who can blame investors for abandoning the most recession-sensitive part of the balance sheet in favor of a barbarous relic.
Tyler Durden
Fri, 03/11/2022 - 14:25