White House Holds 'Briefing' For TikTok Creators On Ukraine: "Like A Kindergarten News Conference"
March 12, 2022 | Tags: ZEROHEDGE
White House Holds 'Briefing' For TikTok Creators On Ukraine: "Like A Kindergarten News Conference"
Not The Onion: there's a war in Europe, a massive refugee crisis of well over 2.5 million leaving Ukraine, global markets in chaos, soaring energy prices amid rising inflation, talk of avoiding World War 3... and the White House is busy giving a "briefing" to TikTok influencers, as in the popular Chinese app...
"The White House on Thursday briefed around 30 social media creators covering Russia's invasion of Ukraine, according to multiple media reports," The Hill writes. "The briefing was led by White House National Security Council special adviser for communications Matt Miller and press secretary Jen Psaki. News of the briefing was first reported by the Washington Post."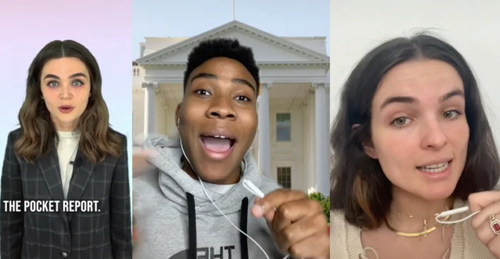 A White House statement indicated that since so many young people get their news via TikTok and other major social media platforms, it's important to make sure the most prominent influencers are getting their info "from an authoritative source". 
As cited in The Hill, the statement said:
"this is a critically important avenue in the way the American public is finding out about the latest" and they wanted to make sure the influencers had the "latest information from an authoritative source."
And to be expected some of the content which resulted from the briefing reads like it's straight out of a State Department script...
Ukrainian American TikTok creator Aaron Parnas, who has 1.2 million followers on TikTok, tweeted on Friday that "I still cannot believe how blessed I am to have had the opportunity to attend a White House briefing yesterday to be armed with accurate information about how America is helping Ukraine and our European allies."
One TikTok creator was cited in media reports as parroting the Biden admin line after the briefing that the anti-Russia "sanctions are working" - though we're scratching our heads trying to determine what they've actually deterred in terms of the Russian invasion.
But it looks like at least one of the individuals in attendance mocked the event. He described it as like a briefing prepared for kindergarteners. Apparently there were a few actual serious questions floated, and avoided...
However, Jules Suzdaltsev, a Ukrainian-born journalist with a popular TikTok page, told the Washington Post that he believes the administration avoided tough questions. He said, "The enthusiasm of the call felt like a kindergarten news conference."
This is one of the TikTok stars that the White House invited on a zoom call to get briefed on Ukraine.

Her channel, which is just hundreds of videos of her dancing, is definitely the first place I would go to get Biden approved news on the war 🤡

The adults are back in charge. pic.twitter.com/yzxiPOsZ22

— Libs of Tik Tok (@libsoftiktok) March 11, 2022
It's not the first time the White House and Press Secretary Jen Psaki have been subject of widespread mockery and scorn over such carefully choreographed attempts at propagandizing the youth.
It was false statements like this that not only conditioned millions of American liberals to hate Russia and Russians as if it were the Cold War, but also caused *2/3 of Democrats to believe* that "Russia tampered with vote tallies in order to get Donald Trump elected President." https://t.co/bbeus5HI2b

— Glenn Greenwald (@ggreenwald) March 11, 2022
Last August there was the infamous video of a 'TikTok star' parading around the White House as part of a message to get people vaccinated. 
Tyler Durden
Sat, 03/12/2022 - 14:00