BoJo Begs Saudis For More Oil As MBS Invites Xi Jinping To Riyadh To Strengthen Ties
March 14, 2022 | Tags: ZEROHEDGE
BoJo Begs Saudis For More Oil As MBS Invites Xi Jinping To Riyadh To Strengthen Ties
As his government prepares to spend billions of pounds to subsidize the heating bills of millions of British families, British PM Boris Johnson is reportedly planning to push Saudi Crown Prince Mohammad bin Salman to pump more oil, despite the fact that the Kingdom just beheaded 81 people, including members of the Kingdom's Shia minority.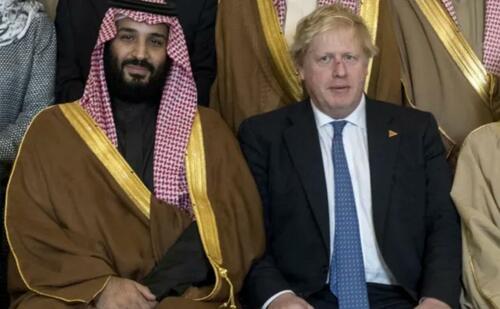 According to the FT, BoJo is preparing for a "daunting diplomatic mission" to Saudi Arabia, where he will discuss "a wide range of issues, not just energy supply" while simultaneously criticizing Riyadh about this weekend's "mass execution".
The UK denounced the beheadings, with Foreign Office minister Amanda Milling saying the UK was "shocked" by the news.
"No aspect of our relationship with Saudi Arabia prevents us from speaking frankly about human rights," Milling told the House of Commons, adding that the UK "strongly opposes" the death penalty.
Of course, if BoJo has a prayer of convincing the Saudis to pump beyond their OPEC quota, he probably will need to offer some concessions to a Kingdom that's still remembers the international backlash to the killing of regime insider-turned-dissident Jamal Kashoggi.
No. 10 Downing Street refused to confirm whether the PM would travel to Saudi Arabia this week when approached by the FT, and the paper said it wasn't able to confirm the plans.
Even if BoJo makes the trip, there's still no guarantee that the Saudis will accede to his demands (especially if he doesn't offer some kind of concession). Since the start of the Ukrainian invasion, Riyadh has reiterated its OPEC+ pumping commitments, which it has refused to violate even as other members recorded a shortfall earlier this year. Russia is part of OPEC+ and Moscow has been co-ordinating production levels with OPEC+ since late 2016. Brent and WTI crude prices have fallen from their peaks.
While convincing the Saudis to pump more would be a difficult win for BoJo, he has other goals in his talks with the Saudis, including sealing a trade agreement with the Gulf Cooperation Council.
According to WSJ, the Kingdom has invited Xi Xinping for a meeting amid shifting geopolitics in the Middle East, as the US looks to focus more attention and resources on Asia while China and Russia expand their influence in the region. Amid doubts about Washington's staying power, especially after the rushed U.S. withdrawal from Afghanistan, many of its regional partners are seeking out new security and economic ties.
Thanks to the invasion of Ukraine, China is the world's No. 1 importer of oil and the biggest trading partner for Saudi Arabia, which is the largest oil exporter globally.
But the UK isn't the only nation looking to strengthen investment ties with the Saudis. Crown Prince Mohammed bin Salman has reportedly invited Chinese President Xi Jinping for a meeting as the Kingdom looks to deepen its ties with Beijing as its ties with Washington and the West grow increasingly strained.
Tyler Durden
Mon, 03/14/2022 - 15:10