Israeli Government Sites Suffer Major Cyberattack In Possible Iranian 'Retaliation'
March 14, 2022 | Tags: ZEROHEDGE
Israeli Government Sites Suffer Major Cyberattack In Possible Iranian 'Retaliation'
Update(1730ET): Within the last hours there have been growing reports that Israeli government websites have been hit in a major cyberattack.
Multiple regional correspondents are reporting that Israel has declared a "national state of cyber emergency" given it's already being called the "largest-ever" cyber attack carried out against Israel's infrastructure.
#BREAKING: Large-scale cyberattack against Israel. Government websites are down. pic.twitter.com/aPg2TsQimI

— Amichai Stein (@AmichaiStein1) March 14, 2022
According to Haaretz multiple government ministries saw their websites taken down, including those of the Prime Minister's Office, as well as interior, health, justice and welfare ministries.
"A number of Israeli government websites went down on Monday in an apparent cyberattack. The Israeli cyber authority confirmed the attack was a DDos (Digital-denial of service) attack that had blocked access to government websites, and that all websites were back online," the report said.
"The websites of the interior, health, justice and welfare ministries had been taken offline, as was that of the Prime Minister's Office."
Israel confirms cyber attack against government websites (https://t.co/0ilwInBwdF.) A national state of cyber emergency has been declared. A top source @Haaretz it is the largest cyber attack carried out against Israel's infrastructure. https://t.co/e9ua0nA6oQ

— Noga Tarnopolsky (@NTarnopolsky) March 14, 2022
Though the entity or entities behind that attack have not been revealed... was this Iran's 'retaliation' for the earlier reported sabotage against its nuclear power systems?
As the NY Post reports in the wake of both breaches, "Israeli officials suspected the attack was the work of another country but told Haaretz they could not yet determine who was responsible."
"Government officials said they were checking with Israeli power and water companies to see if they had been affected, though Israel's utility websites appeared to be functioning normally," it adds.
* * *
From one geopolitical crisis to another.
In case the firehose of news from Ukraine (and increasingly, China) was not enough, here's one more: according to Iran's Mehr News citing a statement by the IRGC Intelligence Unit, on Monday evening IRGC intelligence dismantled a sabotage attempt at the Fordow nuclear facility by "a group of people."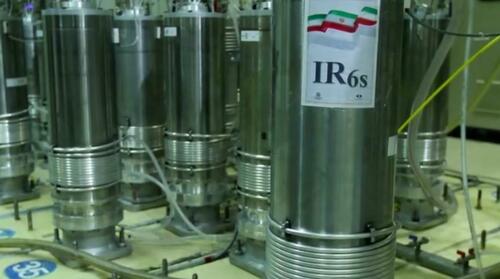 The operation involved an employee at Fordow cooperating with Israeli intelligence officers in exchange for cash and digital currency, according to IRNA.
Iranian TV IRIB 2, which ran a report on the matter, alleged that "the Israeli regime, who previously sought to do acts of sabotage at Fordow but failed, was behind the plot" but with false flags and counter false flags rampant in a world of fake news, who the hell knows what actually happened.
The attempted attack, which the IRGC described as a "major" sabotage attempt against an Iranian nuclear facility, was intended to be carried out before March 21, the Persian new year.
Earlier Monday, Iran captured two teams of "terrorists" linked to foreign intelligence services, Fars also reported. The six individuals sought to assassinate "several" foreign nationals working on infrastructure projects in the southeast province of Sistan and Baluchestan, Fars said.
Iran's nuclear program has weathered a number of attacks over the years, including the assassination of one of its top nuclear scientists and an explosionnear the Natanz enrichment facility. More recently, Iran claimed that international surveillance cameras in its Karaj nuclear facility had been hacked. Iranian officials have blamed Israel for all of these incidents.
Tyler Durden
Mon, 03/14/2022 - 17:30