Jussie Smollett Moved To Psych Ward Inside Cook County Jail
March 14, 2022 | Tags: ZEROHEDGE
Jussie Smollett Moved To Psych Ward Inside Cook County Jail
Despite his insistence that he is "not suicidal", former "Empire" Actor Jussie Smollett has been placed in the prison psych ward at the Cook County Jail, according to his brother. Smollett was jailed after being convicted for staging a hate crime hoax that briefly stoked a national backlash against supporters of then-President Donald Trump.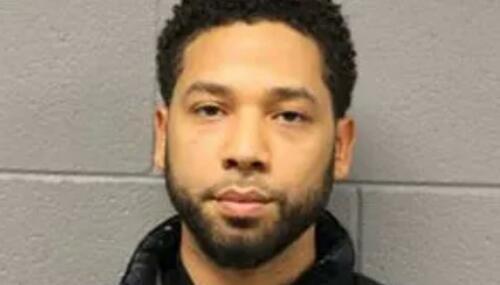 According to Smollett's brother, the authorities running the jail are taking "no chances" with Smollett's safety following his courthouse rant, where he also insisted on his innocence (despite the overwhelming evidence against him).
Here's what Smollett's brother had to say.
"Jussie is currently in a psych ward at the Cook County Jail...what's very concerning is that there was a note attached to his paperwork today and put on the front of his jail cell saying that he's at risk of self-harm."

"I want to just make it clear to folks that he is in no way, shape, or form at risk of self-harm. And he wants to let folks know that he is very stable, he is very strong, he is very healthy, and ready to take on the challenge that ultimately has been put up against him."
Readers can watch the Instagram video featuring Smollett's brother below:
Smollett was sentenced to 150 days in jail, followed by 30 months of probation and ordered to pay restitution of $120,106, and a fine of $25,000 on Thursday for his part in orchestrating a hate hoax.
Smollett's statement during his sentencing was seen as a nod to Jeffrey Epstein and John McAffee, two high-profile prisoners who killed themselves in their respective lockups.
The judge overseeing Smollett's case accused him of being a "charlatan" during Smollett's sentencing hearing.
"You're just a charlatan, pretending to be a victim of a hate crime," said Judge Linn to Smollett during Thursday's sentencing. She added that the actor's name has "become an adverb for lying" and that "there is nothing that I will do here today that can come close to the damage you've already done to your own life."
Smollett has already become a punchline for many classic comedic bits, including the following bit by comedian Dave Chappelle from his Netflix special "Sticks & Stones".
Tyler Durden
Mon, 03/14/2022 - 16:40