Zelensky To Address US Congress In Wednesday Virtual Session
March 14, 2022 | Tags: ZEROHEDGE
Zelensky To Address US Congress In Wednesday Virtual Session
Ukrainian President Volodomyr Zelensky will give a virtual address to members of Congress on Wednesday, according to a joint statement by House Speaker Nancy Pelosi (D-CA) and Sen. Majority Leader Chuck Schumer (D-NY).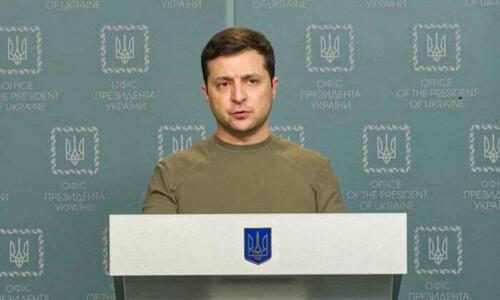 "As war rages on in Ukraine, it is with great respect and admiration for the Ukrainian people that we invite all Members of the House and Senate to attend a Virtual Address to the United States Congress delivered by President Volodymyr Zelenskyy of Ukraine on Wednesday, March 16th at 9:00 a.m.," reads the letter from the Democratic leadres.
News: Ukrainian President Volodymyr Zelenskyy will address the US Congress virtually this Wednesday March 16, per Pelosi/Schumer. pic.twitter.com/Gi7Ku9fypG

— Sahil Kapur (@sahilkapur) March 14, 2022
The virtual address will be presented in the Capitol Visitor Center Congressional Auditorium, where only members of Congress are invited to attend. Masks will be required at all times for anyone not fully vaccinated.
"Congress remains unwavering in our commitment to supporting Ukraine as they face Putin's cruel and diabolical aggression, and to passing legislation to cripple and isolate the Russian economy as well as deliver humanitarian, security and economic assistance to Ukraine," the letter continues.
As The Hill notes, the virtual address comes after around 300 members of both chambers participated in a Zoom call with Zelensky several weeks ago - after which Congress committed to provide $13.6 billion in aid related to the Ukraine invasion.
The House also passed legislation last week to cut off Russian oil and is expected to take up legislation this week ending normal trade relations with Moscow.

But Zelensky has pushed the United States, along with countries in Europe, to help implement a no-fly zone.

The administration and lawmakers are largely opposed to that because of concerns it would lead to direct conflict between the United States and Russia and spiral into a larger war. Zelensky is also asking for more planes and other military equipment as Ukraine tries to fight off a much larger Russian army. -The Hill
The $13.6 billion was attached to a $1.5 trillion omnibus annual spending bill that was passed by the House on Wednesday and approved by the Senate.
Tyler Durden
Mon, 03/14/2022 - 10:35