Amazon Temporarily Relocating Employees From Downtown Seattle Office Amid Rise In Violent Crimes
March 15, 2022 | Tags: ZEROHEDGE
Amazon Temporarily Relocating Employees From Downtown Seattle Office Amid Rise In Violent Crimes
Authored by Katabella Roberts via The Epoch Times (emphasis ours),
Amazon is temporarily relocating employees from its downtown Seattle office due to an increase in violent crimes in the area, the company said on March 11.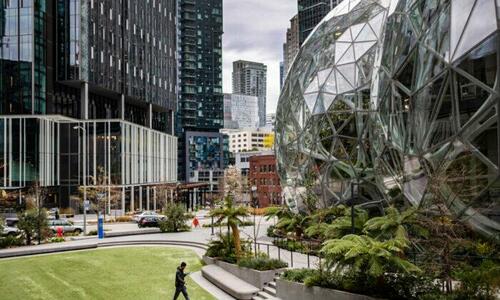 The tech giant's office is located at 300 Pine Street, about a half-mile from its main headquarters on Seventh Avenue in Seattle, and roughly 1,800 Amazon employees are working there.
"Given recent incidents near Third and Pine, we're providing employees currently at that location with alternative office space elsewhere," an Amazon spokesman said in an emailed statement to The Seattle Times. "We are hopeful that conditions will improve and that we will be able to bring employees back to this location when it is safe to do so."
It is unclear how many of the 1,800 are being relocated, given that many have been working remotely from home due to the COVID-19 pandemic.
The Epoch Times has contacted an Amazon spokesperson for comment.
Amazon's decision to relocate employees comes after a string of violent crimes in the area, including one that claimed the life of a 15-year-old boy on March 2. Police are still searching for the suspect and have appealed to the public for help identifying the attacker.
Since Feb. 21, there have been at least three shootings, two stabbings, and one carjacking in the area, according to information from the Seattle Police Department's Twitter account. 
Amid the uptick in violence, Seattle Police Chief Adrian Diaz announced on March 3 that the police department would be "launching an initiative to curb the violent criminal behavior in the area surrounding 3rd Ave., between Pike and Pine St."
Commenting on Amazon's decision to relocate, a spokesperson for Seattle Mayor Bruce Harrell told KOMO News that his office is "working every day to make downtown a safe and thriving neighborhood for residents, workers, and businesses."
"While it will take time to reverse longstanding safety issues, Mayor Harrell's early efforts are critical first steps to address crime and improve safety through dedicated SPD officers, a mobile SPD precinct, and additional environmental changes. Mayor Harrell will continue to develop a comprehensive approach to public safety in collaboration with police and safety advocates, community members, service providers, and businesses, including Amazon, to activate, revitalize, and restore downtown for all," the spokesperson said.
Amazon's decision comes just weeks after fast-food chain McDonald's was also forced to temporarily close its restaurant located at 1530 Third Avenue due to the rise in crime, with franchise owner and operator David Santillanes citing the company's inability to keep its workers safe in a statement to KOMO News.
According to the Seattle Police Department's year-end crime report, overall citywide crime increased by 10 percent (+4,209) in 2021 compared to 2020. Meanwhile, the city saw a decade-high number of aggravated assaults—3,925—last year.
Tyler Durden
Tue, 03/15/2022 - 12:05