Assange Receives Permission To Marry Longtime Girlfriend From Prison
March 15, 2022 | Tags: ZEROHEDGE
Assange Receives Permission To Marry Longtime Girlfriend From Prison
Wikileaks founder Julian Assange has been granted permission to marry his fiancee, 38-year-old Stella Moris, during a ceremony at the maximum-security prison where he is being held as he awaits a ruling on extradition to the US.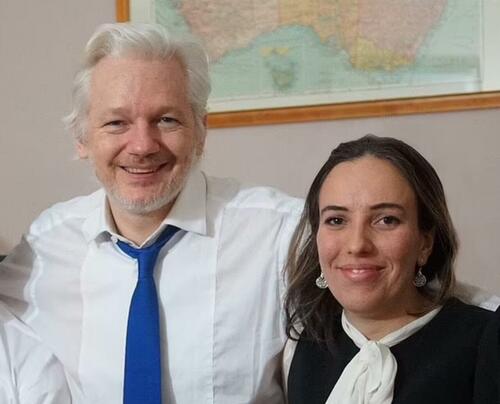 Moris added that only four guests and two witnesses will be allowed to attend the ceremony,along with two security guards. Her dress was designed by Dame Vivienne Westwood. Assange, meanwhile, will be wearing a kilt to denote his parents' Scottish ancestry. Guests will be forced to leave the Belmarsh prison immediately after the ceremony, although Moris is trying to change that, according to the Daily Mail.
The couple are still waiting to see whether they will be allowed a photographer.
"All the guests and witnesses must leave as soon as the ceremony is over, even though that will be before normal visiting time ends," said US
The wedding is finally happening "months" after Assange's team first made made the request. And Moris says that Assange is "excited" about it.
"Julian is looking forward to the wedding because it is finally happening, many months after we first made the request." Moris, who spoke to Assange on Sunday, added: '"He is being held on behalf of a foreign power and has not been charged with anything, which is completely disgraceful."
Since being dragged out of the Ecuadorian embassy in London in April 2019, Assange has been in maximum security prison in the UK awaiting a ruling on whether he should face extradition to the US.
The couple has been engaged for years, but only just filed a petition to marry in November. Assange, meanwhile, has spent the last 11 years in one form of captivity or another, from the Ecuadorian embassy to Belmarsh. Shortly before they filed for a petition to marry, the Guardian published a lengthy story on Assange's "secret family" with Moris. The two managed to have two children together while Assange was hiding out at the embassy.
Tyler Durden
Tue, 03/15/2022 - 04:15