China Warns Of Retaliation Amid US "Smears" Over Russian Assistance, Says "Not A Party" To This War
March 15, 2022 | Tags: ZEROHEDGE
China Warns Of Retaliation Amid US "Smears" Over Russian Assistance, Says "Not A Party" To This War
The Chinese Foreign Ministry warned on Tuesday that China would retaliate following a series of US statements which told Beijing not to assist Russia in either sanctions evasion or military equipment support for its Ukraine war. 
"We call on the US not to harm China's legitimate rights and interests when handling its relations with Russia," ministry spokesperson Zhao Lijian stressed - however at this point it's still at the level of US warnings and accusations, also after reports said that Moscow has even requested drones. 
Zhao in a daily briefing was asked if China fears US sanctions amid charges that it's quietly supporting Russia's war effort in Ukraine: "The Chinese side has repeatedly expressed its position regarding sanctions. Beijing discourages the use of sanctions to settle problems and even more opposes unilateral sanctions that lack international legal grounds," Zhao said.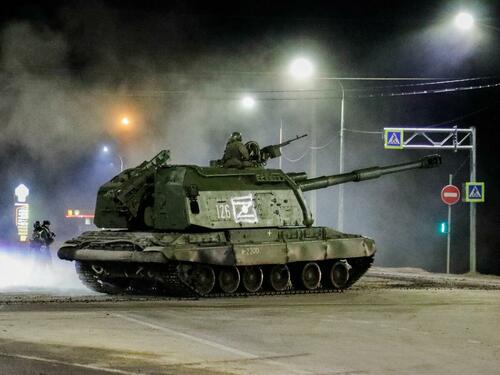 And separately Chinese Foreign Minister Wang Yi China in a phone call to his Spanish counterpart stressed that "China is not a party to the crisis, nor does it want sanctions to affect China." Wang said in the Monday statements discussing the Ukraine crisis.. "China has the right to safeguard its legitimate rights and interests."
Calling the Ukraine war part of "European security conflicts" which have built up over the years, the top diplomat said China stands for negotiations and dialogue and rejects sanctions. He said in what can be seen as a likely indirect defense of Moscow:
China always opposes the use of sanctions to solve problems, and even more opposes unilateral sanctions that have no basis in international law, which will undermine international rules and bring harm to the people's livelihood of all countries.
"Some forces have kept smearing China on the Ukraine issue… and fabricated all sorts of disinformation," he said additionally, in a direct lashing out at Washington and some media reports in the West. Wang said this is especially because China is "not a party" to this war.
Following a reported 8-hours worth of talks in Rome with national security adviser Jake Sullivan - after which a senior admin official was cited as saying "We do have deep concerns about China's alignment with Russia at this time" - top Chinese diplomat Yang Jiechi in an official readout summarizing the meeting said the US side was informed that the Ukraine war "is not what China wants to see" and that Beijing is "committed to promoting peace talks, and the international community should jointly support the Russia-Ukraine peace talks to achieve substantive results as soon as possible."
And more from the statement:
"All parties should exercise maximum restraint and protect civilians," Yang added, according to the readout. He also implicitly called for an understanding of Russia's position and echoed an argument about supporting "the principle of indivisible security," which the Kremlin has used to justify its brutal invasion of Ukraine. "The history and development of the Ukraine issue should be straightened out … The legitimate concerns of all parties should be responded to," Yang said.
🧵 Russia's requests for some types of 🇨🇳 military hardware look plausible. However, most likely the recent communication is part of an ongoing negotiation process that precedes Putin's invasion in Ukraine, not 🇷🇺 ask for an emergency military resupply for this war 1/ pic.twitter.com/aETaIRFrTR

— Alexander Gabuev 陳寒士 (@AlexGabuev) March 15, 2022
Following on the heels of the above, there's this via Bloomberg: "On Tuesday, China's foreign minister Wang Yi - in his most explicit statement yet on American penalties - said he wants the nation to avoid being impacted by U.S. sanctions over Russia's war."
The US has warned European allies that Russia asked China for surface-to-air missiles, drones, armored vehicles, logistics vehicles, and intelligence-related equipment – and that China responded positively. Bloomberg notes that the request has alarmed Biden administration officials who are seeking to prevent China from coming to Vladimir Putin's aid in the war, which could potentially escalate it into a truly World War.
Beijing has responded by saying it's never heard of such requests from Russia, and has rejected the allegations of cooperation on supplying military equipment for the Ukraine invasion. 
Tyler Durden
Tue, 03/15/2022 - 07:25