Raskin Out: Biden Pick Withdraws Fed Nomination After Manchin Nukes Chances
March 15, 2022 | Tags: ZEROHEDGE
Raskin Out: Biden Pick Withdraws Fed Nomination After Manchin Nukes Chances
President Joe Biden's to the Federal Reserve board, Sarah Bloom Raskin, has withdrawn herself from consideration after Sen. Joe Manchin (D-WV) doomed her prospects of moving forward to the position.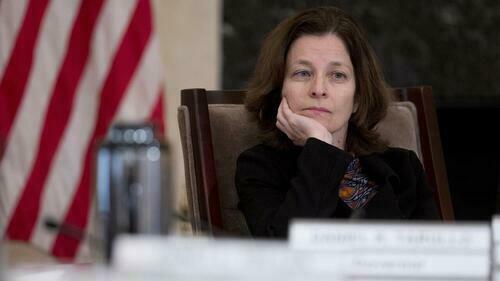 As the New Yorker reports, Raskin's withdrawal comes amid what she described as "relentless attacks by special interests" who called her out over radical views on climate change, fossil fuels and other matters.
On Tuesday, Raskin submitted a letter to Biden withdrawing herself as nominee to become the vice-chair for supervision of the Federal Reserve Board - a nomination that she says Republicans in the Senate Banking Committee "held hostage."
In commentary last September, Bloom Raskin suggested that regulators should "ask themselves how their existing instruments can be used to incentivize a rapid, orderly, and just transition away from high-emission and biodiversity-destroying investments." She was merely echoing the position taken by top central bankers and economists all over the world. But her expressed hope of encouraging a potential transition to cleaner energy triggered a backlash from America's powerful oil, gas, and coal industries. Her withdrawal will likely enable the Senate's confirmation of the rest of Biden's slate of nominees to the Fed, at a time of roaring inflation and mounting perils abroad. But it dooms the most powerful central bank in the world to a state of willful blindness regarding the looming chaos that scientists predict climate change will unleash. -New Yorker
On Monday, Manchin sealed Raskin's fate.
"I have carefully reviewed Sarah Bloom Raskin's qualifications and previous public statements," he wrote in a statement, adding "Her previous public statements have failed to satisfactorily address my concerns about the critical importance of financing an all-of-the-above energy policy to meet our nation's critical energy needs."
"I have come to the conclusion that I am unable to support her nomination to serve as a member of the Federal Reserve Board."
Manchin says that the Fed is "not an institution that should politicize its political decisions," and that it must "remain hyper focused on ending the inflation taxes hurting working families and getting more workers off the sidelines and back into the economy."
Raskin - a Duke University law professor - was previously confirmed by the Senate to top economic positions on two occasions, serving a member of the Fed Board of Governors from 2010 to 2014, and then as Obama's Deputy Secretary of the Treasury.
In her letter to Biden, she noted that while she previously had wide support from the banking industry, "my frank public discussion of climate change and the economic costs associated with it" became a point of contention with the Republicans who sit on the banking committee.
"It was—and is—my considered view that the perils of climate change must be added to the list of serious risks that the Federal Reserve considers as it works to ensure the stability and resiliency of our economy and financial system," she added.
"This is not a novel or radical position ... The Department of Defense has been systematically analyzing the energy security risks of climate change for years, developing mitigation strategies to confront them. Banks and insurance companies incorporate financial aspects of extreme weather events into their plans. Farmers, ranchers and businesses across the country already are struggling to adapt to extreme floods, hurricanes, rising sea levels and wildfires. Central banks around the world have already begun acting on these issues. Chairman Powell has recognized climate change as a significant risk that needs to be incorporated into the supervisory process. Any vice chair for supervision who ignored these realities—which are manifesting every day across this country—would be guilty of gross dereliction of duty."
She has accused her opponents of engaging in baseless "diversionary attacks on my ethics and character."
Tyler Durden
Tue, 03/15/2022 - 15:02