US Navy Warship Was At Sea When Officials Said It Was Undeployable: Commander
March 15, 2022 | Tags: ZEROHEDGE
US Navy Warship Was At Sea When Officials Said It Was Undeployable: Commander
Authored by Zachary Stieber via The Epoch Times,
The warship that U.S. Navy officials described as undeployable if they were not able to remove the unvaccinated commander was actually deployed when the assertions were made, the commander told a judge during a recent hearing.
"No sir, I do not," the commander, who has not been publicly named, said when asked whether he thought the officials' statements were accurate.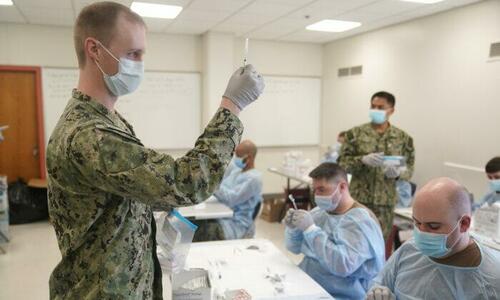 U.S. District Judge Steven Merryday, a George H. W. Bush appointee who is overseeing the case, ordered military officials in February not to take punitive action against the commander because they appear to have wrongfully denied the commander's request for a religious exemption from the military's COVID-19 vaccine mandate.
In an emergency motion to the judge on Feb. 28, officials alleged the ruling was affecting military readiness because unvaccinated sailors "pose a risk to other personnel" since the COVID-19 vaccines have proven effective at halting the spread of the virus that causes the disease.
The order "effectively places a multi-billion dollar guided missile destroyer out of commission," the motion stated. "For example, if it becomes necessary to deploy an East Coast-based surface ship in response to global events in Ukraine (or elsewhere), the Navy will not deploy the Commander's vessel. In this way, the Court's order will have a wide-ranging impact on Navy operations and national security."
Besides federal health officials saying the vaccines don't affect the transmission of the virus, and the vaccines proving virtually ineffective against preventing infection, the claim about the ship itself was undermined by the commander's testimony in federal court, according to a transcript released March 14.
"I was out at sea" on Feb. 28, when the motion was entered, the commander said.
The officer said he was in charge of his ship and there did not appear to be any problems stemming from his vaccination status, as both unvaccinated and vaccinated people can test positive for COVID-19, particularly since the emergence of the Omicron variant of the CCP (Chinese Communist Party) virus.
The training exercises the ship was completing lasted through about March 4, according to the commander.
The Navy and Department of Justice, whose lawyers are representing the military in the case, declined to comment.
"I'm here today because the military is not executing this policy while respecting the constitutional freedoms laid out in the First Amendment or RFRA," the commander said, referring to the Religious Freedom Restoration Act.

"I should not be the one standing here to say that today; generals and admirals, the executives in our service, should be here to say that to the politics, to the bureaucracy, to their decision-making."
One day after the hearing, the judge rejected the government's motion.
The Navy has asked an appeals court to step in; that court has yet to rule on the request.
Tyler Durden
Tue, 03/15/2022 - 18:20