Work Begins To Refloat Massive Container Ship Struck In Chesapeake Bay
March 15, 2022 | Tags: ZEROHEDGE
Work Begins To Refloat Massive Container Ship Struck In Chesapeake Bay
Efforts are underway Tuesday to refloat a massive container ship that ran aground Sunday evening in the Maryland portion of the Chesapeake Bay, NBC4 Washington reports. 
The vessel, called the Ever Forward, is a massive 1,100-foot container ship, sailing under the Hong Kong flag for the Evergreen Marine Corp. 
Evergreen container ship runs aground in Chesapeake Bay.

Officials were working to free a container ship owned by Evergreen Marine that ran aground over the weekend, per Bloomberg. pic.twitter.com/fGJfsBzfrb

— Jangled Nerves (@ToriaMart) March 15, 2022
U.S. Coast Guard and the Maryland Department of the Environment are coordinating the refloating efforts in the Chesapeake Bay, near Craighill Channel.
So far, no reports of injuries, pollution, or damage to the vessel due to the grounding, the Coast Guard said in a release. The agency has issued a Safety Marine Information Broadcast to mariners operating in the channel that a safety zone will be in place during salvage operations.
A new National Weather Service notice of "low water advisory" for the Chesapeake Bay may complicate today's salvage operation. The advisory is in effect until 1900 ET and will result in "hazardous navigating conditions" due to "below normal water levels" for the stretch of the bay. 
We reported Monday that Ever Forward may "have experienced problems shortly after leaving port." Still, there's nothing conclusive as to why the vessel ran aground.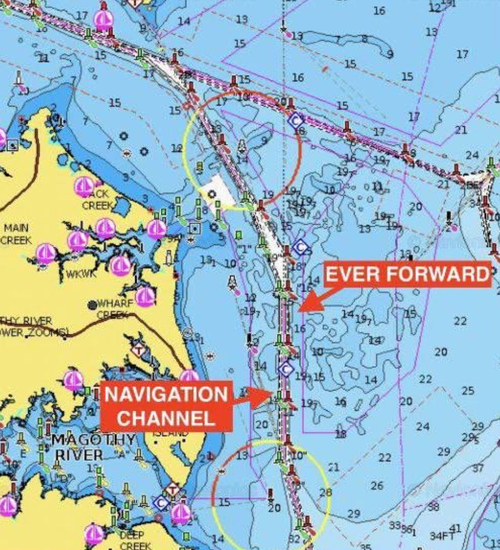 Coast Guard Petty Officer Stephen Lehmann told NBC4 the vessel ran aground in 23 feet of water. The vessel needs about 50 feet of draft to operate. 
"When you have an incident like this, there are a lot of things that can go wrong," Lehmann said. "We want to make absolutely sure we're not rushing the process and putting people's lives in danger."
The Coast Guard released pictures of Petty Officer 3rd Class Kimberly Reaves riding around the vessel. He said a plan is underway to remove containers from the ship to make it lighter.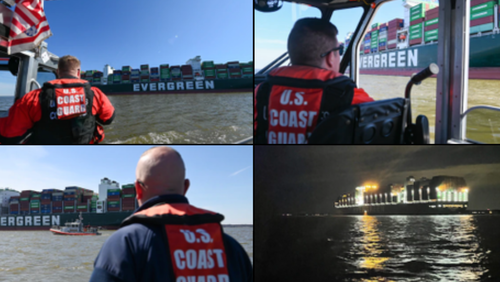 It's unclear how long it could take to refloat it. The good news, the vessel has yet to obstruct traffic in the nearby navigational channel. 
Tyler Durden
Tue, 03/15/2022 - 14:50