China Eases Mandatory COVID Hospitalizations After Reporting Another 3,000 Cases
March 16, 2022 | Tags: ZEROHEDGE
China Eases Mandatory COVID Hospitalizations After Reporting Another 3,000 Cases
China's worst COVID outbreak since the virus first emerged in Wuhan continued to rage on Wednesday, as China's NHC counted another 3,000 new COVID cases, which is down from the more than 5,000 it reported a day earlier - a tally that marked the largest daily total of newly confirmed cases in two years.
The NHC reported 3,054 new local cases on Wednesday, and of those, 1,860 people reportedly exhibited symptoms and 1,194 did not, according to the SCMP.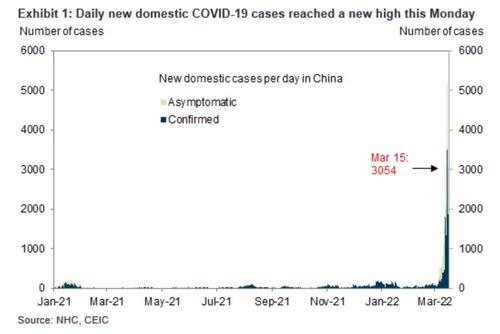 As we noted a few days ago, the latest outbreak has caused all hell to break loose in China. Earlier on Wednesday, the CCP let it be known that it would take steps to buttress Chinese stocks, which have been in free fall, while worries about the economic carnage from the country's lockdowns (which are currently affecting more than 50M people) persists.
New cases were confirmed across the country but most of the new cases are coming from the northeastern province of Jilin, which is under lockdown and yet has remained the epicenter of the outbreak. The province recorded 1,853 locally transmitted symptomatic cases, making up 60% of the national total. The city of Jilin, which is the provincial capital, reported most of the asymptomatic cases in the province, which prompted it to launch a new round of mass testing on Wednesday to "thoroughly uncover hidden infections".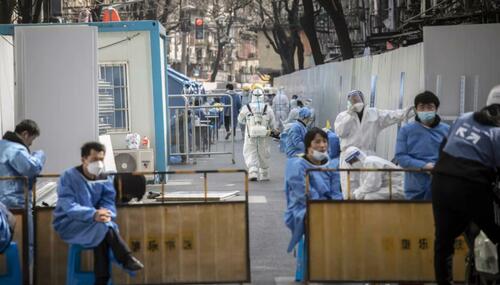 Amid the rise in cases, Vice Premier Sun Chunlan, who has been charged with leading the battle against the virus, told officials in the city to step up nucleic acid testing, with newly approved rapid antigen tests to be used as a supplementary tool.
Lockdowns and mass testing, often involving millions of people at a time, have kept cases and the death toll relatively low. The country has also been largely closed off to the world in an attempt to prevent people with the virus from entering.
But since the start of March, more than 18,000 people have contracted Covid-19 in mainland China, with fast-growing clusters in the provinces of Jilin, Shandong, Guangdong and Hebei, as well as the municipality of Shanghai, according to the NHC.
One new lockdown was announced overnight: Maanshan city in the east Chinese province of Anhui banned most residents from leaving their residential compounds.
Meanwhile, to try and free up space in the country's hospitals, the NHC changed the policy on Wednesday to allow people who had "light" or no symptoms to instead isolate at designated facilities where they would be monitored and sent to hospital if needed. Previously, anyone who tested positive was admitted to a hospital for observation.
"Improvements have been made...based on [medical] opinions from different parts of the country – that people infected with the Omicron variant are mostly asymptomatic or light cases that do not require too much treatment, but admitting them all to hospitals takes up too many medical resources," the NHC said in a statement.
In terms of the breakdown of new cases on Wednesday, the northern province of Hebei reported 277 infections, mostly in the city of Langfang, which is about 1.5 hours' drive from the capital Beijing. And in Beijing, a cluster of 15 cases were reported that health authorities said were linked to a school, with seven students and eight parents infected, according to SCMP.
Shanghai reported 202 mostly asymptomatic infections,  while Shenzhen, which neighbors Hong Kong, reported 92 new cases after it began a week-long lockdown on Monday.
Tyler Durden
Wed, 03/16/2022 - 11:45