Russia Demands US Stop Arms Flow To Ukraine In Call; Sullivan Warns Against Chemical Weapons Use
March 16, 2022 | Tags: ZEROHEDGE
Russia Demands US Stop Arms Flow To Ukraine In Call; Sullivan Warns Against Chemical Weapons Use
Interfax is reporting that Russian Security Council Secretary Nikolai Patrushev asked his US counterpart Jake Sullivan in a Wednesday phone call to stop the US and Western supply of weapons going to Ukraine's military.
This after for many days now the Kremlin has put NATO countries on notice, saying that any inbound military shipment from external allies of Kiev will be deemed a "legitimate target". The call also focused on pushing for a ceasefire after a lot of prior back-and-forth over the potential for a concrete ceasefire plan based on Ukraine's neutrality regarding the NATO question.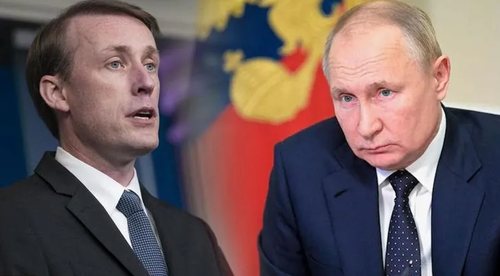 "Mr. Sullivan clearly laid out the United States' commitment to continue imposing costs on Russia, to support the defense of Ukraine's sovereignty and territorial integrity and to reinforce NATO's eastern flank, in continued full coordination with our Allies and partners," the White House said in a statement.
So far these "costs" have remained in the realm of sanctions and international isolation. The call was tense, given also that Sullivan warned his Russian counterpart against deployment of any chemical weapons - though it's unclear why the US thinks Russia's military is readying this as an option: 
U.S. National Security Advisor Jake Sullivan warned General Nikolay Patrushev, Secretary of the Russian Security Council, of the consequences in response to any Russian chemical or biological weapon attack in Ukraine.

Sullivan spoke with Patrushev in a phone call Wednesday, according to the White House. Sullivan also said Russian attacks on Ukrainian cities and towns should stop if Russia is "serious about diplomacy."
Biden on Tuesday signed a spending bill which allocates billions more in funding weapons and defense and humanitarian assistance for Ukraine. 
Putin responds after Zelensky's address to Canadian parliament on Tuesday and US lawmakers Wednesday...
1/2

"I want ordinary citizens of Western states to hear me too. They are now trying to convince you that all your difficulties are the result of some hostile actions of Russia. That from your wallet you need to pay for the fight against the mythical Russian threat. It's a lie." pic.twitter.com/Q0VNbiOfrA

— Pepe Escobar (@RealPepeEscobar) March 16, 2022
On Wednesday morning President Zelensky made a case before Congress in a virtual address for a West-backed No Fly Zone. He also urged that the US give Kiev more "powerful aircraft" - as well additional weapons to stave off the Russian attack. 
Tyler Durden
Wed, 03/16/2022 - 16:40