Chris Cuomo Goes Scorched Earth On CNN, Demands $125 Million
March 17, 2022 | Tags: ZEROHEDGE
Chris Cuomo Goes Scorched Earth On CNN, Demands $125 Million
Fired CNN lead anchor Chris Cuomo has filed an arbitration claim for $125 million in compensation from the company, arguing that he was "wrongfully terminated" and that the network made him "the scapegoat" over a broader scandal regarding how CNN dealt with he and his brother - disgraced New York Governor Andrew Cuomo - which culminated in last month's ouster of network president Jeff Zucker and his longtime lover / lieutenant, Allison Gollust.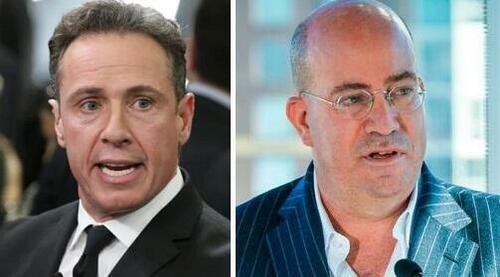 Cuomo's attorney argued that CNN also "violated the express terms of his employment agreement by allowing its employees to disparage him," according to the Washington Post.
In their filing, Cuomo's lawyers argued "an apparent rush to judgement and caving to uninformed public and internal pressure that was based on speculation and assumption rather than facts." -WaPo
Cuomo's $125 million request includes $15 million remaining from his CNN contract, as well as "decades of earnings" they argue he'll now be deprived of, as "CNN's calculated efforts to tar and feather him" rendered him "untouchable in the world of broadcast journalism."
The filing also accuses CNN execs of being giant hypocrites - accusing them of essentially the same ethical transgressions that brought Cuomo down.
Cuomo drew scrutiny after he interviewed his embattled brother - an obvious attempt at PR and damage control in the wake of multiple scandals that eventually brought the NY governor down. Cuomo's team, however, claims that CNN leadership "demanded" he conduct the interviews, "despite Cuomo's and Gov. Cuomo's expressed reservations."
Last March, The Washington Post reported that Gov. Cuomo arranged for his brother and other well-connected people to get special access to state-administered coronavirus tests early in the pandemic, when tests were hard to come by. In the filing, Chris Cuomo's lawyers claim that Zucker and Gollust also "demanded priority testing from Gov. Cuomo's administration," and that the governor's staff "felt it had no choice but to fulfill" because of their "power over [Chris] Cuomo's career." Zucker and Gollust declined to comment on the claim.

The filing also alleged that Zucker and Gollust "acted as advisors" to then-Gov. Cuomo and provided him "with talking points and strategies," a charge that both have previously denied. -WaPo
 What a dumpster fire.
Tyler Durden
Thu, 03/17/2022 - 16:40