Huge Saharan Dust Storm Covers Europe
March 17, 2022 | Tags: ZEROHEDGE
Huge Saharan Dust Storm Covers Europe
A massive dust storm originating from the Sahara Desert in Africa has covered parts of Western and Central Europe this week. 
Strong winds from Storm Celia whipped up sand from the northwest coast of Africa and blanketed much of Portugal, Spain, and France, transforming skies into eerie shades of blood orange, worsening air quality, and leaving a layer of dust on everything. 
On Tuesday, the European Environment Agency said dust concentrations in Spain were five times over their recommended limit for air quality. 
"Air quality is recognized as being vital to human health as high concentrations of dust can have health impacts on the respiratory systems of all people in the affected regions and add to particulate matter air pollution from local sources," stated Copernicus, the EU's Earth observation program. 
Here's where most of the dust is expected to land through Friday. 
Another weather model shows how dust particles spread throughout Europe, covering roads, houses, cars, and everything else.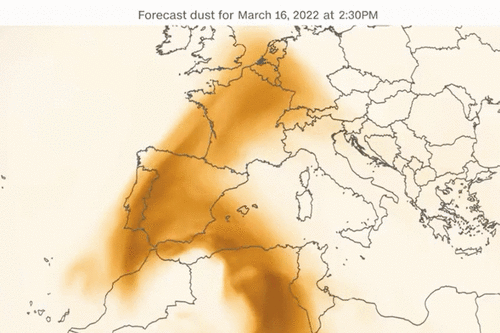 The World Meteorological Organization published a series of tweets showing dust-coated ski resorts in Spain and Switzerland.
Believe it or not, this is Sierra Nevada SKI 🏂🎿resort in southern #Spain, transformed by a thick plume of #SaharanDust.
From the station's webcam and via @CLIMATEwBORDERS https://t.co/gHF85ut2Gx pic.twitter.com/Xg9j2vTk73

— World Meteorological Organization (@WMO) March 15, 2022
A #SaharanDust storm has transformed skies and landscapes in parts of Europe today, affecting air quality.
This is the view of the Jura mountains in Switzerland from @meteosuisse.
Forecasts from @Dust_Barcelona https://t.co/k68I3MwGhc pic.twitter.com/Ntv157kNNk

— World Meteorological Organization (@WMO) March 15, 2022
A combination of Northern Africa deserts and strong winds over the Mediterranean could mean Europe is prone to future dust events. 
Climate alarmist Greta Thunberg has yet to unleash a tweetstorm linking European dust storms to climate change. She's too busy telling the world to "stand with Ukraine."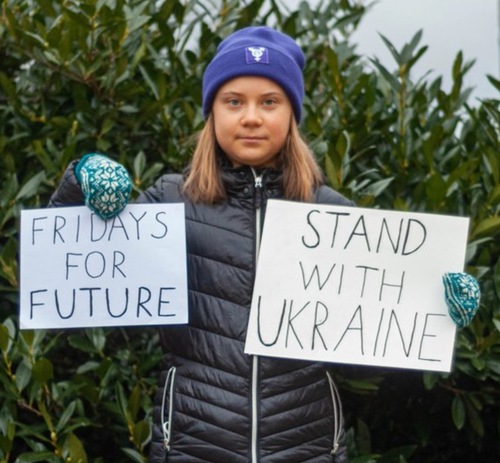 So dropping bombs is the new green? 
Tyler Durden
Fri, 03/18/2022 - 02:45