Uranium Stocks Soar After US Signals Aid For Nuclear Power
March 17, 2022 | Tags: ZEROHEDGE
Uranium Stocks Soar After US Signals Aid For Nuclear Power
Our thesis from December 2020, when we first recommended Uranium stocks on the grounds that nuclear will sooner or later be included in the ESG basket (see "Is This The Beginning Of The Next ESG Craze"), and when most uranium stocks were a fraction of their price now, is slowly coming true.
Uranium miners surged Thursday after the U.S. Energy Department signaled more aid for current and future nuclear reactors. According to Bloomberg, a top Energy Department nuclear official pledged Thursday to accelerate aid for current and future U.S. nuclear reactors with global uranium and enriched fuel supplies under threat, while expressing concern for Ukrainian plants currently under Russian control.
"We need to build out capacity for a Western alternative for the Russian component of the uranium market, including conversion and enrichment capacity," Kathryn Huff, a senior adviser to Energy Secretary Jennifer Granholm, told the Senate Energy and Natural Resources Committee. "There is no question in my mind that we will continue to focus on uranium as an incredibly important fuel."
Huff was speaking during her confirmation hearing to be the assistant secretary of the department's Office of Nuclear Energy; her nomination garnered support from the committee's bipartisan leaders.
"Our nuclear program is in decline, and has been for some time," Sen. Joe Manchin, (D-W.Va.), the committee's chairman, said. "But we cannot afford to give up on nuclear power. We cannot meet our climate goals and energy needs without it."
While the U.S. has 93 operating nuclear reactors, most of which are more than 40 years old. The Energy Department's Advanced Reactor Demonstration Program funds 10 advanced reactor projects, including two projects that will be ready to deploy by 2028: X-energy in Washington State and TerraPower in Wyoming. The department has said the program is essential to achieving the administration's goal of net-zero greenhouse gas emissions by 2035, thereby implicitly making Uranium a key spoke in any future "ESG" ambitions.
But the U.S. nuclear fuel supplies for both current and advanced reactors have been disrupted by Russia's invasion of Ukraine, which has laid bare US reliance on Russia for critical energy supplies. And should Moscow escalate its weaponization of uranium, then the US could lose a substantial portion of its baseload, leaving millions in the dark. It's also why Biden did not add Uranium to the list of prohibited Russian exports, despite calls to block U.S. imports of Russian-produced uranium. Russia is the third-largest source of U.S. uranium, accounting for about 16% of total U.S. imports.
"Unless the department acts swiftly, our reactors will be dependent on Russia," said Sen. John Barrasso (R-Wyo.), the committee's top Republican. On Thursday, Barrasso introduced legislation that would ban uranium imports, which would make uranium supplied by non Russian sources especially valuable. He drew support from three other Republican senators, including Sen. Cynthia Lummis (R-Wyo.), who said her state has "more than enough uranium to fill this gap."
The department is moving forward on two programs established in 2020 to secure supplies of uranium and specialized fuel required by advanced reactors. The department will continue to support its demonstration program with Centrus Energy in Piketon, Ohio, to produce the advanced reactor fuel. A uranium processing facility, run by Honeywell in Metropolis, Ill., requires support as it restarts and expands.
"It could potentially be incentivized to restart our conversion capability rapidly, as long as there's a signal from the federal government and from the industry," Huff told lawmakers. "We need an aggressive, forward-moving appropriation."
Huff, who holds a doctorate in nuclear engineering, left her academic career to join the department in May 2021 according to Bloomberg. She was appointed to serve as the principal deputy assistant secretary, overseeing the department's early efforts to launch a consent-based strategy for siting an interim spent nuclear fuel storage facility, implement the $6 billion civilian nuclear credit program, and publish a recent report on the nuclear energy supply chain.
In reaction to news that the US will be much more active in shoring up US nuclear energy, uranium stocks such as Uranium Energy shares rose 16% and led the ETF's North American uranium miners higher; Toronto-listed Energy Fuels jumped 14% to lead gains in the S&P/TSX Composite Energy Index. Meanwhile, uranium producers Denison Mines +10%, Cameco +8.1% and NexGen Energy +7.9% also soared.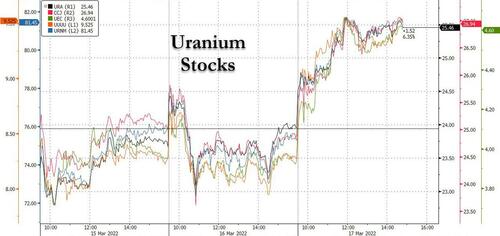 Tyler Durden
Thu, 03/17/2022 - 15:24