Sanctioned Russian Oligarch Mikhail Fridman Says Billionaires Have Little Influence On Putin's Decision Making
March 18, 2022 | Tags: ZEROHEDGE
Sanctioned Russian Oligarch Mikhail Fridman Says Billionaires Have Little Influence On Putin's Decision Making
With their expensive toys being taken away one-by-one, Russian oligarchs are claiming they have little influence over the decisions that Vladimir Putin is making on behalf of Russia. That was the key take behind Bloomberg's recent interview with "one of Russia's original oligarchs", Mikhail Fridman, published this week. 
After making a rare political comment, that he didn't think Putin would launch a full scale invasion of Ukraine, Fridman soon had to face the reality of Russia's actions. 
His PE firm owns a stake in a large Ukrainian telecom operator, prompting many of his firm's investors to reach out to him. He called the invasion a "tragedy" and told them that "war can never be the answer." He then announced that his charity organization would donate $10 million to Jewish organizations that supported Ukrainian refugees. 
But these gestures didn't make him immune to sanctions, including frozen bank accounts and travel restrictions. He was told on February 28 by his lawyer that the EU had "sanctioned him and his longtime business partner, Petr Aven". 
"I was in shock. I almost didn't understand what he was saying," Fridman told Bloomberg. 
And he says that the idea of sanctioning oligarchs to get to Putin doesn't make sense. 
He commented: "I've never been in any state company or state position. If the people who are in charge in the EU believe that because of sanctions, I could approach Mr. Putin and tell him to stop the war, and it will work, then I'm afraid we're all in big trouble. That means those who are making this decision understand nothing about how Russia works. And that's dangerous for the future."
"The power distance between Mr. Putin and anybody else is like the distance between the Earth and the cosmos," he added, claiming he's never met Putin one-on-one.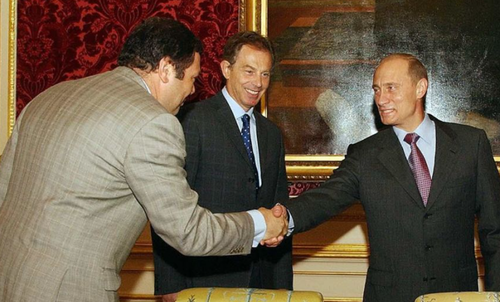 Despite being worth $10 billion now (down from $14 billion, pre-sanctions), he has no access to cash and his last working bank card in the U.K. has stopped working. He is limited to an allowance of roughly £2,500 a month, the report notes. 
"My problems are really nothing compared with their problems," he told Bloomberg at first, comparing his situation to those of people in Ukraine. He would later phone the same reporter to tell him that things were "getting worse" for him, and lamenting: "I don't know how to live. I don't know. I really don't know."
Sergey Parkhomenko, an adviser to the Kennan Institute at the Woodrow Wilson Center in Washington, told Bloomberg: "Personal sanctions against the oligarchs are not a precise instrument. I know a lot of much worse oligarchs in Russia than Fridman and Aven. The sanctions are not a fair instrument. It's a weapon of mass destruction."
Adam Smith, a partner at the law firm Gibson, Dunn & Crutcher and a former senior U.S. Department of the Treasury official who advised on sanctions from 2010 to 2015, added: "It's an indirect approach, with one of the strategies being that if the oligarchs close to Putin are being pressured, they will pressure Putin. The U.S. sanctioned oligarchs before—starting in 2014 and then several in 2018—and the success of that strategy is spotty, both in terms of whether the oligarchs stopped supporting Putin and whether they were harmed."
Meanwhile, the 57 year old Fridman made his money in in banking and energy before Putin even came to power, the report says. His parents are Ukrainian citizens who used to partly live in Lviv. 
"I know every corner of that city. I always thought Ukraine would resist," he concluded. You can read Bloomberg's full profile of Fridman here. 
Tyler Durden
Fri, 03/18/2022 - 16:40