Stocks Squeeze To Best Week Since 2020 Election As Fed Cranks Hawkishness To '11'
March 18, 2022 | Tags: ZEROHEDGE
Stocks Squeeze To Best Week Since 2020 Election As Fed Cranks Hawkishness To '11'
Bearing in mind that all of the catalysts for the sell-off - Russia-Ukraine, COVID lockdown in China, accelerating inflation, Fed tightening - are all still happening as we exit the week, we present you with this week's US equity market performance. The Nasdaq soared over 8% this week (that's almost 11% off the mid-week lows prior to The Fed's rate-hike), up over 1% each of the last four days (up 2% today). The rest of the majors also exploded higher...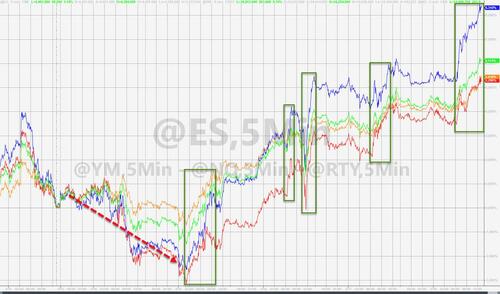 This is the US equity market's best week since the 2020 Election (week of Nov 6th).
All the majors moved back up to their 50DMA (Nasdaq barely made it)...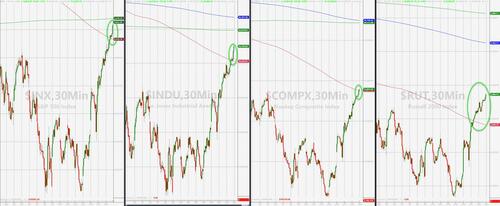 However, given that a very negative consensus was building across risk assets, perhaps this week's rip-roaring short-squeeze-driven rally is not surprising at all. "Most Shorted" stocks exploded 17% higher off the Tuesday lows...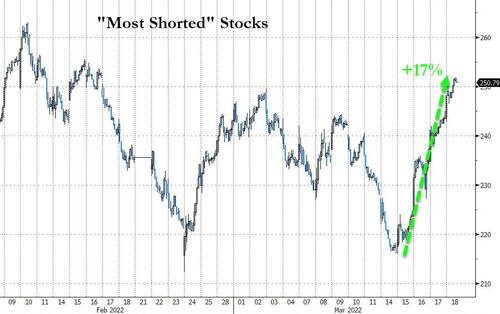 Source: Bloomberg
This was the biggest weekly short-squeeze since Jan 2021 and this is visualizing what shorts did this week...
After all the recent bloodbathery, Cathie Wood's ARKK had its best week ever...
Source: Bloomberg
As did Chinese tech (KWEB)...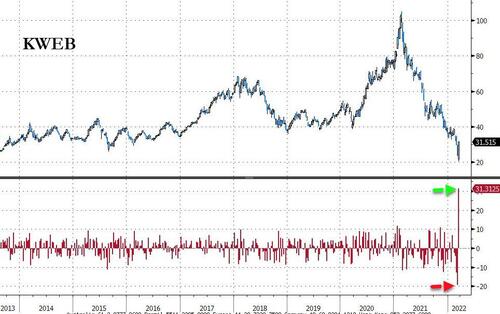 Source: Bloomberg
DEAD CAT BOUNCE much?
VIX was puked along with all the hedge unwinds and is now trading over 7 vols below pre-Putin-Invasion levels...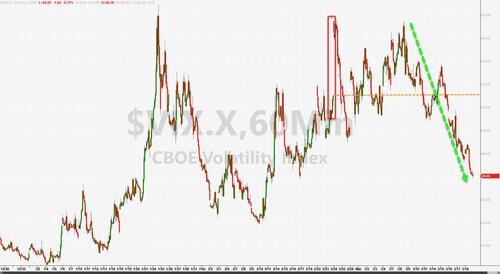 Don't forget today was a triple witch with $3.5 trillion in options expiring and dramatic amounts of gamma unclenching. As SpotGamma noted earlier, this is starting to look a lot like January...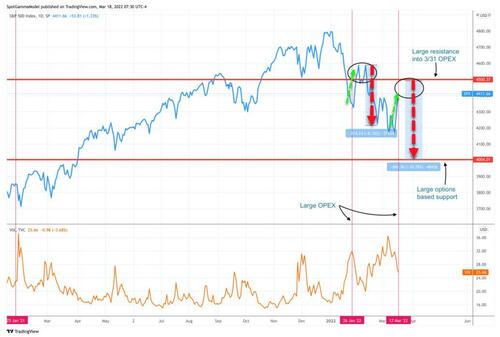 While US Stocks remain below pre-Putin-invasion levels, European stocks have erased all the losses now... (as if it never happened)...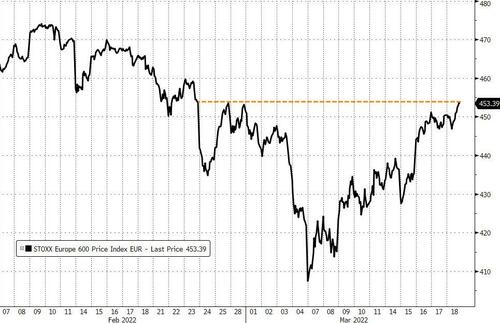 Source: Bloomberg
Today saw the strong revival of the 'recession trade' as Waller's call for a 50bps hike at every meeting going forward suddenly seemed to shock the algos back to reality, prompting value stocks to be puked in favor of growth...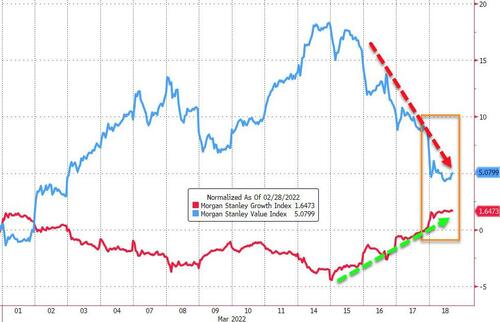 Source: Bloomberg
Fed's Waller was extremely hawkish pre-market and we got some disappointingly ugly housing data, which helped push the yield curve further into inversion across the belly of the curve.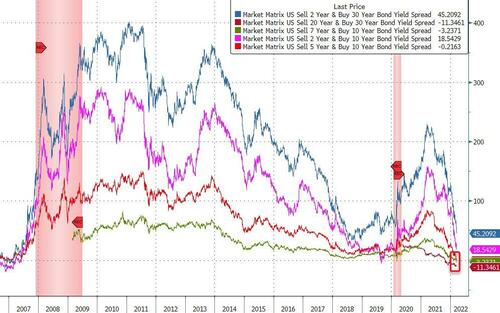 Source: Bloomberg
All Treasury yields were higher this week but the long-end significantly outperformed (thus the curve flattening)...
Source: Bloomberg
FRA/OIS and our global dollar liquidity proxy both 'improved' this week on the back of commodity bailouts, but it's a bit premature to call the stressors over...
Source: Bloomberg
Especially with The Fed cranking up the hawkishness to '11'... Which the market seems convinced will guarantee a recession and spark multiple rate-cuts...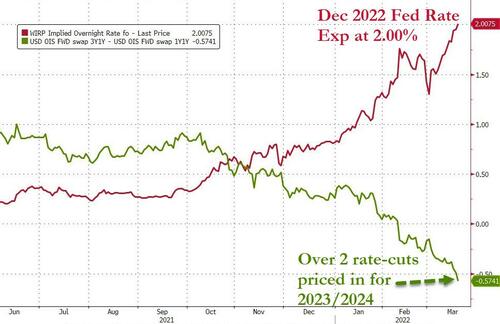 Source: Bloomberg
5Y Breakevens surged to new record highs this week (suggesting The Fed will fail also) before reversing intraday...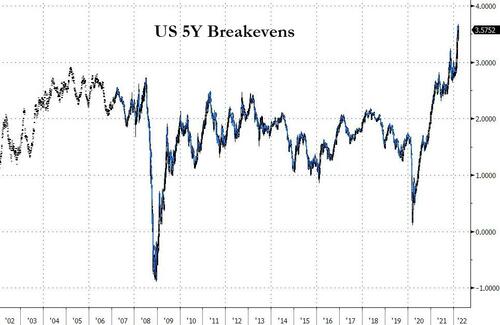 Source: Bloomberg
All occurring as global stagflation fears soar...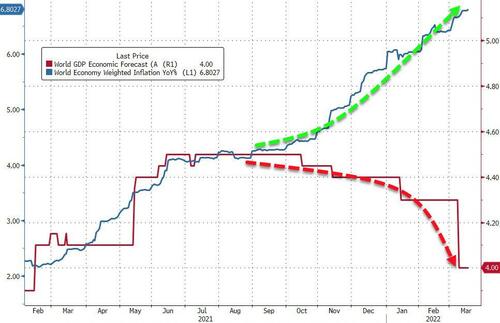 Source: Bloomberg
Ethereum soared higher this week (back up near the $3000 level), following the successful test of its 'merge' to Proof-of-Work, dramatically outperforming its crypto peers...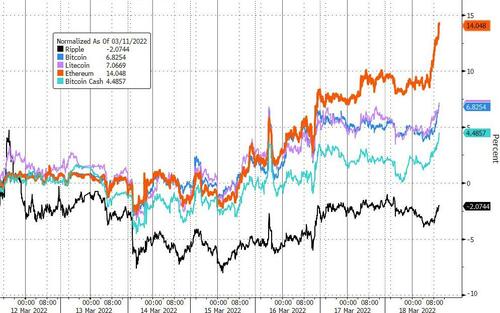 Source: Bloomberg
And if forward inflation expectations are anything to go by - as they have been - ETH has a long way to go...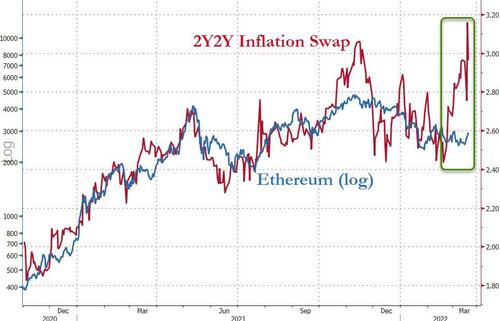 Source: Bloomberg
The dollar was clubbed like a baby seal this week...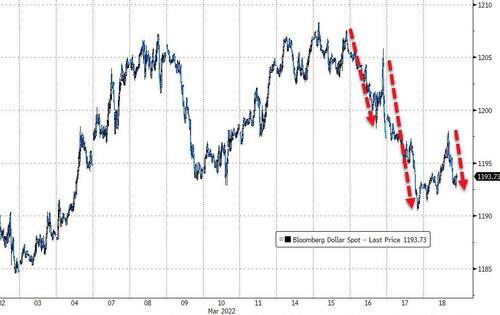 Source: Bloomberg
Copper managed gains this week but both Crude and PMs were lower...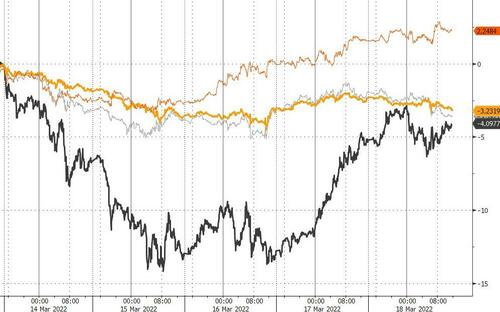 Source: Bloomberg
Gold bounced later in the week but ended only marginally above pre-Putin levels...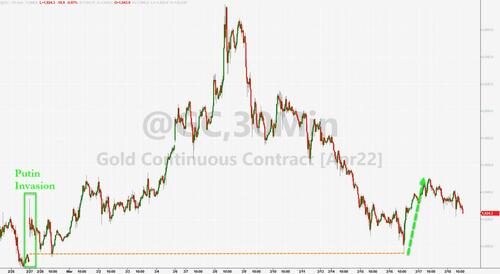 Similar picture for WTI, which bounced back above $100...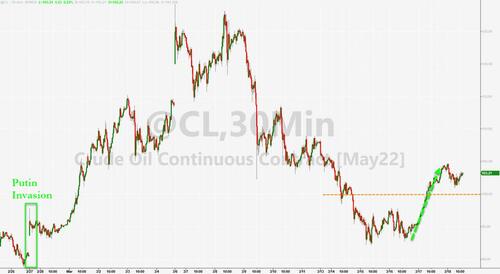 Finally, the 'rally round the flag' bounce in Biden's approval rating has been erased!
Source: Bloomberg
We're gonna need more escalation!
And if there's more escalation, it appears diamonds are a Russian billionaire's girls best friend...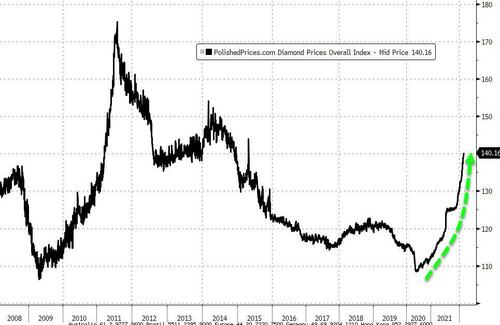 Source: Bloomberg
1 Carat Fine diamonds are up 50% as perhaps the easier way to move large amounts of wealth without confiscation fears?
Tyler Durden
Fri, 03/18/2022 - 16:01