Bill Gross Warns Fed Rate Hikes Will "Crack" US Economy And Housing Market
March 19, 2022 | Tags: ZEROHEDGE
Bill Gross Warns Fed Rate Hikes Will "Crack" US Economy And Housing Market
Bill Gross, the PIMCO founder and longtime "Bond King" of Wall Street, has likely grown accustomed to critical portrayals in the press, following his widely publicized dispute with a Laguna Beach neighbor (Gross published his own account of the aftermath which is definitely worth a read for the entertainment value alone), and after the recent publication of a book called "The Bond King" - which prompted him to pen his own memoirs to counteract what he feared would be a negative portrayal. Now comfortably ensconced in retirement, the PIMCO founder has taken a break from managing his own portfolio (which has recently included winning options bets against GME and AMC) to share his concerns about the Fed's rate-hike plans with the FT's top business editor.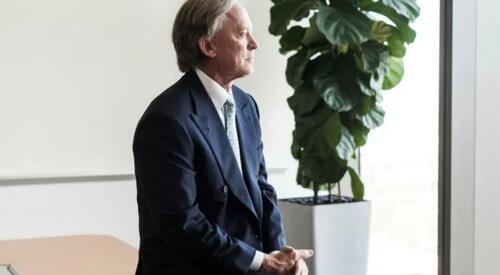 Gross fears that if the Fed follows throuogh with its plans to hike rates by 25 basis points at each successive meeting this year, it will "crack" the US economy and the housing market, sending the US careening into a recession.
As we shared on Wednesday, the Fed's median projection as expressed in the latest "dot plot" shows 7 rate hikes in 2022, which would leave the Fed funds rate, the central bank's benchmark interest rate, at a peak of 2.75%.
Raising the benchmark rate to this terminal level would cause the US economy to "crack", Gross said, causing a recession and "breaking" the housing market (which has been caught in a torrid buying frenzy).
"I suspect you can't get above 2.5 to 3 per cent before you crack the economy again," he said. "We've just gotten used to lower and lower rates and anything much higher will break the housing market."
Gross's commentary isn't that far-fetched, considering that the Fed expects it will need to cut rates later in 2024 to accommodate the slowing economy.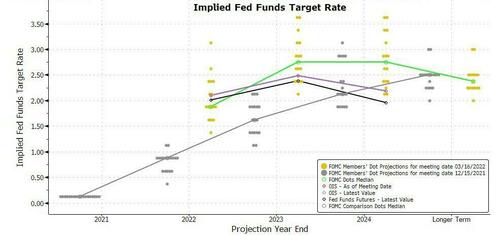 before the central bank later starts cutting rates to accommodate an economic slowdown later in 2024.
Of course, Gross's commentary stands in stark contrast to that of St. Louis Fed President James Bullard, who has called for the Fed to hike rates by 50bp per meeting to reach the 2.75 percentage point terminal rate before the end of 2023. Otherwise, the central bank would risk "losing credibility".
Gross's commentary is interesting considering that he has railed against low interest rates for years.
"It destroys the savings function," he said. "Meme stocks and NFTs [non fungible tokens], all of this nonsense in my mind has developed from the inability to earn a decent return in your 401k" retirement plan.
After initially taking losses, Gross said that his bets against GME and AMC have yielded some profits.
In the past 18 months, he has been putting his personal money where his mouth is, by using options to bet against GameStop and AMC, the most prominent meme stocks to have seen their share prices driven up by retail enthusiasts. Although he initially took enough losses that he stopped sleeping and closed some of his positions, he says he has been vindicated by rapid tumbles in both company's shares. "Maybe I'm an old fart...but in total, I'm up maybe $15mn to $20mn."
Gross has also profited from investments in partnerships that in turn have invested in natural gas pipelines.
Gross has also profited handsomely from a decision to buy partnerships that invest in natural gas pipelines. He freely admits his interest was piqued by their tax structure — dividends are reinvested and not taxed until the holding is sold. Now the position is benefiting from sharply higher energy prices owing to the emergence from the pandemic and the war in Ukraine.
The scrutiny he has faced in the press has led Gross to reflect on his insecurities and the combative temperament that led to his ouster from PIMCO.
The process has forced him to recognise his own shortcomings and insecurities. In his last days at Pimco, when he famously feuded with other top executives, "I was too sensitive and that was disruptive," he said. "It's probably the best thing that I left. At 72, you do start to lose it, and at 77 you lose it even more."
He also said he misses the PIMCO investment committee, which met daily.
"I missed the Pimco investment committee" which met daily, he said. "This was a company of bond kings and queens. I had some responsibility for hiring and keeping them at the firm. But these people are good."
The interview seems to mark the start of a new, more reflective period for Gross. Being nearly 80, Gross joked that living in what he calls "the death zone" has led him to live more "in the moment".
Although he remains estranged from the child he had with his second wife, Gross has remarried and he is close to his two older children. "When you get to your late 70s and early 80s, it's like the death zone," he said. "You just wait for the prostate cancer. But it also allows you to be more happy in the moment."
Although he is now retired (following what was by all accounts a disastrous stint at fund manager Janus) Gross said he still wakes up early (around 0500PT) to spend 5 hours a day at his Bloomberg terminal (he was gifted a lifetime subscription by Michael Bloomberg himself).
Tyler Durden
Sat, 03/19/2022 - 17:00