Italian Newspaper Denies "Disinformation" Despite Publishing Completely Misleading Front-Page Photo
March 19, 2022 | Tags: ZEROHEDGE
Italian Newspaper Denies "Disinformation" Despite Publishing Completely Misleading Front-Page Photo
Authored by Paul Joseph Watson via Summit news,
Italian newspaper La Stampa has denied accusations it engaged in disinformation by publishing a front page photo of a Ukrainian ballistic missile strike on Donetsk while suggesting it had been carried out by Russia.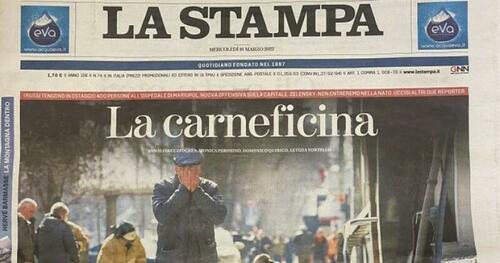 The daily news outlet promised readers coverage of Russian attacks in Kiev and Lvov alongside a headline that read "The Carnage".
The headline was illustrated with an image of a man covering his face in grief as dead bodies lie around him along with lines about "traumatized children in Lvov" and "Kiev preparing for the final assault" by Russian troops.
The photograph actually showed the aftermath of a ballistic missile strike on Donetsk, the capital of a pro-Russian breakaway republic in eastern Ukraine, after it was hit by a tactical Tochka-U ballistic missile that was almost certainly launched by Ukraine.
Whoops!
❗️#LaStampa di oggi scrive dei "bombardamenti russi" senza menzionare però che la foto nella prima pagina è scattata il 14.03 a #Donetsk dopo che gli ucraini hanno bombardato una zona residenziale. Almeno 20 civili hanno perso la vita. Ne abbiamo scritto, La Stampa invece - no. pic.twitter.com/ikomLNDjJp

— Russian Embassy in Italy (@rusembitaly) March 16, 2022
However, editor-in-chief Massimo Giannini vehemently denied in an interview that the publication had deliberately misled readers.
"The thing that bothers me most and pains me a lot is that there are also some people here in Italy, some disgraced people of the web, who amplify this and call it a case of disinformation," said Giannini.

"Where is the disinformation?" he asked.
How about right there on your front page, Massimo?
Imagine if a Russian newspaper had published emotive front page coverage of alleged Ukrainian attacks on pro-Russian rebel areas of the country and then illustrated it with images that actually showed Russian attacks on Kiev.
Critics would immediately denounce the publication for engaging in egregious disinformation, and they'd be right.
Apparently though, amidst the ideological clamor to support the "current thing," only Russia engages in propaganda and disinformation.
NATO powers and western media outlets are complete saints!
*  *  *
Brand new merch now available! Get it at https://www.pjwshop.com/
In the age of mass Silicon Valley censorship It is crucial that we stay in touch. I need you to sign up for my free newsletter here. Support my sponsor – Turbo Force – a supercharged boost of clean energy without the comedown. Get early access, exclusive content and behinds the scenes stuff by following me on Locals.
Tyler Durden
Sat, 03/19/2022 - 08:10