Shenzhen Scrambles To Ease Lockdown As Port Congestion Persists
March 20, 2022 | Tags: ZEROHEDGE
Shenzhen Scrambles To Ease Lockdown As Port Congestion Persists
The CCP continued to ease lockdown restrictions on Shenzhen over the weekend as the municipal government claimed that the spread of COVID in the city is "overall controllable."
Shenzhen's municipal government said it would resume normal operations and production, according to a notice posted to its WeChat account on Friday.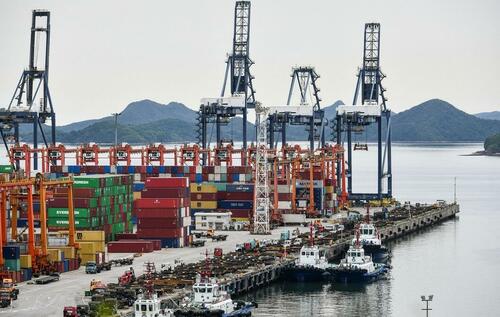 As factories reopen, citywide bus and subway services will also resume, according to the notice, which said the reopening would be effective starting March 21 through March 27.
The city's COVID situation is still grim, but it's overall controllable, according to the notice. The move follows a partial lift of restrictions for five districts of Shenzhen on Friday, as President Xi Jinping said.
The reopening comes as China seeks to minimize the economic and social disruption to the economy from its COVID zero policy.
But the city's reopening hasn't been quick enough to prevent a backlog at Shenzhen's critical ports. Cargo ships are accumulating at one of the busiest ports in the country after another COVID outbreak shut down factories and warehouses, raising the prospect of a new round of bottlenecks that could push up freight rates and slow deliveries.
There are more than 35 ships waiting to dock in Shenzhen and another 30 farther north in Qingdao, according to shipping brokers. The Port of Shenzhen, which serves a major manufacturing and export hub, includes the Yantian terminal, which handles about 25% of all US-bound Chinese exports. Manufacturing plants and warehouses in the city were ordered to close this past week, while another container load is falling fast as fewer trucks are arriving.
"I've got a load of bicycles, but stuck 16 kilometers on the highway coming into the port for almost two days," said Wei Wu, a truck driver moving boxes for a European container and logistics operator. "Very little moves in Shenzhen. You need to test repeatedly, and I don't know if the ship will be allowed to come in."
The lockdown in Shenzhen was partially lifted Friday after President Xi Jinping told a Politburo meeting that while sticking to its COVID-zero policy, the government should "minimize the impact" of the pandemic on the country's economy.
According to WSJ, the Danish boxship company AP Moller-Maersk said that although terminals in Shenzhen are operational, the shipping giant had come up with contingency plans that could divert ships if the COVID restrictions there remain.
Tyler Durden
Sun, 03/20/2022 - 18:00