Turkey Says Ukraine, Russia "Close To An Agreement" As Moscow Delivers Ultimatum To Surrender Mariupol
March 20, 2022 | Tags: ZEROHEDGE
Turkey Says Ukraine, Russia "Close To An Agreement" As Moscow Delivers Ultimatum To Surrender Mariupol
Another day, another glimmer of hope there we may soon see a ceasefire in the Ukraine war: on Sunday, Turkey said that Russia and Ukraine had made progress on their negotiations (ostensibly the same negotiations which, if they fail, could lead to World War 3 according to Zelensky) to halt the invasion and that the two warring sides were close to an agreement.
"It's not easy to negotiate while the war is ongoing, or to agree when civilians are dying. But I want to say that there is momentum," Turkey Foreign Minister Mevlut Cavusoglu said from the southern Turkish province of Antalya, AFP reported. "We see that the parties are close to an agreement."
Cavusoglu this week visited Russia and Ukraine as Turkey, which has strong bonds with the two sides, has tried to position itself as a mediator. The foreign minister, who hosted his peers from Russia and Ukraine this week,  said Turkey was in contact with the negotiating teams from the two countries but he refused to divulge the details of the talks as "we play an honest mediator and facilitator role."
In an interview with daily Turkish newspaper Hurriyet, presidential spokesman Ibrahim Kalin said the sides were negotiating six points: Ukraine's neutrality; disarmament and security guarantees; the so-called "de-Nazification"; removal of obstacles on the use of the Russian language in Ukraine; the status of the breakaway Donbas region; and the status of Crimea, annexed by Russia in 2014.
Turkey's pro-government Hurriyet newspaper reported that the two countries were edging towards agreement on Kyiv declaring neutrality and abandoning its drive for Nato membership, "demilitarizing" Ukraine in exchange for collective security guarantees, what Russia calls "denazification" and lifting restrictions on the use of Russian in Ukraine.
Two people familiar with the discussions said it was likely a compromise would involve token concessions from Kyiv on what Russia calls "denazification". But Linda Thomas-Greenfield, US ambassador to the UN, accused Moscow of failing to fully participate in the talks. "The negotiations seem to be one-sided," she said. "The Russians have not leaned into any possibility for a negotiated and diplomatic solution."
Hopes that an agreement is close were dashed, however, after the Russian military delivered an ultimatum for the surrender of Mariupol, the besieged city in southern Ukraine and the scene of some of the heaviest fighting since Russia launched its invasion of Ukraine more than three weeks ago, according to the National Defense Control Center of the Russian Federation as cited by Tass.
Colonel-General Mikhail Mizintsev said all armed units of Ukraine must leave Mariupol from 9 a.m. to 11 a.m. local time on Monday, according to Tass, after which any fighters remaining would "face a military tribunal." It said humanitarian convoys would deliver food, medicine and other essentials to the city.  The Russian statement demanded a written response from Ukraine's government by 4 a.m. Kyiv time.
The eastern port city has been devastated by relentless shelling, with whole neighborhoods reduced to piles of smouldering rubble. Electricity, gas and water have been cut off and trapped residents are without food.
Ukraine's armed forces said the situation in Mariupol which located in mostly Russia controlled territory around Donetsk, was "difficult: there is famine in the city, street fights, people are trying to leave". Local authorities in Mariupol said "civilians are still under the rubble" after the school bombing.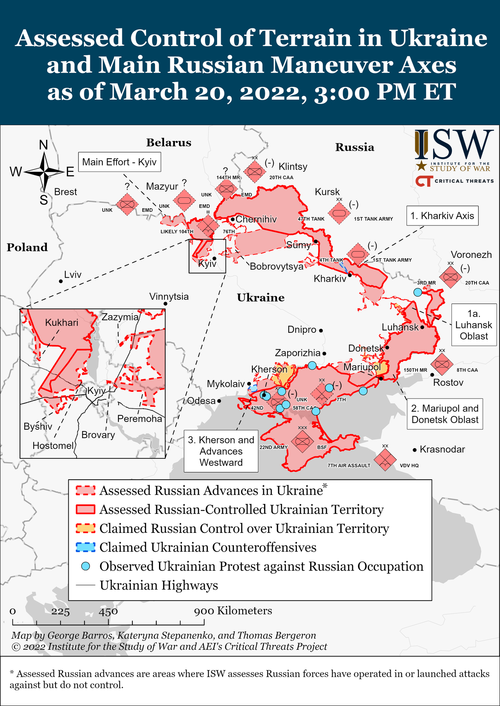 Russia's advance in Mariupol came after Kyiv said it had been cut off from the strategically important Sea of Azov, a conduit to the Black Sea. Capturing Mariupol would give the Russians control of a swath of Ukraine's southern coast.
Kyiv also accused Moscow of using its new hypersonic missiles against civilian areas elsewhere in Ukraine, in the first confirmation that the Kremlin had deployed the weapons in the conflict. Moscow said it used the Kinzhal, which it claims can travel at 10 times the speed of sound, twice in the past three days: to destroy a fuel depot in southern Ukraine and to target a munitions storage facility in the country's west.
Russia said Andrei Paliy, deputy commander of its Black Sea fleet, had died during the battle for Mariupol. Paliy's death makes him the seventh high-ranking Russian officer Ukraine claims to have killed during the war.
Kyiv and its western allies fear Russian president Vladimir Putin could be buying time in peace talks to replenish Moscow's forces and launch a broader offensive.
Meanwhile, as the FT notes, Mariupol's status is a sticking point in the ongoing Turkey-mediated peace talks because it is part of the Ukrainian-held territory claimed by Moscow-backed separatists, according to two people briefed on the peace efforts.
Ukrainian president Volodymyr Zelensky said the talks were worth pursuing even if they had a "1 per cent chance of success" and warned a failure of negotiations would risk "a third world war." "We have demonstrated the dignity of our people and our army . . . But unfortunately our dignity is not going to preserve lives. So I think we have to use any format, any chance, in order to have the possibility of negotiating," he told CNN. Zelensky said western leaders had told him Ukraine would not be allowed to join Nato or the EU although "publicly, the doors will remain open". 
US president Joe Biden will visit Europe this week to attend Thursday's Nato summit in Brussels, but will not travel to Ukraine, the White House said on Sunday.
Tyler Durden
Sun, 03/20/2022 - 19:00