132 Feared Dead After China Eastern Airlines Boeing 737 Crashes Into Mountain
March 21, 2022 | Tags: ZEROHEDGE
132 Feared Dead After China Eastern Airlines Boeing 737 Crashes Into Mountain
Update (1000ET): As more information about Monday's crash arrives, analysts are paying particular attention to the fact that the crash seemed to have occurred in the span of just two minutes, as the plane entered a nosedive, essentially falling out of the sky in a manner that's reminiscent of the deadly crashes in Indonesia and Ethiopia that involved the Boeing 737 MAX 8. To be clear, the plane involved in Monday's crash wasn't a MAX; it was a typical 737.
CNBC created a chart showing the timeline of the crash.
* * *
Update (0730ET): China Eastern has decided to halt all flights involving Boeing 737-800s, the model that was involved in Monday's crash, starting Tuesday. An emergency telephone assistance line for family was set up, and the airline expressed "deep condolences" to passengers and crew members onboard.
China Eastern's website, mobile app and some of its social media platforms were turned to black and white in a sign of mourning. President Xi Jinping urged rescue efforts following the crash, state TV reported.
The Global Times reported that the plane appears to have lost power during the flight, prompting it to essentially drop out of the sky as the pilot lost control of the aircraft.
If this is accurate, then it could mean the beginning of another yearslong battle for Boeing, which is still reeling from the 737 MAX disaster.
The wounds on people who lost their loved ones to the Boeing 737 crash in #Ethiopia have not yet healed, and another crashes in #China.
All Boeing 737 should be grounded, and the company be investigated.
Rest in Peace to the victims 🕊 and may their families be comforted, Amen. pic.twitter.com/xJJjEcMjXT

— Linda (@LindaANjagi) March 21, 2022
The incident brings to mine an infamous quote from an internal Boeing email that was made public during the investigation into the 737 MAX.
Xi Urges China to Find Reason for Boeing Crash Soon: State TV

"This airplane is designed by clowns, who in turn are supervised by monkeys"?

— zerohedge (@zerohedge) March 21, 2022
* * *
Update (0630ET): Boeing has received a report on Monday's crash from China Eastern Airlines and will be examining the data to learn more about what went wrong.
Boeing shares are trading lower ahead of the market open in the US; they were off 8% in recent trade.
* * *
In what may be one of the worst airplane crashes of a Chinese passenger plane in decades, a China Eastern Airline plane carrying 132 travelers and crew on board crashed in the mountains of Guangxi Province in southern China on Monday. There was no immediate word on the number of casualties. The plane was a Boeing 737.
Assuming no survivors, the crash would be roughly 30 deaths shy of China's worst airplane crash in its modern history: the 1994, China Northwest Airlines flight 2303, which broke apart and crashed as a result of an autopilot malfunction, killing all 160 people on board.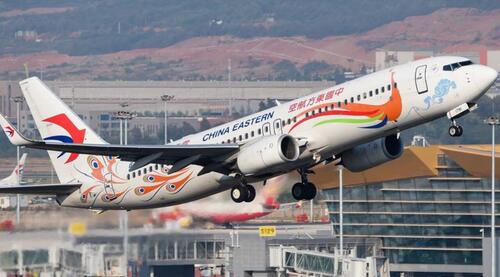 Chinese state media said the flight was carrying 123 passengers and nine crew members.
Footage of the crash has made the rounds on social media.
BREAKING: Reported footage of China's #MU5735 plane crash https://t.co/Lishlp3ejL pic.twitter.com/0UdTZdcYxe

— Insider Paper (@TheInsiderPaper) March 21, 2022
Rescue operations were underway after the plane went down near Wuzhou in Guangxi. Some 588 firefighters were being sent to the scene to aid local emergency services.
A local villager who witnessed the scene of the crash told local news outlet Jimu News that the plane had disintegrated and started a fire that had burned down trees and bamboo before local firefighters arrived and extinguished most of the blaze.
One local news outlet speculated that the flight was MU5735 from Kunming to Guangzhou. The flight has reportedly not arrived at its destination and was listed in online portals as "out of reach".
Flight MU5735 left Kunming at 1311 local time and was scheduled to arrive in Guangzhou at 1505.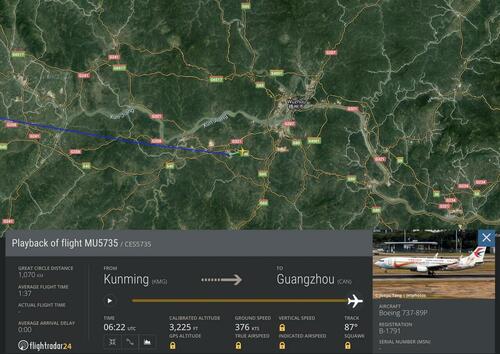 According to the SCMP, China's airlines had recorded over 100 million continuous hours of safe flight as of Feb. 19, according to Zhu Tao, an official with the Civil Aviation Administration.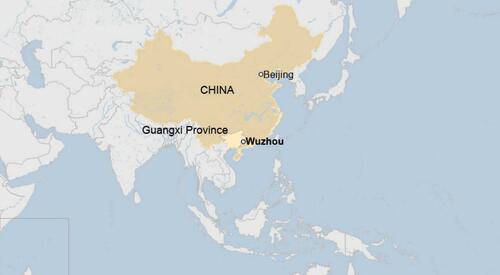 China Eastern is yet to comment on the crash, or respond to questions from the media, but it has changed its logo on its Weibo account to a grey color.
China's last major airline disaster occurred on August 2010, when a flight from Harbin crashed in Yichun killing 42 people.
Tyler Durden
Mon, 03/21/2022 - 11:25