Goldman Sachs Carries Out Wall Street's First Over-The-Counter Crypto Trade
March 21, 2022 | Tags: ZEROHEDGE
Goldman Sachs Carries Out Wall Street's First Over-The-Counter Crypto Trade
First Goldman starts making markets in nickel with the metal still frozen on the LME, and now this: in what will likely be construed as a milestone for Wall Street, Goldman Sachs has conducted its first over-the-counter crypto transaction, according to CNBC making it the first major US bank to do so.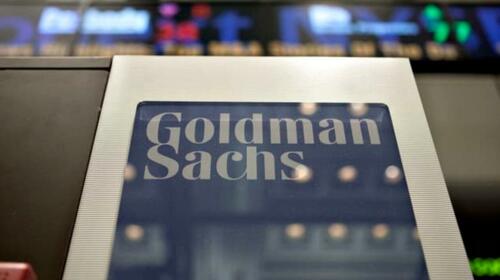 Specifically, the bank traded a bitcoin-linked instrument called a non-deliverable option with crypto merchant bank Galaxy Digital, according to the two firms.
The trade is seen as a crucial step in the development of crypto markets for institutional investors, in part because of "the nature of OTC trades." Compared to the exchange-based CME Group bitcoin futures that Goldman began trading last year, the bank said it is taking on greater risk by acting as a principal in the transactions, although it is virtually assured that the bank has long ago hedged away its "principal" exposure.
That Goldman is involved in such a transaction is a signal of the increased maturity of the asset class for institutional players like hedge funds, according to Galaxy co-president Damien Vanderwilt.
"This trade represents the first step that banks have taken to offer direct, customizable exposures to the crypto market on behalf of their clients," Vanderwilt said in an interview.

The options trades are "much more systematically-relevant to markets compared to cleared futures or other exchange-based products," Vanderwilt said. "At a high-level, that's because of the implications of the risk banks are taking on; they're implying their trust in crypto's maturity to date."
Goldman's hedge fund clients have reportedly been seeking derivative exposure to bitcoin, either to make wagers on its price without directly owning it, or to hedge existing exposure to crypto, the firms said.
"We are pleased to have executed our first cash-settled cryptocurrency options trade with Galaxy," Max Minton, Goldman's Asia Pacific head of digital assets, said in a statement. "This is an important development in our digital assets capabilities and for the broader evolution of the asset class."
The Manhattan-based bank has seen heavy  demand for options tied to digital currencies, according to Goldman's global head of crypto trading Andrei Kazantsev said in December.
"The next big step that we are envisioning is the development of options markets," he said.
The big question now: How long until Goldman rival JP Morgan is forced to offer similar trades, forcing CEO Jamie Dimon - who memorably said back in 2017 that he would fire any JPM staff found trading crypto - to finally acquiesce to growing customer demand?
Tyler Durden
Mon, 03/21/2022 - 15:45