Jan. 6 Suicide Victim Was Told 'He Would Not Receive A Fair Trial In This Town'
March 21, 2022 | Tags: ZEROHEDGE
Jan. 6 Suicide Victim Was Told 'He Would Not Receive A Fair Trial In This Town'
Authored by Joseph M. Hanneman via The Epoch Times (emphasis ours),
The 14-month ordeal battling charges from his time at the U.S. Capitol on Jan. 6, 2021, had put so much stress on Matthew L. Perna that he began throwing up blood.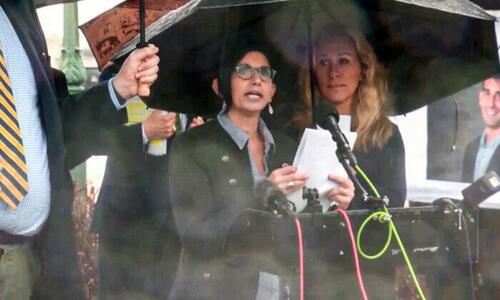 When the U.S. Department of Justice (DOJ) asked to delay his sentencing and announced that it would seek more prison time, it was a bridge too far. Perna took his own life on Feb. 25 in Sharon, Pennsylvania. He was 37.
"Worry, anxiety, stress had worn him down," Geri Perna, his aunt, said at a Capitol Hill news conference on March 17. "He suffered constant nightmares and began throwing up blood. He was no longer comfortable leaving his home.
"One setback after another took its toll on him. And he just wanted it to be over. His attorney encouraged him to plead guilty by telling him that he would not receive a fair trial in this town."
Perna stood in driving rain near the steps of the Capitol, alongside three members of Congress, to decry the treatment of Jan. 6, 2021, Capitol breach defendants by the DOJ, much of society, and influencers on social media.
'A Feeling of Shame'
Collectively, they sounded the alarm that U.S. society is at a precipice, close to losing the freedoms that have been taken for granted for so long.
"Matt walked through an open door into this Capitol building, a monument that has been called the People's House," Geri Perna said. "Standing here in front of this building does not give me a sense of pride, but instead [it] is replaced by a feeling of shame."
Matthew Perna had pleaded guilty to one felony count of obstruction of an official proceeding, the congressional certification of the presidential election results. He also pleaded guilty to three misdemeanor charges.
He spent about 20 minutes inside the Capitol on Jan. 6. After his sentencing was initially scheduled for March 3, prosecutors announced that they sought to add penalty enhancers that would have meant 41 to 51 months in prison.
"Although Matthew Perna may have taken his last breath on Feb. 25, his death began in January 2021 after he was arrested and a nightmare like no other began," Geri Perna said. "It affected everyone in our family, but we stood by his side proudly."
Rep. Louie Gohmert (R-Texas) ripped the DOJ for the sentencing delay.
"The Department of Justice wasn't sure they had beat up on this guy enough," Gohmert said.
He lauded Matthew Perna for a life of service, including a mission trip to hurricane-ravaged Haiti.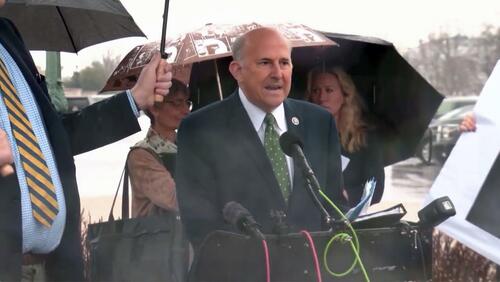 "This is not an insurrectionist that does these kinds of things. He didn't break, touch, or steal anything," Gohmert said. "He didn't harm anyone. And yet the Biden Department of Justice sought to throw the book at him for what really was a mistake, that now … led to the end of his life, a life he used to serve others."
Gohmert asked where today's DOJ prosecutors were in June 2016, when Democrats staged a sit-in on the House floor and prevented regular business from being conducted for more than 12 hours.
"If the Biden administration cared so deeply about sending a message that you should never obstruct an official session of Congress, they had much that they could have gone after the Democrats who sat on the floor," Gohmert said. "I knew at the time they were violating many House rules. I didn't realize at the time they were committing federal felonies.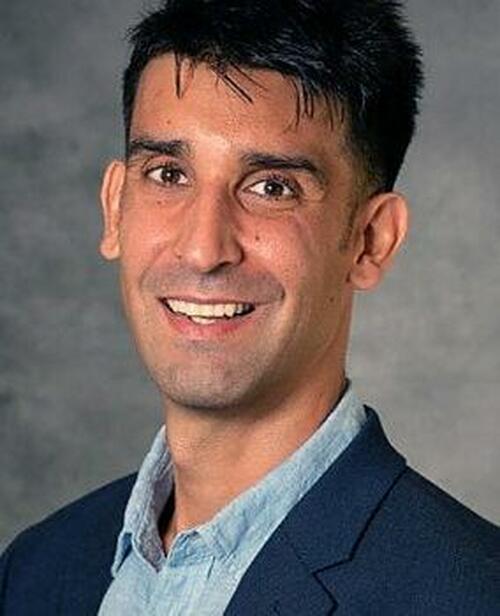 "How long did they sit in jail? How long were they in pretrial confinement? Did they have a DOJ prosecutor that said, 'Wait a minute, I want to make sure every one of these Democrats gets 41 months in prison,' like he felt the gentleman named Matt Perna should have? No. No, they didn't do any of that."
He accused the DOJ of trying to exact political revenge.
"This is a very dangerous policy that this Department of Justice, this administration is pursuing in pursuing vengefulness," Gohmert said. "Republics don't last much longer when they get like this. They need to be careful that they're not leading us into a dark chapter of our country."
The DOJ has refused to comment on the Perna case, although it did dismiss the charges after Perna's death.
Rep. Marjorie Taylor Greene (R-Ga.) criticized the DOJ for not living up to legal obligations to turn over potentially exculpatory evidence to defense attorneys.
"At this time, the Department of Justice is still withholding hundreds of thousands of FBI records from defense attorneys," Greene said. "They're not allowing them to have the records to prepare their cases. Trials are starting and defendants still don't have all of their discovery. They deserve this to be able to defend themselves."
'Two-Tiered Justice System'
Greene opened her remarks by blasting federal judges in the District of Columbia Circuit for holding so many Jan. 6, 2021, Capitol breach pretrial defendants in jail without bond.
"I'd like to start by saying shame on every single judge that is using their courtroom to persecute pretrial Jan. 6 defendants," she said. "This should never happen in our country. We have a two-tiered justice system in America today. And it's wrong."
Greene also shamed her congressional colleagues for not speaking out more about the issue.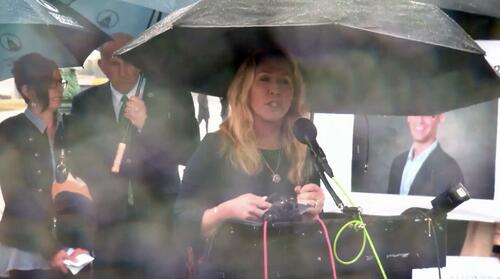 "There are very few Republicans, very few members of Congress that are willing to speak out and stand up for these people's due process rights," she said. "Do they even believe in America and a fair justice system? Shame on them! Shame on everyone that will not speak out against this outrage. It's enough."
Rep. Andy Biggs (R-Ariz.), a member of the House Judiciary Committee, said the Department of Justice "really wanted to make an example of Matthew Perna."
'Some of Them Have Been Tortured'
Biggs said many of the Jan. 6, 2021, Capitol breach defendants who have been jailed for 14 months have experienced extended periods in solitary confinement.
"Solitary confinement for more than two weeks in international law is considered torture," he said. "These individuals, some of them have been tortured. That's what's going on here."
Biggs called out judges, "particularly the judges who've been biased because of political reasoning."
"Just stop it. This is America. You have to grant due process," Biggs said. "The persecution that Matt Perna underwent by the mob on social media is too great for him to bear. We must correct it. We are a self-governing people. We can fix this, and we must fix this. This should never, ever be a situation again."
Geri Perna said the mistreatment that her nephew experienced will lead to more victims if something doesn't change.
"I agreed to come to this press conference today because I do not want Matthew Perna's name forgotten," she said. "There are hundreds of other people just like him, standing in his shoes. I do not know how much more they can take.
"Still I promise you that if something is not done to stop this evil torture that is being inflicted upon these people who have not even been convicted of a crime, more are going to make the choice that Matthew Perna made."
Geri Perna said the silence from most of Congress is revealing.
"Their silence speaks volumes. Shame on everyone who has a voice and could have intervened," Perna said. "Maybe this tragedy would never have occurred. We are disappointed and angry. And we are seeking justice for Matthew Perna.
"I stand here today only because my nephew is dead. No one cared about Matthew Perna's sufferings at the hands of this Justice Department when he was alive. And now it is too late to help him. But anyone who knew Matt would say that he would want others to receive the help that he himself was denied."
Despite the hate mail directed at Matthew Perna's father and other family members, Geri Perna said the family believes that Matthew is in Heaven.
"He's finally free. But the people responsible for this tragedy, they will stand before God someday for the part they played," she said. "But there is an evil surrounding these same people, and I do not think that they are hoping to enter the gates of Heaven anyway."
Tyler Durden
Mon, 03/21/2022 - 22:20