Russia Warns EU Oil Embargo Would "Hit Everyone" As Zelensky Urges 'Halt All Trade With Occupiers'
March 21, 2022 | Tags: ZEROHEDGE
Russia Warns EU Oil Embargo Would "Hit Everyone" As Zelensky Urges 'Halt All Trade With Occupiers'
Ukraine's President Volodymyr Zelensky is trying to keep up the pressure on Germany and Europe, urging all European officials to cease trade with Russia including oil and gas imports, declaring in his latest address "No euros for the occupiers."
"Please do not sponsor the weapons of war of this country, of Russia. No euros for the occupiers. Close all of your ports to them. Don't export them your goods. Deny energy resources. Push for Russia to leave Ukraine," he said as Germany has so far refused to cease its oil imports from Russia.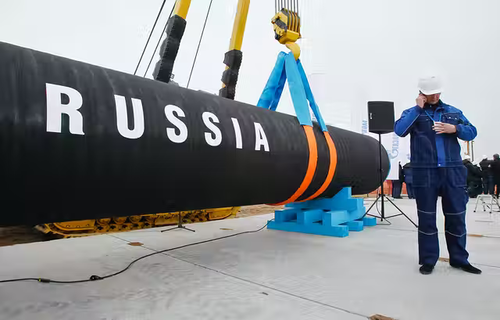 He addressed Berlin specifically in remarks, saying, "You have the strength. Europe has the strength." He issued the appeal just ahead of EU foreign ministers meeting Monday to mull a possible tightening of sanctions, and also ahead of Joe Biden hosting a call with the leaders of France, Germany, Italy and UK, according to Reuters.
Kremlin spokesman Dmitry Peskov issued a direct warning against a European oil embargo immediately after Zelensky's appeal, saying it would hit "everyone" - but will impact Europe the hardest.
Peskov told reporters:
Such an embargo would have very serious consequences for the world energy market. It will have a very serious negative impact on Europe's energy balance.
He stressed in the statement that it "is a decision that will hit everyone." Coming after the US earlier this month announced its own ban on all Russian oil and gas, and with Britain vowing to cut Russian oil by end of the year, Peskov stressed such a move by Europe will be "tough" for its population.
The Kremlin official acknowledged that while such a move won't be as impactful for Americans, who "will feel much better than the Europeans" it remains that "It will be tough for the Europeans."
#EuropeanUnion considers imposing embargo on #oil supplies from #Russia.

According to #Reuters, the embargo on energy resources may be introduced in the case of a "massive bombing of #Kyiv" or the use of chemical weapons. Especially, the Baltic states insist on an oil embargo. pic.twitter.com/aGnw7upvdt

— NEXTA (@nexta_tv) March 21, 2022
Ahead of a series of key meetings this week, including an emergency summit of NATO - for which Biden will travel to Europe - Reuters reports that some EU foreign ministers are "pushing for an oil embargo as part of a possible fifth round of sanctions against Russia, in an effort to punish Moscow over events in Ukraine."
The report states, "Diplomats have said a Russian chemical weapons attack in Ukraine, or a heavy bombardment of its capital Kyiv, could be a trigger for an energy embargo. Russia says it targets military, not civilian infrastructure."
Tyler Durden
Mon, 03/21/2022 - 09:46