Shanghai Reports Record Surge In COVID Cases
March 21, 2022 | Tags: ZEROHEDGE
Shanghai Reports Record Surge In COVID Cases
Shanghai, China's financial center, reported a record surge in daily COVID infections on Monday despite the CCP's best efforts to contain the ongoing COVID outbreak, which is the worst outbreak in China since the virus first emerged in Wuhan more than two years ago.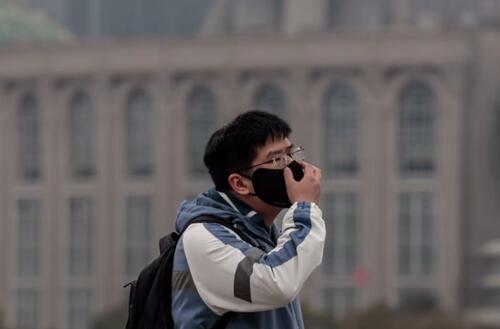 The country's determined efforts to contain growing outbreaks despite the "mild symptoms" reported led to lockdowns that affected more than 50 million people at their peak; but the deleterious impact on China's economy has led the CCP to ease some restrictions, particularly in the southern tech hub of Shenzhen.
Shanghai reported 24 new domestically-transmitted cases with confirmed symptoms on Monday and another 734 local asymptomatic infections, which Wu Jinglei, director of Shanghai Health Commission, attributed to rounds of mass screening in the city last week, according to the SCMP.
"Shanghai is standing the test of a severe epidemic," Wu said, referring to the mass testing carried out from last Wednesday to Sunday.
Across mainland China, 1,947 new locally transmitted cases and a further 2,384 asymptomatic infections were reported on Monday, continuing the run of high infection rates. China has reported more than 37,000 local infections this month. Up until February, the number was slightly more than 100K cases.
Liang Wannian, head of the expert panel leading China's COVID response, defended China's tough approach to outbreaks
"Ideally, we would achieve zero COVID patients in society but the specificity of the coronavirus that causes Covid-19 means we can't achieve that for the moment," Liang told state broadcaster China Central Television.

"The dynamic zero-Covid approach means we need to swiftly identify the outbreaks and cut the transmission chain to go towards the direction of zero COVID, or the transmission will be continuous and connected, causing a large-scale rebounding of cases."
More than 95% of COVID patients in the outbreaks this month showed only mild symptoms or none at all and less than 0.1 percentage point of the 29,127 cases confirmed over the past month were in a severe or critical condition. This includes the elderly, patients with comorbidities and the unvaccinated, according to Jiao Yahui, an official with the National Health Commission.
Meanwhile, the northern province of Jilin, which accounts for most of the cases reported over the past month, confirmed another 2,091 infections, with and without symptoms, on Monday.
Tyler Durden
Mon, 03/21/2022 - 18:40