US Angered After Syria's Assad Makes Historic Visit To UAE
March 21, 2022 | Tags: ZEROHEDGE
US Angered After Syria's Assad Makes Historic Visit To UAE
Since it became clear that the Assad government emerged victorious after the decade-long proxy war to effect regime change in Damascus sponsored by the West and Gulf powers, there have been slow but consistent efforts by Arab countries to normalize relations with Syria once again. 
On Friday, for the first time since the war began in 2011, Syrian President Bashar al-Assad visited an Arab state to meet with its leader. It was none other than US and Saudi ally UAE. After long being branded an international 'pariah' it was a shock for some to see Assad in photographs speaking warmly to Abu Dhabi Crown Prince Sheikh Mohammed bin Zayed al-Nahyan.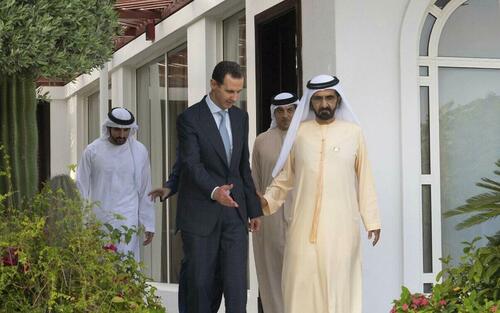 The UAE sheikh "stressed that Syria is a fundamental pillar of Arab security, and that the UAE is keen to strengthen cooperation with it", according to UAE state news. Assad also met with prime minister of the UAE, Sheikh Mohammed bin Rashid Al Maktoum.
The Associated Press called it "clear signal" of Assad's coming reengagement with the Arab world as he "comes in from the cold" - with the likelihood of Syria eventually rejoining the Arab League.
And The Wall Street Journal wrote, "The Emirates, Egypt and Jordan are trying to bring him back into the Arab diplomatic fold—a move that could unlock trade benefits for all sides and reduce Iran's influence. U.A.E. Foreign Minister Sheikh Abdullah bin Zayed met with Mr. Assad in Damascus in November, making him the most senior Emirati official to visit Syria since the start of the civil war."
Perhaps to be expected, Washington was angered by UAE authorizing and welcoming the visit, slamming it as an "apparent attempt to legitimize" Assad.
"We are profoundly disappointed and troubled by this apparent attempt to legitimize Bashar al-Assad, who remains responsible and accountable for the death and suffering of countless Syrians" said State Department spokesman Ned Price said of the visit.
The UAE's normalization effort isn't new. But to roll out the red carpet for Assad on a symbolic anniversary for Syrians, and while his Russian ally is in the midst of waging war on Ukraine... well, that's quite a message https://t.co/cniRtkcrET

— Gregg Carlstrom (@glcarlstrom) March 19, 2022
He also warned countries wanting to deal with Syria about US-led sanctions, saying they must "weigh carefully the horrific atrocities visited by the regime on the Syrians over the last decade," according to the statement. He said the US won't lift sanctions or provide waivers for anyone doing business with Damascus "until there is irreversible progress toward a political solution, which we have not seen."
Tyler Durden
Mon, 03/21/2022 - 22:40