Zelensky Bans 11 Opposition Parties Labeled "Pro-Russian", Seizes Media
March 21, 2022 | Tags: ZEROHEDGE
Zelensky Bans 11 Opposition Parties Labeled "Pro-Russian", Seizes Media
Authored by Kyle Anzalone via AntiWar.com,
Ukrainian President Volodymyr Zelensky over the weekend banned 11 opposition political parties and nationalized media. Any activities supporting the parties labeled "pro-Russian" are now illegal.
Axios reports the list of parties now banned include: Platform For Life, Shariy Party, Nashi, Opposition Bloc, Left Opposition, Union of Left Forces, State, Progressive Socialist Party of Ukraine, Socialist Party of Ukraine, Socialists Party, and Volodymyr Saldo Bloc.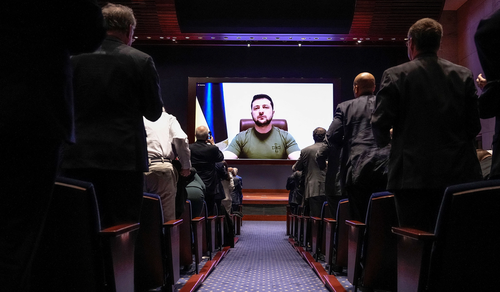 "Any activity of politicians aimed at splitting or collaborating will not succeed," Zelensky had announced Sunday. "Given the full-scale war waged by the Russian Federation and the ties of some political structures with this state, any activity of a number of political parties during the martial law is suspended."
Platform for Life is Ukraine's largest opposition party and currently holds 44 seats in parliament. Last year, The party's leader, Viktor Medvedchuk, was accused of treason and placed under house arrest.
Another targeted party, Nashi, is led by Yevhen Murayev. The UK previously accused Murayev of working with Moscow to overthrow the Ukrainian government. However, Murayev was sanctioned by Russia in 2018.
Ukraine's Russian minority has faced increased discrimination since the 2014 coup. The opposition parties largely represent the 17% of the Ukrainian people who are ethnic Russians. Language and cultural laws have targeted Russian movies, including one starring Zelensky.
It's like from a horror movie. Azov Batallion fighters ( see patch in sec 00:05 ) keep civilians hostages in a house. The footage is chilling. pic.twitter.com/6hHkI0EANa

— Juan Sinmiedo (@Youblacksoul) March 20, 2022
The new presidential order is a part of Zelensky's effort to create a unified political narrative in Ukraine. He has announced an information policy that combines "all national TV channels…[into] a single information platform of strategic communication."
Tyler Durden
Mon, 03/21/2022 - 08:05