Alexei Navalny Found Guilty By Russian Court, Sentenced To 9 Years In "Strict Regimen" Prison
March 22, 2022 | Tags: ZEROHEDGE
Alexei Navalny Found Guilty By Russian Court, Sentenced To 9 Years In "Strict Regimen" Prison
Jailed Kremlin critic and anti-Putin activist Alexei Navalny has been found guilty on fresh charges of fraud and contempt of court by a Moscow judge. His plight has recently come back into Western headlines in the wake of Russia's Ukraine invasion. 
"Judge Margarita Kotova on Tuesday found Navalny guilty in a makeshift court inside a maximum-security prison in Pokrov 100 kilometers (60 miles) east of Moscow where he is already serving a sentence for violating parole in poisoning recovery," The Moscow Times reports.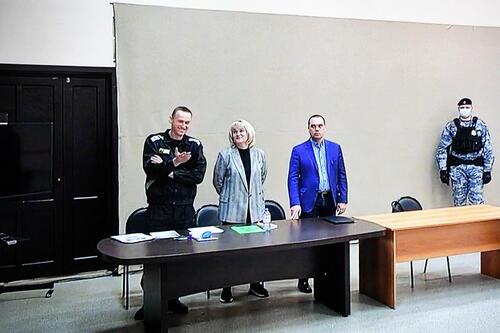 "Navalny committed fraud — the theft of property by an organized group," Judge Kotova ruled.
"By insulting the judge, Navalny committed contempt of court" the judge said additionally after finding Navalny guilty of embezzlement.
Navalny will now spend an additional 9 years in prison, less than the maximum 13 years he could have faced for the charges.
Navalny's twitter account was quick to respond after the sentencing...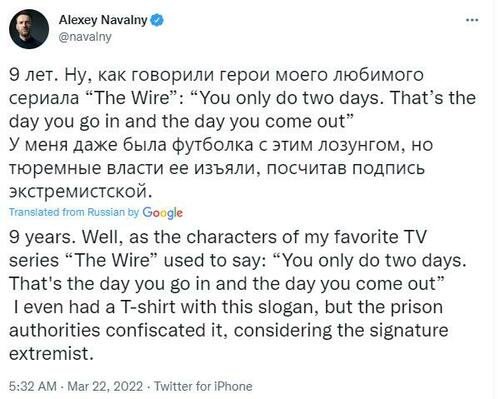 As a reminder, in August 2020, Navalny was emergency airlifted from Russia to a hospital in Berlin after he and his Western supporters accused Russian intelligence of seeking to assassinate him by covert poisoning.
He returned to Moscow last year of his own volition, where he was immediately sent to jail over prior embezzlement charges, which critics say was a politically motivated accusation cooked up by the state.
The 45-year-old dissident had already been serving a 2 ½-year sentence at a prison camp for parole violations related to the prior embezzlement case. He had stayed for months in Germany, where he was reported to have recovered from the alleged state-ordered poisoning.
With the new court ruling, his legal team and supporters are concerned "not only about Alexei's freedom, but also about his life," according to the words of Navalny's spokeswoman Kira Yarmysh.
They had already said that his current confinement is causing severe negative health conditions which are threatening his life. As for the additional 9 years he's now facing, prosecutors last week requested that it be served at a "strict regimen" prison.
Tyler Durden
Tue, 03/22/2022 - 08:51