Biden Arrives In Brussels To Rally Allies Against Russia
March 23, 2022 | Tags: ZEROHEDGE
Biden Arrives In Brussels To Rally Allies Against Russia
US President Joe Biden is in Brussels this week, where he'll attempting to project power in the hopes of convincing US allies in Europe to ramp up sanctions against Russia. Europe, of course, willingly placed themselves Russian President Vladimir Putin's vise thanks to NIMBY 'green' energy policies that Biden's predecessor, Donald Trump, warned against.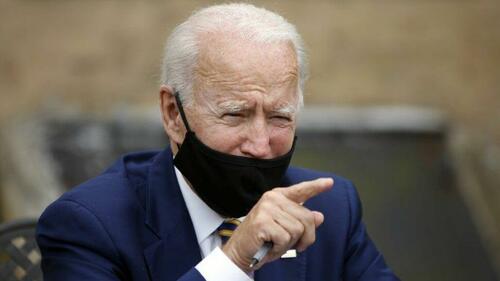 On Thursday, Biden will attend back-to-back summits with NATO, the Group of Seven and the European Union, where Europe's need for Russian energy will collide with international support for Ukraine, according to Bloomberg.
The desire to showcase a common resolve against Russian President Vladimir Putin can't hide the reality that for all the strong words, there is no will to intervene militarily in a bloody conflict at NATO's door. The stakes have been raised by the fear that Putin could resort to deploying weapons of mass destruction, as well as unease over the role of China and how Russia's most powerful diplomatic ally may seek to exploit the crisis.

In a stirring address to the U.S. Congress last week, Ukrainian President Volodymyr Zelenskiy presented graphic video footage of Russia's bombardment of Ukraine and switched to English to call on Biden to be the "leader of the world," citing the U.S.'s example in changing the outcome of World War II. The last time the U.S. stepped in directly to end a conflict in the region was in the Balkans during the 1990s. -Bloomberg
US negotiators have already balked at one of Ukraine's demands - a no-fly zone that would undoubtedly cement WWIII in America's future.
Meanwhile, Russia continues to make progress in its 'military operation' against Ukraine - occupying considerable territory in the south and eastern regions of the country.
Sanctions, Sanctions, and More Sanctions
While Europe may not have an appetite for military action, yet, Biden national security adviser Jake Sullivan admitted that Biden's tough-talking strategy consists of convincing European allies to join "in imposing further sanctions on Russia and tightening the existing sanctions to crack down on evasion and to ensure robust enforcement."
Meanwhile, they'll announce "joint action on enhancing European energy security and reducing Europe's dependence on Russian gas at long last," a solution we're guessing will take a little time.
According to the Wall Street Journal, the new sanctions will be announced as soon as Thursday, and will include more than 300 members of Russia's State Duma.
As Niall Ferguson writes in a recent op-ed that questions Biden's sanction-the-world policies, "...so long as European Union countries refuse to impose an energy embargo on Russia, Putin's regime continues to receive around $1.1 billion a day from the EU in oil and gas receipts. I remain skeptical that the sanctions as presently constituted can either halt the Russian war machine or topple Putin. Why has the ruble not fallen further..."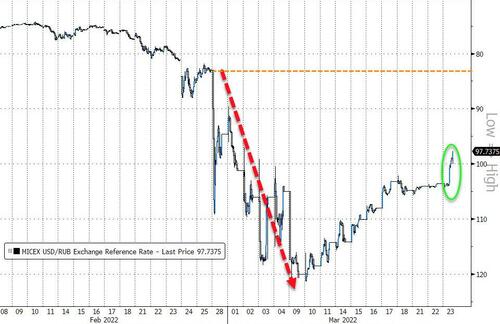 "History talks in the corridors of power. But it speaks in different voices, according to where the corridors are located," Ferguson concludes as Biden heads to 'differently located corridors' of power, adding that "in my view — and I really would love to be wrong about this — the Biden administration is making a colossal mistake in thinking that it can protract the war in Ukraine, bleed Russia dry, topple Putin and signal to China to keep its hands off Taiwan."
Tyler Durden
Wed, 03/23/2022 - 14:13