Biden Doing Everything Possible To Drive Up The Price Of Oil, Some Of It's Illegal
March 23, 2022 | Tags: ZEROHEDGE
Biden Doing Everything Possible To Drive Up The Price Of Oil, Some Of It's Illegal
Authored by Mike Shedlock via MishTalk.com,
Despite claims of wanting to hold down the price of oil, President Biden's actions speak louder than his lies...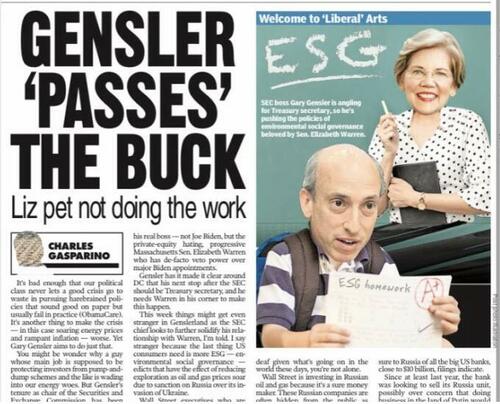 SEC accused of doing Elizabeth Warren's dirty work. Image from a Tweet.
SEC Mandate Idiocy
President Biden does not have the votes to pass his energy policy, so instead he tries to bully the Fed and the SEC. 
Consider the SEC's Energy Proposal now open for comments (guaranteed to be ignored). 
The Securities and Exchange Commission ("Commission") is proposing for public comment amendments to its rules under the Securities Act of 1933 ("Securities Act") and Securities Exchange Act of 1934 ("Exchange Act") that would require registrants to provide certain climate-related information in their registration statements and annual reports. 

The proposed rules would require information about a registrant's climate-related risks that are reasonably likely to have a material impact on its business, results of operations, or financial condition.

The required information about climate-related risks would also include disclosure of a registrant's greenhouse gas emissions, which have become a commonly used metric to assess a registrant's exposure to such risks. In addition, under the proposed rules, certain climate-related financial metrics would be required in a registrant's audited financial statements.  
SEC Act of 1934
The purpose of the Securities Exchange Act of 1934 is to prevent fraud,  prevent securities theft, ensure fairness, halt insider trading, and prevent companies from distributing false financial information.
Nowhere does the Securities Act of 1933 or 1934 grant the SEC to promote Green policies at its whim.
The SEC is not, or at least should not be, in the business of implementing let alone creating climate change policy. 
Yet that is precisely the intent.
Climate Change Coup
The Wall Street Journal comments on the SEC's Climate Coup
SEC Chairman Gary Gensler is redefining materiality as whatever BlackRock and progressive investors want to know. The 510-page proposal will require the public disclosure of risks to physical assets from climate change as well as from government anti-carbon policies.

Companies will have to report greenhouse-gas emissions generated directly by their operations (e.g., refining oil) as well as from their energy consumption. Companies will also have to report what are called Scope 3 emissions from their supply chains and customers if they are material, which will be in the eyes of progressive investors.

For example, Exxon Mobil would have to report its direct emissions as well as any from fossil fuels burned to generate the electricity it uses. It may have to quantify emissions from the combustion of its products, the tankers that deliver them, and the manufacturing of its rigs and plastic products when they degrade.

Scope 3 emissions have no clear definition. The agency says it has "not proposed a bright-line quantitative threshold for the materiality determination" for Scope 3 emissions because this "would depend on the particular facts and circumstances, making it difficult to establish a 'one size fits all' standard."
Grumpy Economist 
The Grumpy Economist chimes in with SEC Takes On Climate
Wow, just wow. 

The pretense in this game has been, oh, we're not doing climate policy, we're just making sure that companies disclose (and, at the Fed, banks are not exposed to) risks. Financial risks. The climate might change, and the company goes out of business sorts of risks.

What does calculating (nearly impossible, including upstream and downstream) and "disclosing" greenhouse emissions themselves, including emissions from purchased energy is a different story. 

Now, just what connection is there between, say, a refinery's CO2 emissions, including those of the electric company that it buys power from, and the emissions of the truck company that buys its grease, and the financial risk to the refinery? Does that "commonly used" metric make any sense at all? Of course not. Only, perhaps, political risk; that the SEC and other regulators might close down companies based on CO2 emissions. I hope that people involved in this debate will seize on whether "have become a commonly used metric to assess a registrant's exposure to such risks" is true, and whether it makes any sense at all. 
Team Biden Actions vs Lies
Team Biden is doing everything it can to discourage production of oil and gas, driving the price higher, while simultaneously begging them to produce more oil. 
Biden claims to be attacking inflation, while driving up costs of production. He claims to want more oil, temporarily of course, until the price comes down. 
Progressives are clearly in control of the Administration and that has been the case from day one. 
What About the Fed?
President Biden nominated Sarah Bloom Raskin to be the Federal Reserve's vice chairwoman of banking supervision.
Progressives cheered because Raskin wanted the Fed to address the implications of climate change in its policy. She called for financial regulators to steer Wall Street away from high-carbon assets.
That is clearly outside the Fed's dual mandate, but neither Biden nor Progressives care about such matters.
On March 14, Senator Joe Manchin released this statement:  I am Unable to Support Nomination of Sarah Bloom Raskin to Federal Reserve Board. 
"Now more than ever, the United States must have policy leaders and economic experts who are focused on the most pressing issues facing the American people and our nation - specifically rising inflation and energy costs. I have carefully reviewed Sarah Bloom Raskin's qualifications and previous public statements. Her previous public statements have failed to satisfactorily address my concerns about the critical importance of financing an all-of-the-above energy policy to meet our nation's critical energy needs. I have come to the conclusion that I am unable to support her nomination to serve as a member of the Federal Reserve Board. 

"The Federal Reserve Board is not an institution that should politicize its critical decisions. This is a 10-year term to perhaps the most important independent body that is tasked with ensuring the stability of the American economy. At this historic moment for both the United States and the world at large, it is imperative the Federal Reserve Board preserves its independence and steers clear of any hint of partisanship. Instead, the Federal Reserve Board must remain hyper focused on ending the inflation taxes hurting working families and getting more workers off the sidelines and back into the economy. The time has come for the Federal Reserve Board to return to its defining principles and dual mandate of controlling inflation by ensuring stable prices and maximum employment. I will not support any future nominee that does not respect these critical priorities."
After that statement, the possibility of Raskin getting 50 Senate votes went to zero. She withdrew her nomination.
Will That Stop Biden?
Of course not. 
Biden will find another Raskin clone the same way he has energy clones at the SEC to do his energy bidding. 
Elizabeth Warren May as Well Be President, She Makes All Biden's Calls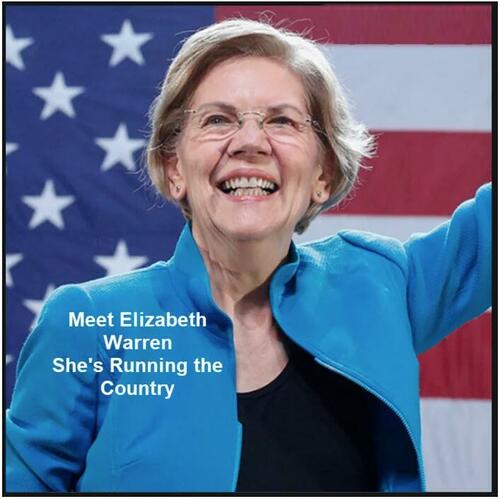 The lead image is from Elizabeth Warren's Biography. I added the caption. 
Flashback December 281, 2021: Please recall my post Elizabeth Warren May as Well Be President, She Makes All Biden's Calls
Warren nodded approval of Raskin.
Also recall Biden's Bank Regulatory Nominee Espouses Helicopter Money and Praises the Old USSR
Joe Biden's nominee for the Comptroller of the Currency Saule Omarova on oil, coal and gas industries: "We want them to go bankrupt if we want to tackle climate change."

Those industries are responsible for MILLIONS of Americans' paychecks.pic.twitter.com/37DYwoFw8m

— Steve Guest (@SteveGuest) November 9, 2021
"We want them [oil and gas companies] to go bankrupt if we want to tackle climate change."
In Praise of Russia
Until I came to the US, I couldn't imagine that things like gender pay gap still existed in today's world. Say what you will about old USSR, there was no gender pay gap there. Market doesn't always "know best." https://t.co/vvnx9DZICN

— Saule Omarova (@STOmarova) March 31, 2019
Omarova was so awful, many Democrats could not stomach here. But that was another Warren pick. 
Fortunately, common sense prevailed there too. Saule Omarova went down in flames. 
Expect More Nonsense From Warren
Most of our markets are dominated by a few giant companies—take a look at the oil, meatpacking & grocery industries. What happens when there's a lot of concentration and little to no competition?

Companies raise consumer prices to expand their profits because they can. pic.twitter.com/bhvLtbFPpk

— Elizabeth Warren (@SenWarren) March 21, 2022
.@SenWhitehouse and I introduced a Windfall Profits Tax that says: if you're a Big Oil company engaged in price gouging, you're gonna have to give up a big chunk of your ill-gotten gains.

Big Oil shouldn't be making billions in profits while Americans get crushed at the pump. pic.twitter.com/Bx2Zpaarf6

— Elizabeth Warren (@SenWarren) March 19, 2022
Liz's Pet
New York Post calling out SEC Chairman Gary Gensler for being Elizabeth Warren's pet 😂 pic.twitter.com/7H4vltFEr5

— XRPcryptowolf (@XRPcryptowolf) March 21, 2022
Expect a Challenge
I expect a legal challenge to this latest SEC nonsense.
And if it gets to the Supreme Court, I expect the challenge to win. 
It might not get that far. Any appeals court should easily strike down what the SEC is attempting to do outside its legal mandate.
Expect Higher Gas Prices
With Biden sanctioning Russian gas, and with energy being mostly inelastic, don't expect too much relief at the pump.
Do expect more energy nonsense from Elizabeth Warren and president Biden.
What Can the Fed Do About the Price of Food, Medicine, Gasoline, or Rent?
The answer is nothing or next to nothing. Rates hikes will not impact inelastic items.
The Fed can do nothing but Biden can and has made things worse. 
For discussion of the Fed, please see What Can the Fed Do About the Price of Food, Medicine, Gasoline, or Rent?
*  *  *
Tyler Durden
Wed, 03/23/2022 - 15:05