Desperate Evergrande Bondholders Threaten Lawsuit After Lenders Seize $2 Billion
March 23, 2022 | Tags: ZEROHEDGE
Desperate Evergrande Bondholders Threaten Lawsuit After Lenders Seize $2 Billion
Following yesterday's revelation that an unspecified lender had seized more than $2 billion in cash deposits belonging to one of China Evergrand Group's subsidiaries, investors who own the firm's badly battered foreign-currency denominated bonds are reportedly examining legal avenues to recouping their capital, according to the FT.
A group of distressed debt investors in the US and UK (including Saba Capital, Redwood Capital Management and Ashmore) met on Tuesday and asked their lawyers to start work on a legal analysis of the situation in order to decide on a strategy. Evergrande and its subsidiaries trade in Hong Kong.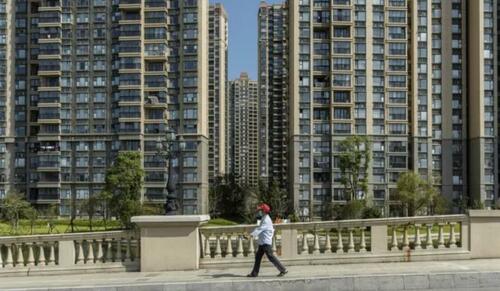 One of the FT's sources said the funds had been conspiring to try and find a legal avenue to force Evergrande to make good on its bonds in default before the company disclosed the seizure of $2 billion by unspecified lenders: the bonds represent $20 billion of foreign-currency debt, and are presently trading at a fraction of their face value. Evergrande has said it's hoping to offer up a debt-restructuring plane by July.
News of the $2 billion seizure infuriated bond holders, who will ultimately be saddled with losses if Evergrande ultimately fails to repay. Bondholders believe that the debt covenants entitles them to priority repayment over whatever lender seized the money.

One person directly involved in the situation said investors feel they have "no choice" but to commence legal action and that plans were already prepared. "I think it has massively changed the game, "the person said about the $2bn claim. "The atmosphere in the room is one of boiling blood."
All told, the Chinese developer owes more than $300 billion, and the firms push toward restructuring represents the biggest debt-restructuring in Chinese history.
Bondholders are also reportedly embracing the argument that the money seized by the firm's lenders would have been put to better use to pay off the bond obligations.
But while bondholders could be let holding the bag for billions, the incident represents a windfall for law firm Kirkland & Ellis and investment bank Moelis & Company.
The process has already been fraught with difficulty: Evergrande's default, which began with missed payments in September but wasn't officially confirmed by one of the major US ratings agencies until December, has been characterized by a lack of disclosure and international investors have often been left in the dark
Another reason for the company's troubles: the CCP has prioritized the completion of Evergrande's apartment complexes over improving the company's financial position.
Evergrande held a call with investors last night, but few details about its plans were reportedly disclosed. One person who participated described it as "if a politician were addressing 15,000 people."
Investors and economists are closely watching the situation since China's heavily indebted property sector has led to speculation by some that the firm's default and eventual collapse could trigger China's "Lehman moment".
Tyler Durden
Wed, 03/23/2022 - 11:41