First Look At Tornado Damage In New Orleans; 1000s Without Power
March 23, 2022 | Tags: ZEROHEDGE
First Look At Tornado Damage In New Orleans; 1000s Without Power
As the sun comes up Wednesday morning in New Orleans, many folks are waking up to vast amounts of destruction after a tornado touched down on Tuesday night. 
The sun is rising over New Orleans East. School buses are starting to drive down streets where debris is clearly seen. pic.twitter.com/zDfhYUIxAl

— wdsu (@wdsu) March 23, 2022
Local news WDSU reports a tornado ripped through parts of St. Bernard Parish, which borders New Orleans to the southeast. It demolished homes and businesses, flipping vehicles and killing at least one person.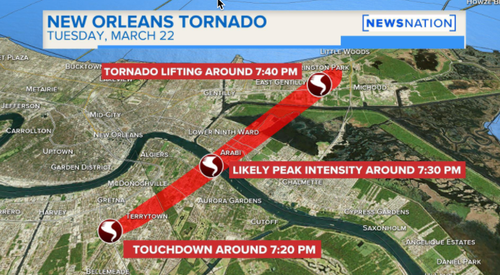 Rescuers have been working non-stop, searching through the suburban parish for missing people. St. Bernard Parish President Guy McInnis said the tornado caused widespread damage. 
"A tornado touched down this evening in the Lower Ninth Ward and New Orleans East communities shortly before 8 p.m. CST. The New Orleans Office of Homeland Security & Emergency Preparedness has activated the Emergency Operations Center in response to the tornado. As of now, there have been no reports of casualties or significant damage to Orleans Parish," said Mayor LaToya Cantrell.

"Our partners at Entergy are working to restore power to the 8,000 customers impacted. Residents should avoid all travel that isn't essential, to provide an opportunity for the professionals to handle this situation," Cantrell said. 
Fox News' Mitti Hicks posted heartbreaking images of the destruction from St. Bernard Parish.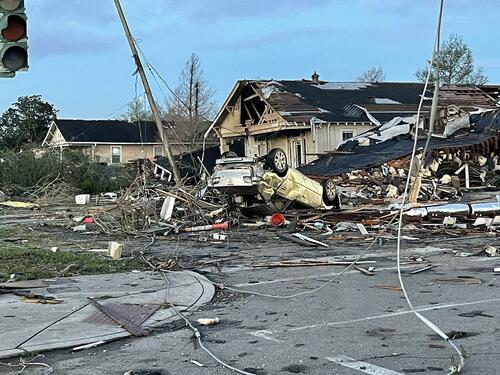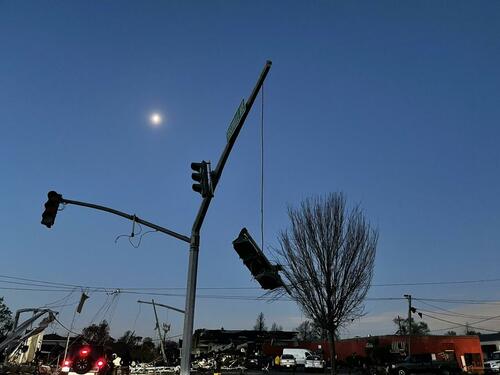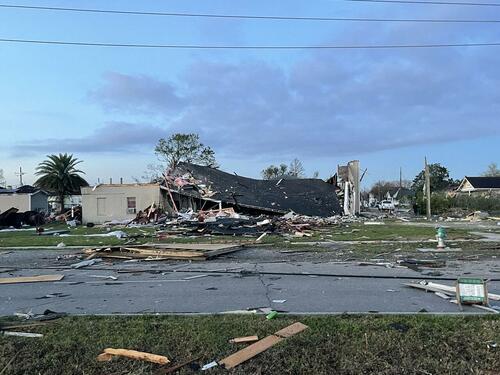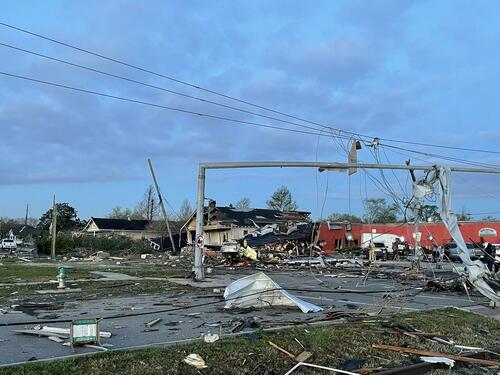 Another first look at the tornado damage. 
First light look at the tornado damage in Arabi, La., east of New Orleans Wednesday, March 23,2022. Photo by David Grunfeld, https://t.co/NCJO1vctZJ | The Times-Picayune @NOLAnews pic.twitter.com/ZoVpWJPbXr

— David Grunfeld (@DavidGrunfeld) March 23, 2022
Meanwhile, other tornadoes from the same severe storm system hit parts of Texas and Oklahoma.
Tyler Durden
Wed, 03/23/2022 - 08:19