House Dems Want To Stop Oil Inflation By Creating Money Out Of Thin Air, Offering Americans "Direct Payments"
March 23, 2022 | Tags: ZEROHEDGE
House Dems Want To Stop Oil Inflation By Creating Money Out Of Thin Air, Offering Americans "Direct Payments"
To stop the inflation...we must create inflation...
The lunacy about gas prices, driven by useless congressional automatons who have little understanding of economics, continues. The latest chapter in "micromanaging markets to make a large problem into a much larger problem under the guise of creating a solution" comes from house Democrats (surprise), who are now considering the idea of direct payments to Americans to try and help with high gas prices. 
Reps. Mike Thompson of California, John Larson of Connecticut and Lauren Underwood of Illinois are proposing the idea of an "energy rebate" equating to $100 per month for individuals or $200 for couples with an additional $100 per dependent, according to KSDK. 
They want the payments to stay in place "for each month the national gas price exceeds $4 per gallon" throughout 2022, the report says. 
Like the economic stimulus payments during Covid, the rebates would be available based on the same guidelines as the 2021 Economic Impact Payments. This means that "single filers earning up to $75,000 or married couples filing jointly earning up to $150,000 would be eligible," KSDK wrote. 
The article then notes that the statement on respective Rep.'s website who introduced the bill "did not explain how it would be paid for".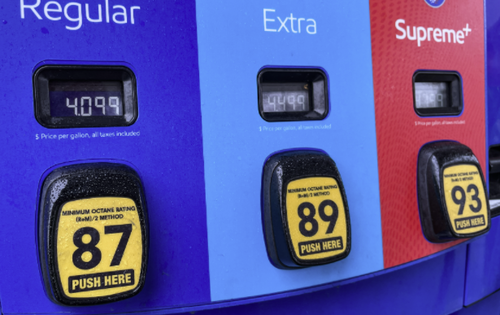 In keeping with brilliant ideas, Rep. Peter DeFazio, D-Ore, also introduce the Stop Gas Price Gouging Tax and Rebate Act, which calls for households to receive a monthly tax credit that would come from taxing oil companies for "excessive corporate profits".
"Big Oil will pay a one-time, 50 percent windfall profit tax on any adjusted taxable income (ATI) in 2022 that exceeds 110 percent of their average ATI during pre-pandemic levels between 2015-2019," DeFazio said, apparently completely unaware that oil supermajors also reinvest their profits into creating new supply for the market. 
Unsurprisingly, Rep. Ro Khanna of California also sponsored DeFazio's bill. 
Recall, just yesterday we wrote about how Georgia and Maryland had suspended their gas taxes in an effort to offer relief to consumers in their respective states. 
The temporary gas tax holiday for both states was announced late last week, as gas prices in the U.S. continue to surge as a result of both the Biden administration's energy policies and geopolitical tensions and sanctions related to Russia's invasion of Ukraine. 
The current average price of gas was $4.26 as of Sunday, but had hit as high as $4.33 per gallon on March 11, the report notes. Crude prices nearly doubled from their Winter 2021 lows over the last few weeks, with WTI touching higher than $120/barrel at one point.
As the world continues to choke off Russian oil supply, many - including Russian government officials - are predicting that energy prices will continue to soar higher. 
Tyler Durden
Wed, 03/23/2022 - 16:40