Shanghai Authorities Urge Calm Amid Surge In Panic-Buying Stoked By Lockdown Fears
March 23, 2022 | Tags: ZEROHEDGE
Shanghai Authorities Urge Calm Amid Surge In Panic-Buying Stoked By Lockdown Fears
As we reported yesterday, the situation in Shanghai, China's financial capital, is growing increasingly tense, as the local population has grown increasingly restive in the face of the city's restrictions on movement, and its mass-testing requirements.
And as millions fear the yoke of the city's COVID restrictions may soon be further tightened, perhaps with another full-on lockdown like those that have been implemented in Jilin Province and elsewhere, Shanghaiers are swamping online grocery platforms with orders as citizens panic-buy stockpiles of food for fear that they may soon face a punishing lockdown that will confine them to their residential compounds for days, if not weeks, the AFP reports.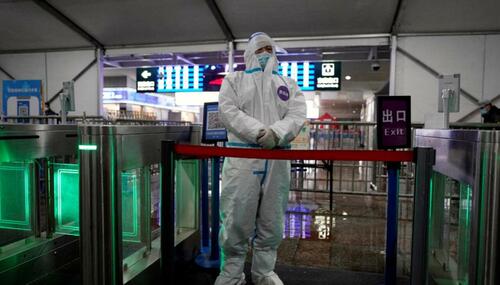 Shanghai has seen record-high numbers of confirmed COVID cases over the past week, with 981 cases reported on Wednesday alone, a figure that's substantially larger than any earlier daily tally. The figure marked the sixth straight daily increase of case numbers in the city.
So far, the city has responded to the outbreak with "targeted" residential lockdowns where cases have been confirmed. Schools in the city have also been shuttered for the past two weeks. But as the case numbers grow, many fear that the CCP could soon move to impose a lockdown on the entire city of 25M (China's largest city by population).
Locals have taken to social media to voice their grievances about the local authorities' response to the outbreak, complaining about vague government messaging and alarmist warnings about more required testing. Footage that circulated on social media yesterday showed restive locals pushing back against the mandatory testing measures, and the restrictions on movement in parts of the city.
In response to this public outcry, authorities in the city have tried to smooth things over by denying rumours of a city-wide lockdown. But the fear of being locked inside a residential compound for days without sufficient food has led many to discount these reassurances, instead opting to plan for the worst-case scenario.
Online shopping platforms have collapsed under the strain, prompting many to complain on social media about being unable to fill their orders.
Chen Ying, a spokeswoman for online grocery platform Dingdong Maicai, acknowledged that the company was face serious pressure as online demand surged.
As of March 22, mainland China had reported 137,231 cases with confirmed symptoms, including both local ones and those arriving from outside the mainland. There were no new deaths, leaving the death toll at 4,638.
Tyler Durden
Wed, 03/23/2022 - 21:20