Stellar 20Y Auction Prices At Record High Yield, Sees Record High Bid-To-Cover; Record High Direct, Record Low Dealer Award
March 23, 2022 | Tags: ZEROHEDGE
Stellar 20Y Auction Prices At Record High Yield, Sees Record High Bid-To-Cover; Record High Direct, Record Low Dealer Award
Today's 20Y auction, technically a reopening of last month's TF5 cusip, was an auction where the word "record" was used all over the place.
Heading into what is expected to be an aggressive month-end rebalancing where funds will be forced to buy tens of billions in TSYs to meet their mandatory balance mandates, the auction printed at a high yield of 2.651%, the highest yield on record for the 20Y bond which as a reminder was launched in May 2020, and well above last month's 2.396%. It did, however, stop well through the When Issued of 2.665%, a 1.4bps stop through.
The bid to cover was 2.72, also a record high for the tenor, and sharply higher than both last month's 2.44 and the 6-auction average of 2.41.
The internals were also tremendous: with Indirects taking down 64.4% of the auction, not far from the all time high of 67.0% hit in July 2020, the Direct award was a record high 26.0%, which meant that Dealers were left with just 9.6%, a record low.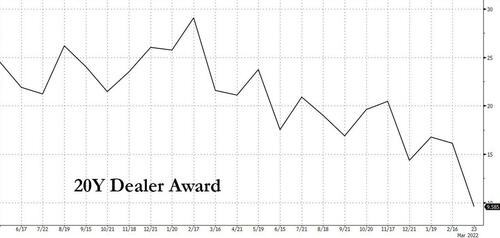 Overall, a superb, A+ auction for what has long been the highest point on the curve (as a reminder, the 20s30s is inverted)...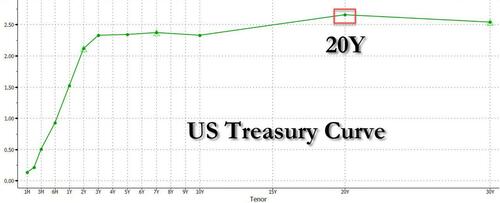 ... and one which may indicate that the highs for TSYs are in until the coming rebalancing is complete.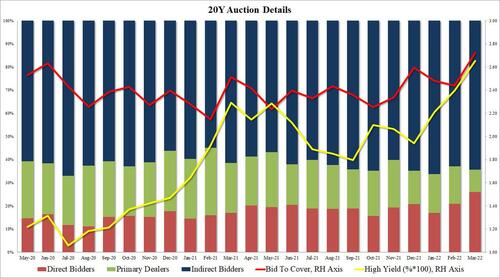 Tyler Durden
Wed, 03/23/2022 - 13:20